Miller Peak Wilderness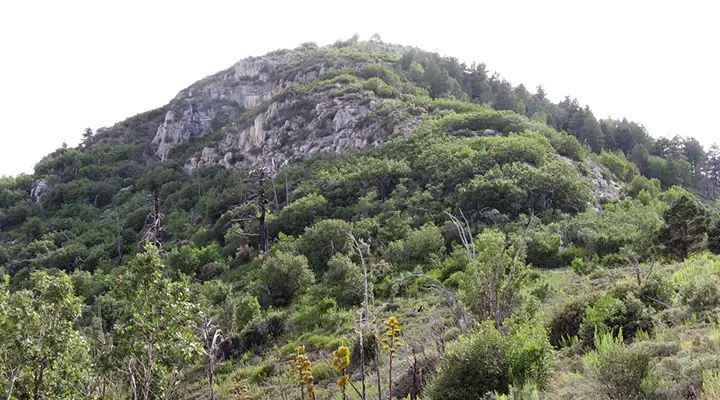 Miller Peak from Carr Mountain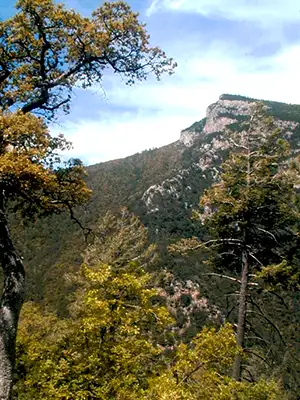 Miller Peak Wilderness is a 20,190-acre property surrounding the highest peak in the Huachuca Mountains. Elevations vary from about 5,200 feet to 9,466 feet at the summit of Miller Peak. Historically, the Huachuca Mountains have seen a lot of short-lived mining activity and there is evidence of this scattered all across Miller Peak Wilderness.
Life zones in Miller Peak Wilderness range from Sonoran Desert grassland that surrounds the mountain island to mixed aspen and conifer forest at the top of the hill. There are also stream-fed riparian corridors in different areas of the wilderness. Most of the upper Huachuca Mountains was covered in pine/fir forest until fires over the last forty years reduced much of that old-growth. Significant amounts of the conifer forest have been replaced with oak, aspen and grass. If those fires had not occurred, there would be very few aspens appearing in the wilderness.
78 species of mammals have been documented on the property and among the larger mammals are javelina, black bear, coatimundi, mule deer, coyote, bobcat and mountain lion. There are more than 60 species of reptiles and more than 170 species of birds, too.
Miller Peak Wilderness offers a number of good hiking trails, nearly all of them intersecting with a primary trail (the Crest Trail) running along the top ridge of the mountains and connecting various of the higher peaks. The Arizona Trail (with its southern terminus nearby at Montezuma Pass) travels north/south through Miller Peak Wilderness. Off-trail travel can be extremely hard as there are many spots where sheer cliffs rise hundreds of feet above the canyon floors.
To get there: Some folks take the drive through Coronado National Memorial over Montezuma Pass on Forest Road 61. Two forest roads lead north off FR 61 to access the southern portion of Miller Peak Wilderness. There is also access from Forest Road 56 in Miller Canyon and from Forest Road 368 in upper Carr Canyon. In upper Carr Canyon is the trail head for the Carr Trail, one of the more popular (and easy) routes to the Crest Trail and the upper portions of the Huachucas.
USGS Quad Maps: Huachuca Peak, Miller Peak, Montezuma Pass
Miller Peak Wilderness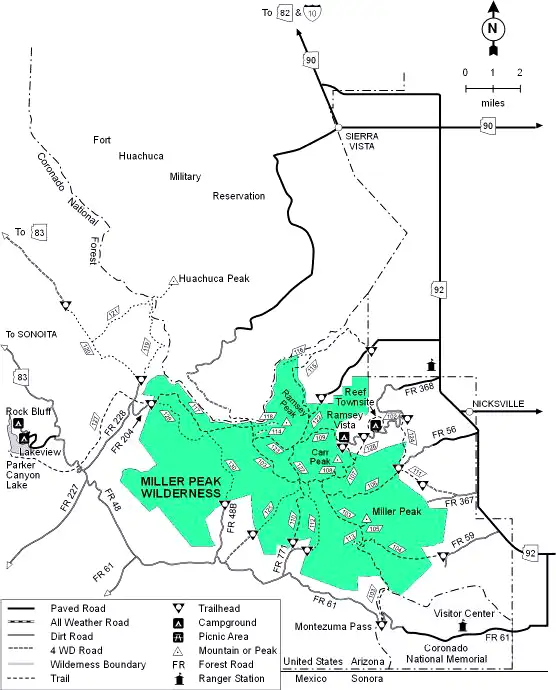 Miller Peak Wilderness
Coronado National Forest -

US Forest Service

Upper left photo courtesy of Deirdre St. Louis, via Wilderness.net
Other photos courtesy of the US Forest Service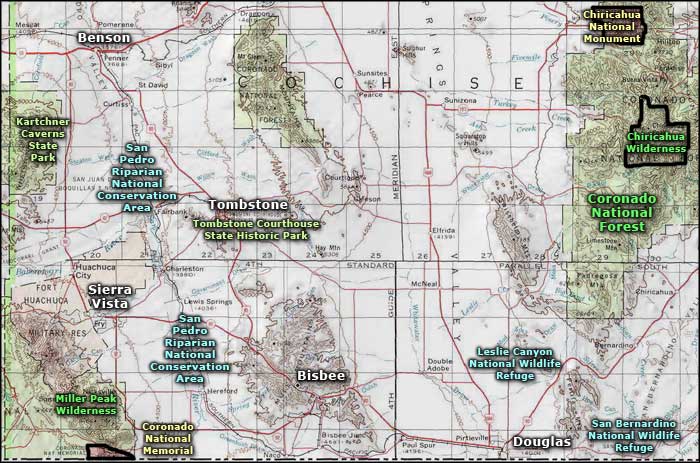 Related Pages
Map courtesy of National Geographic Topo!