Kartchner Caverns State Park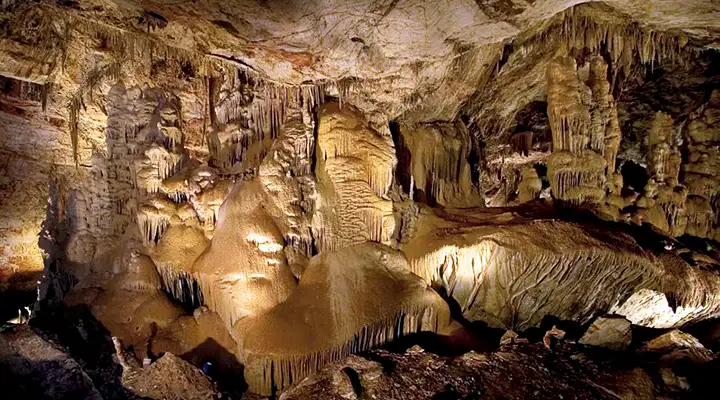 Kartchner Caverns State Park Big Room
Kartchner Caverns was discovered in November, 1974 by two young spelunkers named Randy Tufts and Gary Tenen. While exploring the limestone hills at the base of the Whetstone Mountains, they came across a sinkhole from which warm, moist air flowed. They crawled into the sinkhole but it took several hours of work before they entered into a pristine cave. They secretly explored the cave until February, 1978, when they finally told James and Lois Kartchner (the property owners) about their find. And even then, word of the cavern they had discovered didn't reach the public until 1988 when approval was granted for Arizona State Parks to buy the property.
This pristine, almost untouched environment has proven to be a treasure trove of information in regards to the local fauna over the last 86,000 years. Paleontologists have found the skeleton of an 86,000 Shasta ground sloth in the cave. They also found a 34,000 year old horse skeleton and the 11,000 year old skeleton of a bear.
Kartchner Caverns also has the tallest and most massive column in Arizona, one of the world's longest soda straw stalactites, the first cave occurrence of "birdsnest" needle quartz formations, the first occurrence of "turnip" shields, and the world's most extensive formation of "brushite moonmilk." All of these were formed by the millenial action of migrating raindrops through a down-dropped block of limestone beneath the Whetstone Mountains. As the opening of the cave in the limestone formation most likely took place over several million years, it was the dropping of groundwater levels some 200,000 years ago that allowed the growth of the speleotherms that we see today.
In addition to the guided tours of the Big Room and Throne Room, Kartchner Caverns also offers several hiking trails into the Whetstone Mountains, a fault-block mountain range exhibiting a variety of geological formations. There are 62 campsites in the campground, all with power and water. There are also restrooms with showers and a dump station. The Discovery Center offers interactive displays, a theater with video program, phones, restrooms, gift shop, lockers and an amphitheater for special events. There is also a picnic area with shade ramadas near the Discovery Center.
Kartchner Caverns State Park is open 7 days a week, except for Christmas Day, from 7:30 AM to 6:00 PM. The State Park is located off of State Route 90, about 9 miles south of exit 302 on the I-10.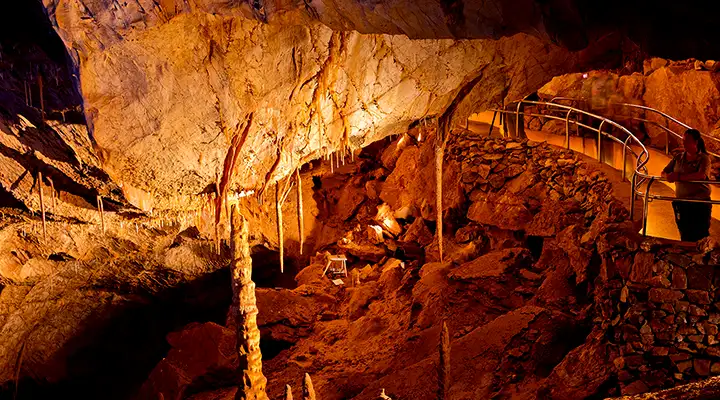 A view along the walkway through Kartchner Cavern
Kartchner Caverns State Park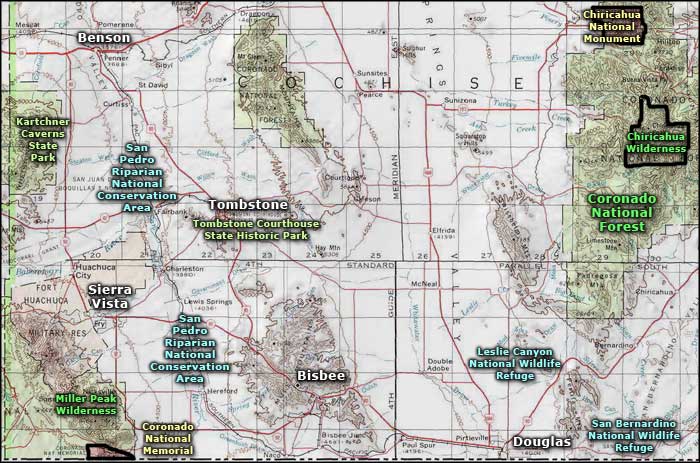 Related Pages
Map courtesy of National Geographic Topo!