Great Swamp National Wildlife Refuge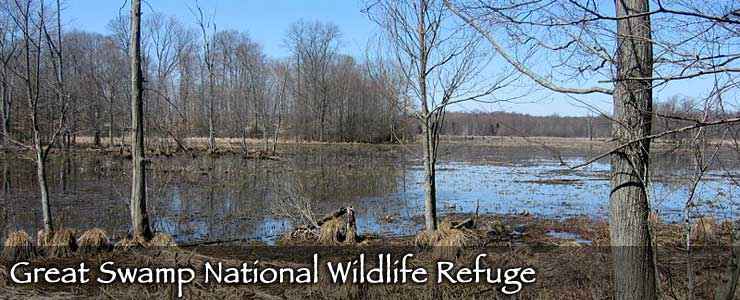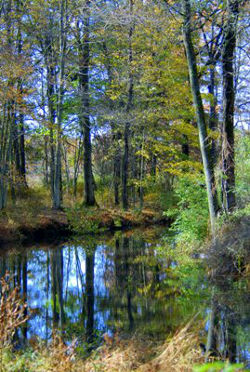 Great Swamp National Wildlife Refuge contains 7,600 acres in an area that was the bottom of Glacial Lake Passaic about 11,000 years ago. That ancient lake was about 10 miles wide and 30 miles long, hemmed in between low hills and glacial moraines left when the glaciers retreated at the end of the last Ice Age.
The property came under direct frontal assault in 1960 when the Port of New York Authority wanted to build a regional airport here to replace Newark Airport. Local citizens banded together and formed a grassroots organization that raised enough money to buy a significant parcel of land in the center of the swamp and donate it to the US Fish & Wildlife Service for use as a National Wildlife Refuge. That refuge was dedicated in 1964 as the M. Hartley Dodge Wildlife Refuge. The rest of the property was purchased and donated in 1968. At the same time that addition was dedicated, it was also designated the Great Swamp National Wilderness Area. Great Swamp National Wildlife Refuge was declared a National Natural Landmark in 1966.
Today, thirteen non-profit organizations work together with US Fish & Wildlife, offering oversight and management of many different aspects of the Great Swamp ecosystem. The NWR is composed of hardwood ridges, swamp woodland, grassland, cattail marshes, ponds and meandering streams. More than 244 species of birds have been documented on the property. There are also 600 species of plants (215 species of wildflowers alone), 29 species of fish, 33 species of mammals and more than 39 species of reptiles and amphibians. 26 of the species found on the property are listed by the State of New Jersey as being threatened or endangered.
This is an interesting property in that the wilderness is almost completely surrounded by residential neighborhoods. In the wilderness area itself there are 8.5 miles of maintained trails, and only foot traffic is allowed. No motorized or mechanized vehicles, no permanent structures, typical wilderness rules prevail (although camping and campfires are also not allowed). The rest of the refuge is managed to maintain optimum habitats for a number of different birds and animals. There are five shallow water impoundments where water levels are manipulated to favor the growth of different native plant communities. Habitats are managed to provide for waterfowl, shorebirds, wading birds and other migratory birds. Several hundred acres of agricultural fields and grasslands are also managed through a regular, one-to-four year rotational mowing cycle.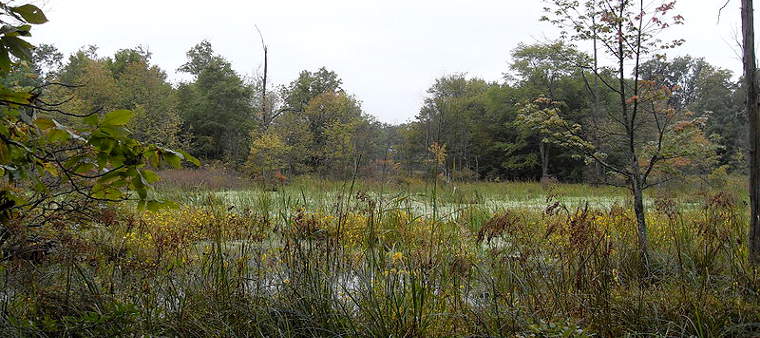 Wetlands and forest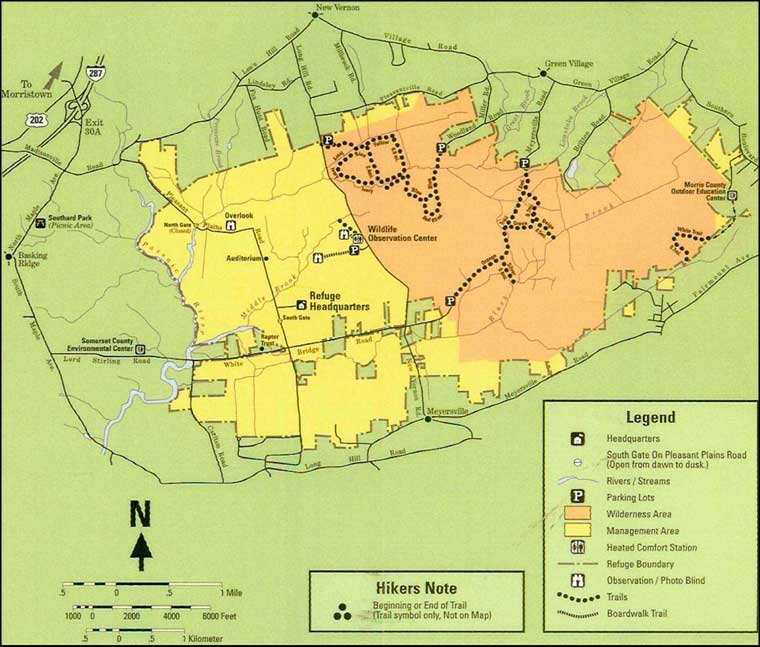 Great Swamp National Wildlife Refuge
US Fish & Wildlife Service
241 Pleasant Plains Road

,

Basking Ridge

,

NJ

07920
973-425-1222