Arc Dome Wilderness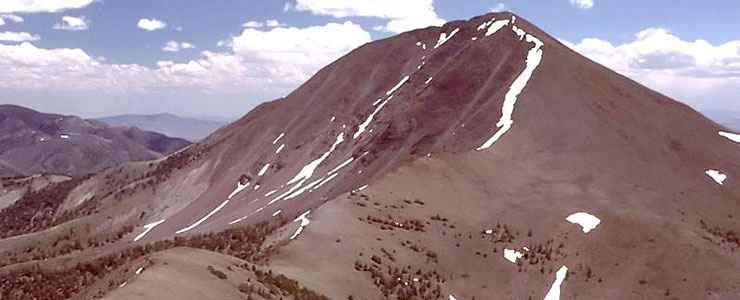 Arc Dome itself
At 115,000 acres, Arc Dome Wilderness is one of the largest wildernesses in Nevada. Arc Dome Wilderness contains the southern 1/3 of the Toiyabe Range with the range's highest points. The Toiyabe's are a rugged spine of mountainous rock with difficult access in west central Nevada. A lot of Arc Dome Wilderness is above 10,000' and Arc Dome itself reaches 11,775'. On the east side of the wilderness, the steep inclines are broken up by rocky canyons. On the west side, the wilderness rises gradually from the Reese River Valley.
The lower slopes of Arc Dome Wilderness support a sagebrush/native grass community that slowly gives way to a juniper/pinon pine woodland that then gives way to scattered stands of Ponderosa pine and aspen. A lot of the highest countryside is open, offering great views in all directions. For wildlife, there are a few desert bighorn sheep in the Jett Canyon-Twin Rivers area on the east side of the wilderness. The wilderness does support a good population of mule deer, bobcat, mountain lion, beaver, grouse and several species of raptors. North and South Twin Creeks and Reese River carry good trout fisheries.
The Toiyabe Crest National Recreation Trail stretches out along 72 miles of the Toiyabe's, with 30 miles of the trail in the Arc Dome Wilderness and crossing the summit of Arc Dome itself. The trail offers some great views but is rather water-challenged and sees few human feet because of that. The busiest trail is the Cow Canyon Trail on the western side of the wilderness. It follows the Reese River for about a mile before it splits into several trails giving access to virtually the entire area.
Arc Dome Wilderness is accessible via dirt roads on all sides but the east side of the wilderness is only 3 miles west of SR 376.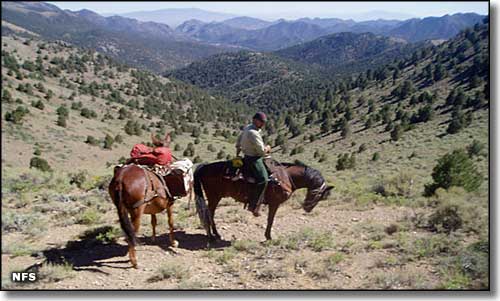 On a trail in the Arc Dome Wilderness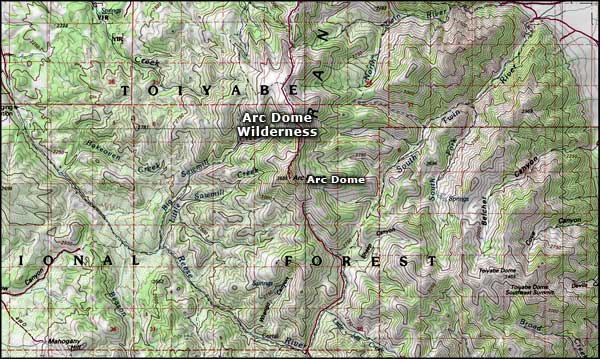 Arc Dome Wilderness area map
Arc Dome Wilderness
Humboldt-Toiyabe National Forest - Austin-Tonopah Ranger District
Upper photo of Arc Dome courtesy of G. Thomas
Lower photo of Arc Dome Wilderness courtesy of the US Forest Service
Map courtesy of National Geographic Topo!

Related Pages
Map courtesy of National Geographic Topo!