Ward Charcoal Ovens State Historic Park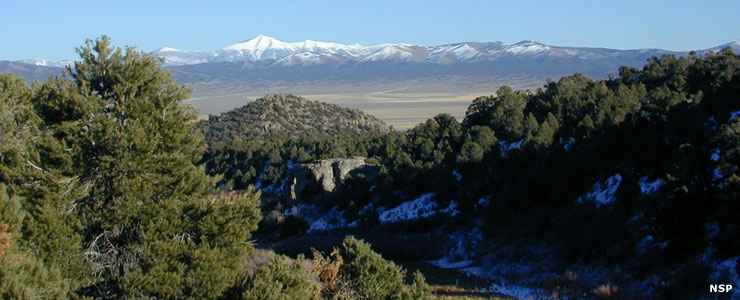 Ward Charcoal Ovens State Historic Park
Facilities & Amenities
Camping
Picnicking
Trails
Nature Study
Historic Sites
Fishing
Max. RV size: 30'
The Ward Mining District came into being after some freighters looking for oxen grazing in the Willow Creek Basin discovered silver ore in 1872. The area had seen regular traffic between Pioche (to the south) and Toana (on the Transcontinental Railroad line to the north) for a couple years already. That first discovery of ore brought attention to the area and small claim mining carried on for several years. The Martin & White Company of San Francisco bought up several of the small claims in 1875 and built silver smelters in the town of Ward (a couple miles north of today's park boundary on BLM land). The ovens were built to provide charcoal to the smelters and were in operation from 1876 to 1879. They were large enough to hold 35 cords of wood per firing. The end of this use came about through two causes: a lack of silver ore to process in the smelters and a lack of timber to convert to charcoal. After that they have served off-and-on as shelters for prospectors and stockmen during bad weather. Rumor says local stagecoach bandits also hid in the ovens at times. The area was privately owned and managed by local ranchers until 1956 when a special use permit opened 160 acres around the ovens to the public. Then a land trade in 1968 made the property completely public and the area became Ward Charcoal Ovens State Monument in 1969, then evolved into the State Park in 1994.
Ward Charcoal Ovens State Historic Park is about 18 miles south of Ely in the Egan Mountains. While this park is named for the 6 beehive-shaped historic charcoal ovens, the park also offers ATV-OHV riding, mountain biking, hiking, and fishing for naturally reproducing brook, brown and rainbow trout in Willow Creek.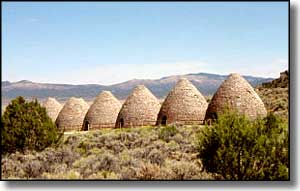 The State Park has only one campground: the Willow Creek Campground. There are 14 sites, 2 of which are large pull-through sites. One other is designated as universally accessible. There are 2 vault toilets located near the center of the campground. Drinking water is available from a single hydrant located near the campground entrance from mid-May to September. Picnic tables and fire grills are located throughout the park.
The park is surrounded by thousands of acres of BLM land which allows the use of ATV-OHV vehicles. There is an ATV-OHV multi-use trail through the state park that connects with many of the trails on the BLM land.
To get there go 7 miles south of Ely on US 50/6/93, then turn and go 11 miles further southwest on Cave Valley Road, a graded gravel road that is usually accessible by passenger cars for most of the year (look out in winter and after heavy rain).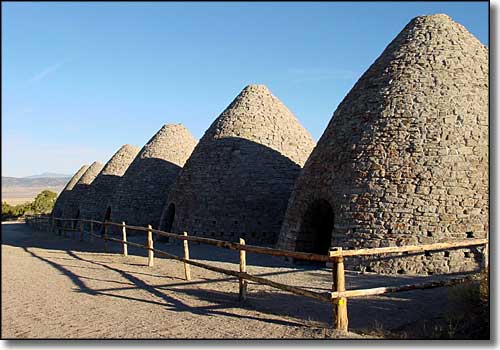 The Ward Charcoal Ovens
Ward Charcoal Ovens State Historic Park
Nevada State Parks
Upper photos courtesy of Nevada State Parks
Lower photo courtesy of Wikipedia userid AN63CA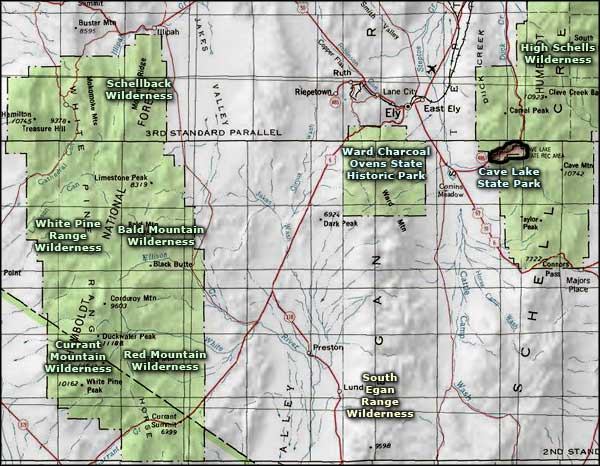 Related Pages
Map courtesy of National Geographic Topo!