Ventana Wilderness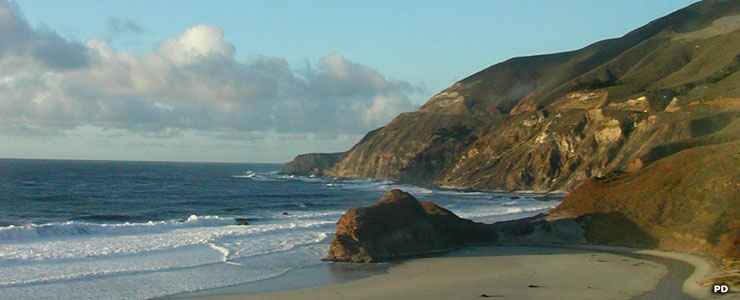 Little Sur outlet, Ventana Wilderness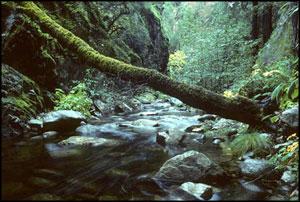 Ventana Wilderness is a 240,026-acre property in the Santa Lucia Mountains in the northern part of Los Padres National Forest. The size of the wilderness has been increased several times over the years since it was first designated as the Ventana Primitive Area back in 1931. The most recent expansion (the Big Sur Wilderness and Conservation Act of 2002) added almost 35,000 acres, including 736 acres of BLM land to the wilderness area. Ten years before, the Los Padres Condor Range and River Protection Act had added about 38,800 acres to Ventana Wilderness and designated the Big Sur River as a Wild and Scenic River at the same time.
Elevations on Ventana Wilderness range from a low of about 600 feet where the Big Sur River leaves the wilderness to a high around 5,750 feet at the wilderness boundary on the shoulder of Junipero Serra Peak. The landscape is characterized by steep-sided, sharp-crested ridges separating V-shaped valleys. Most of the streams drop rapidly through narrow, steep-walled canyons as they flow through boulders and across bedrock, which makes for lots of waterfalls and occasional deep pools. Thermal springs abound in the area, usually along the canyon walls above the streams.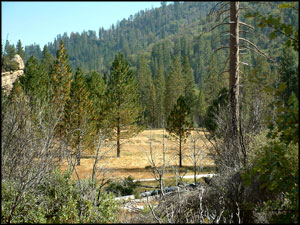 Much of the wilderness is covered in dense communities of chamisa, ceanothus and manzanita chaparral. Other areas are vegetated with oak and pine woodlands. Poison oak is found almost everywhere. The Big and Little Sur Rivers have cut some deep, narrow canyons in the landscape and close to the rivers you'll find stands of coastal redwood, sycamores and big leaf maples. In some areas are scattered stands of bristlecone fir. Black bear, mountain lion, deer, fox, bobcat, wild turkey, wild pig, opossum and coyote are among the land mammals found on the property. Along the coast you'll find sea otter, seal and sea lion.
This area of the central California coast was occupied by the Rumsien and Esselen tribes for many years before the European invaders came. Within a few years of the Spaniards arrival in the area, the Spanish mission system had virtually destroyed the native population and their tribal identities.
The Civilian Conservation Corps built an extensive network of trails and trailheads in the Ventana Wilderness area in the 1930's. There are still about 197 miles of trails on the wilderness, fed by at least nine trailheads. The most popular trailhead is right beside Pfeiffer Big Sur State Park and ascends Pine Ridge for the first four miles before leveling off and heading up and down across the wilderness to Tassajara Hot Springs. It's an area I remember fondly as I spent several weeks in the spring of 1971 hiking up and down that trail between the beach and Sykes Camp, checking out the marine mammals, the redwoods, the views and the hot springs...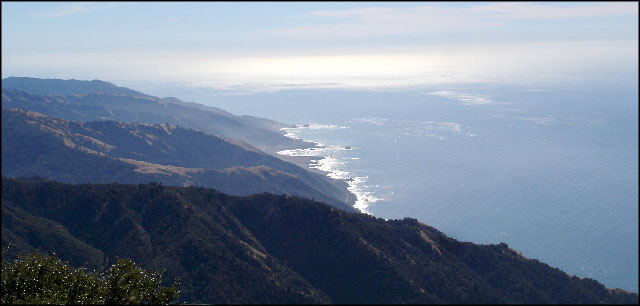 The view from Cone Peak on Ventana Wilderness
Ventana Wilderness
Los Padres National Forest -

US Forest Service
Upper left photo courtesy of George Wuerthner via Wilderness.net
Lower right photo courtesy of Patrick Bailey via Wilderness.net
Bottom photo courtesy of Dennis Poulin,
CCA-by-SA 2.5 License