Rainbow Mountain Wilderness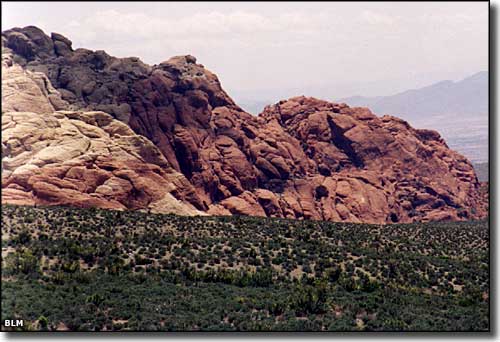 Rainbow Mountain Wilderness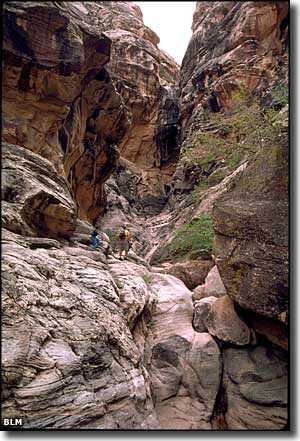 The 25,111-acre Rainbow Mountain Wilderness is located about 12 miles west of Las Vegas in the Red Rock Canyon National Conservation Area. Rainbow Mountain's northern boundary is against the La Madre Mountain Wilderness.
Elevations in Rainbow Mountain Wilderness range from 4,400' to 7,000'. Rainbow Mountain contains several narrow, twisting canyons that are cut deeply into a high escarpment of vertical red and buff sandstone cliffs (fossilized ancient sand dunes) that are sometimes capped with white limestone (of the Keystone Overthrust).
In the canyons there are pockets of pinon pine, juniper and Ponderosa pine. The canyon bottoms support communities of ash, willow and hackberry. In some areas you'll find chain ferns that grow up to 6' high.
There is one perennial stream in the area. There is also a high concentration of petroglyphs and pictographs adorning the rock walls.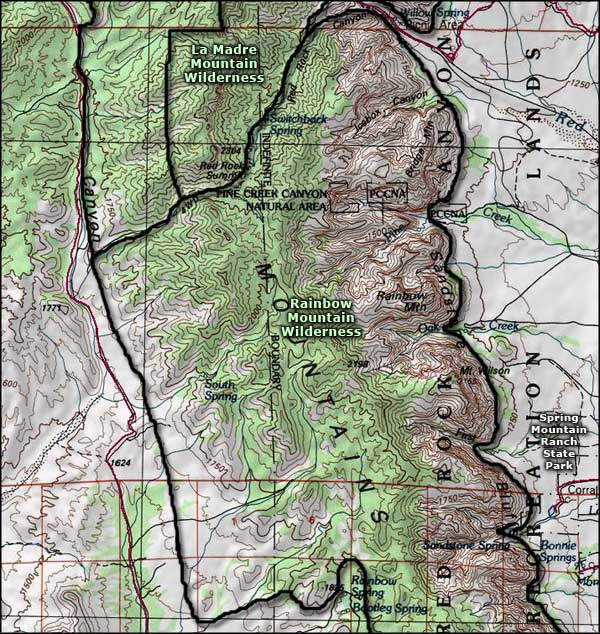 Rainbow Mountain Wilderness area map
Rainbow Mountain Wilderness
BLM - Las Vegas Field Office
4701 North Torrey Pines Drive

,

Las Vegas

,

NV

89130
702-515-5000
Photos courtesy of the Bureau of Land Management
Map courtesy of National Geographic Topo!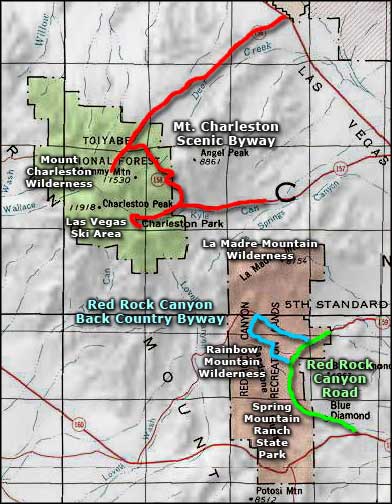 Related Pages
Map courtesy of National Geographic Topo!