Red Rock Canyon National Conservation Area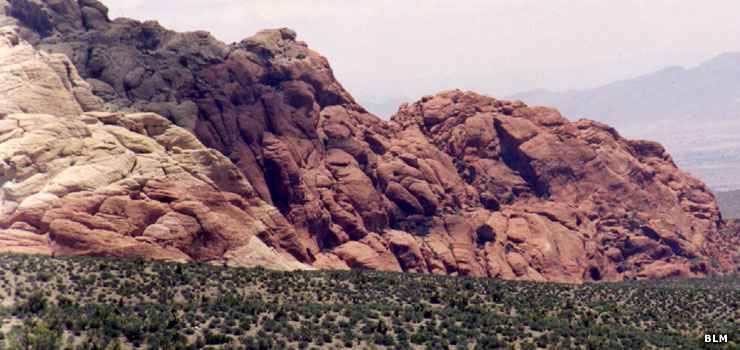 Rock walls in Red Rock Canyon National Conservation Area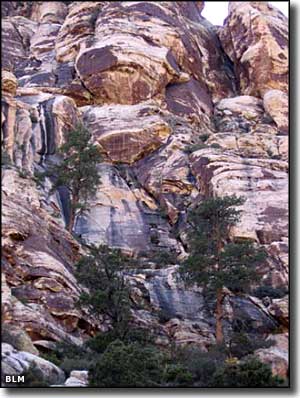 Nevada's first designated National Conservation Area, Red Rock Canyon NCA contains some 195,819 acres that are visited by more than one million people each year. The property includes three designated wilderness areas (La Madre Mountain, Rainbow Mountain and Mt. Charleston) thirteen miles of scenic byway, more than 30 miles of hiking, mountain biking and horseback riding trails plus numerous rock climbing routes on some of the finest canyon walls in North America. There are also several nature observation areas and a visitor center with several rooms of exhibits and a book/gift store. The property includes all of the former Red Rock Canyon Recreation Area and significant acreage between that and the Humboldt-Toiyabe National Forest area around Mt. Charleston.
Two miles east of the visitor center on West Charleston Boulevard is the Red Rock Canyon NCA Campground with 71 individual sites and 7 group campsites. Fourteen of the campsites are walk-in, tent-only. The campground offers no water, electrical or sewer hookups nor is there a dump station or any hot showers. About half the sites and tent pads do have some kind of shade structure. The restrooms consist of vault toilets and there are faucets offering potable water scattered through the campground. There are no designated hiking trails in the area of the campground but there are multiple old roads available for hiking where vehicles are no longer allowed to travel. The campground has a stay limit of 14 days. Each campsite allows up to nine people with two vehicles. Unlike most campgrounds in the United States, the Red Rock Canyon Campground is closed from Memorial Day to Labor Day.
The rock walls at Red Rock Canyon National Conservation Area are made up mostly of Navajo sandstone, sand dunes that were laid down several hundred feet thick more than 200 million years ago. Since that time, the sands have been buried and compressed to form a reasonably hard sandstone, then pushed up through geological processes and exposed by erosion. The hardest rock is that stuff that is darkened (varnished) by water and weather.
There are literally hundreds of climbing routes on the canyon walls at Red Rock Canyon, some of which allow a climber to insert additional hardware as needed but major sections of the area are either already designated wilderness or are wilderness study areas where no hardware is allowed: if you climb you use what's already there or you free climb. Spring and fall are exceptionally busy times on most of the climbing routes in the NCA. Many times the nearest parking lot to where you want to go is full-to-overflowing and you'll need to change your plans.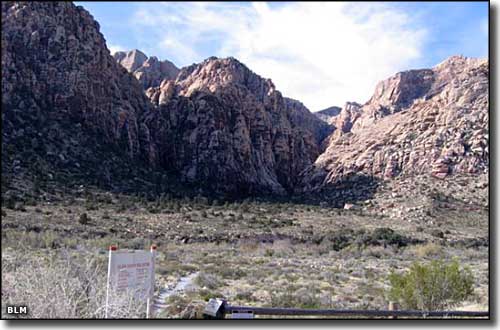 Icebox Canyon from the parking lot
Red Rock Canyon National Conservation Area
Bureau of Land Management

- Southern Nevada District Office
4701 North Torrey Pines

,

Las Vegas

,

NV

89130
702-515-5000
Office Hours: 7:30 am to 4:30 pm, Mon. through Fri.
Photos are courtesy of the Bureau of Land Management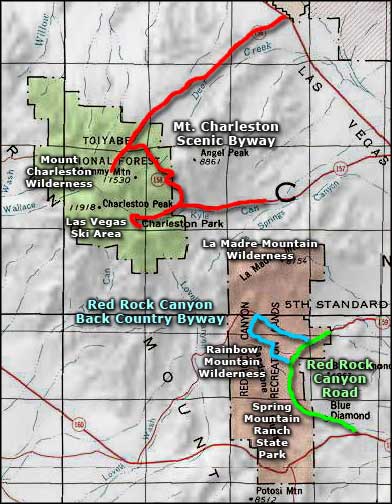 Related Pages
Map courtesy of National Geographic Topo!