Cadiz Dunes Wilderness

Cadiz Dunes Wilderness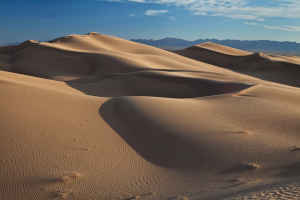 The Cadiz Dunes
Cadiz Dunes Wilderness is a 19,935-acre property just to the east of the dry Cadiz Lake bed. The sand dunes are comprised of wind-blown sand originating in the dry lake bed. While most dune beds in southern California have had vast experience with OHV users, the remote location of the Cadiz Dunes has protected them from that: The dunes are in the same state they have been in for the last several thousand years. They have become a destination for photographers due to their pristine nature and also due to the spring flower display offered by the rare and unique plants they support, the rare and endangered Borrego milkvetch in particular.
On the floor of the valley, the dune field is surrounded by a border of salt-tolerant plants that gives way to the general creosote bush scrub that dominates the Mojave Desert. Wildlife in the area includes kangaroo rats, coyote, ground squirrels, black-tailed jackrabbits, rattlesnakes, quail, roadrunners and several species of lizards.
Most folks access the Cadiz Dunes via the Cadiz Road, a graveled road that runs along the eastern boundary. Cadiz Road is accessible by most two-wheel drive cars but the roads that border the north and south boundaries of the wilderness are 4WD only. Scattered along the valley floor to the south is a series of saltwater evaporative pools.
To get there go 62 miles east of Twentynine Palms on the Twentynine Palms Highway. Then turn and go north on the graveled road about 26 miles to the southeast corner of the wilderness. The wilderness boundary is set back from the west side of the road for the next 5 miles.
Camping is allowed in the area with a 14-day stay limit. Then your camp needs to be moved at least 25 miles away.
Sheephole Valley Wilderness is to the southwest, Old Woman Mountains Wilderness is to the east, separated from the Cadiz Dunes by a road and railroad corridor. Cadiz Dunes Wilderness was included in the Mojave Trails National Monument when that was established in February, 2016.

Looking across the Cadiz Dunes to the Old Woman Mountains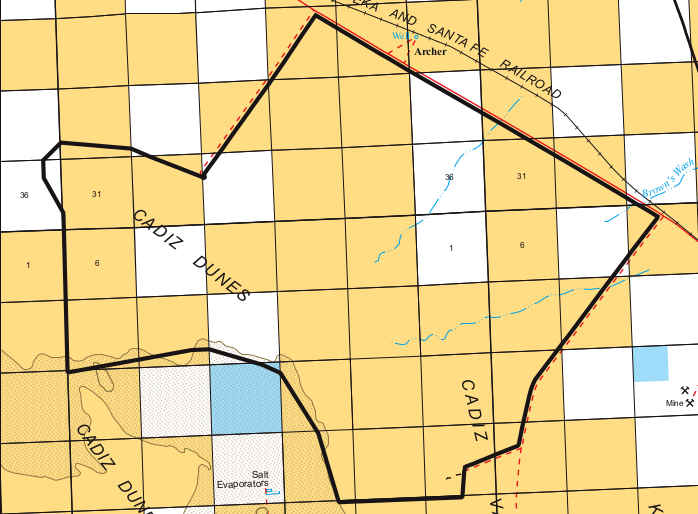 Cadiz Dunes Wilderness
Bureau of Land Management