Route 62 - Twentynine Palms Highway

Looking east, east of Twentynine Palms
Joshua Tree National Park on the right, Mojave Trails National Monument on the left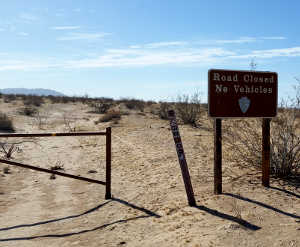 Typical sign along the route
Twentynine Palms Highway (also known as California Route 62) is a 151-mile route that runs essentially east-west from Parker, Arizona to just outside Palm Springs and Indio in the Coachella Valley. The route is paved for its entire length but there are times when wind-blown sand makes it seem otherwise. The road is mostly four lanes from the I-10 exit near Indio to the eastern side of Twentynine Palms. From there eastward it's two lanes only. There is a sign just east of Twentynine Palms warning the driver the next services east are at least 100 miles away. Obviously, this is one of the most desolate highways in California.
To the south along the highway is Joshua Tree National Park. To the north is Mojave Trails National Monument. Along the eastern portion of the route, the highway is paralleled by the California Aqueduct, a big ditch that carries water from the Colorado River to the Los Angeles area. There are several dirt roads heading off to the north along the way, some of them crossing narrow passes and continuing north to old towns along the track of the original Route 66.
I drove Highway 62 in late September and didn't find the temperatures (or the weather) objectionable. It was a bit windy (you can discern this as you pass by all the wind turbines in the Indio-Palm Springs-Morongo area at the western end of the highway). The portion going north along the east side of San Gorgonio Wilderness to Morongo Valley is through a narrow canyon with steep sides and no pullouts. At Morongo Valley, the landscape opens up and the road turns east, climbing up to Yucca Valley, then further up to Twentynine Palms. East of Twentynine Palms are more than a few houses but no services. And after maybe 20 miles, even the houses disappear. At least the folks who designed and built the highway allowed the construction of several vehicle pullouts along the way.
I was a bit surprised to see new "Property for Sale" signs at different places along the road, especially as I got closer to Parker, AZ.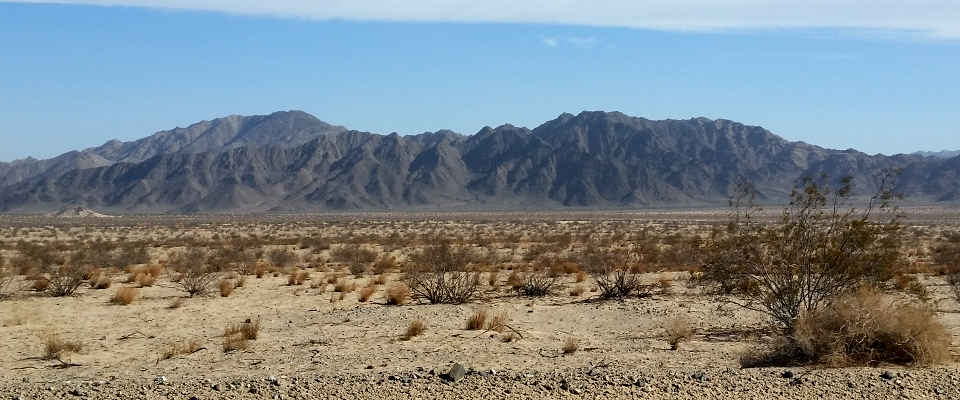 The Sheephole Mountains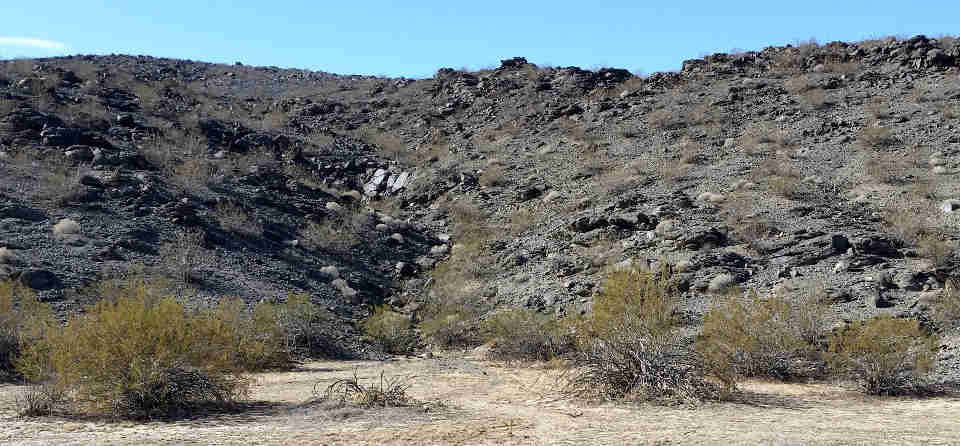 Typical landscape along the route
Twentynine Palms Highway
Latitude:

34.122605°N

Longitude:

115.794868°W