Old Woman Mountains Wilderness
On top of Old Woman Mountain: The namesake granite spire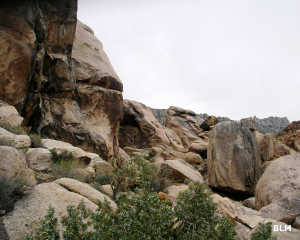 Granite blocks in the higher elevations
Old Woman Mountains Wilderness is a 165,172-acre wilderness straddling the transition zone between the Colorado Desert and the Mojave Desert in southern California. The wilderness is named for a granite formation that resembles an old woman (when seen from a distance) high in the mountains. The Old Woman Mountains are a rugged range, extending about 35 miles long north-south and up to 28 miles wide. Elevations top out above 5,300 feet above sea level and drop through the mountains to long, flat bajadas until it reaches about 800 feet above sea level and exits the property. There are several vehicular roads tunneled into the wilderness area, some leading to old mines that might still be active. The other roads appear to follow washes up toward the mountains.
Lower elevations on the wilderness are dominated by a creosote bush scrub that slowly gives way to a mixed desert scrub in middle elevations and a juniper-pinon woodland in the uppermost reaches. There are 24 known seeps and springs scattered through the Old Woman Mountains and the drainages below them exhibit stands of catclaw acacia, desert lavender, cheesebush, desert almond and little-leaf ratany. Wildlife in the area include mule deer, bighorn sheep, coyote, cougar, bobcat, ground squirrels, black-tailed jackrabbits, quail, roadrunners, kangaroo rats, rattlesnakes and several species of lizards. 49,683 acres of the wilderness have been identified as habitat critical for the survival of the threatened desert tortoise.
It was in the Old Woman Mountains in 1975 that the Old Woman Meteorite was found. It is the largest meteorite ever found in California, second largest found in the United States. It's on display now at the Desert Information Center in Barstow.
Accessing the property requires a 4WD vehicle. Most folks go southeast from Essex (on old Route 66) on the sandy, gravelled Sunflower Road. About 7 miles in the road crosses under a powerline and becomes the northeast boundary of the wilderness area for the next several miles. The wilderness boundary is set back about 30 feet from the road. Camping is allowed with a 14-day stay limit. Then the campsite must be moved at least 25 miles away.
To the west across the road and railroad corridor is Cadiz Dunes Wilderness, to the east across a road and powerline corridor is Turtle Mountains Wilderness, to the north is Piute Mountains Wilderness.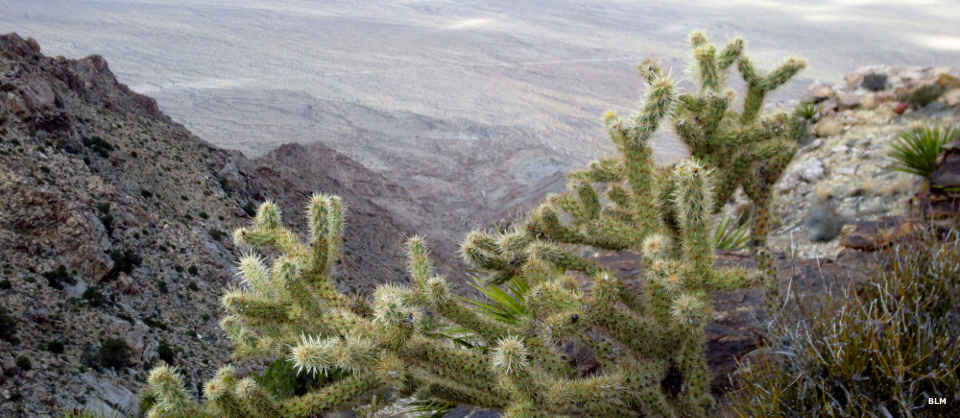 Cholla cactus in the Old Woman Mountains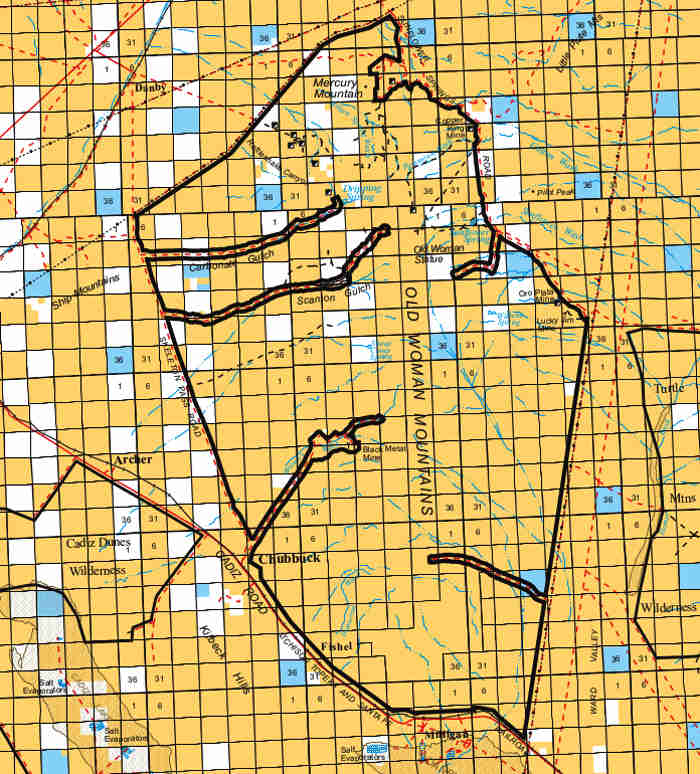 Old Woman Mountains Wilderness
Bureau of Land Management

- Needles Field Office
Upper and lower photos courtesy of Antonio Valdes, BLM,
CCA 2.0 License
Upper left photo and map courtesy of the Bureau of Land Management