Lostwood National Wildlife Refuge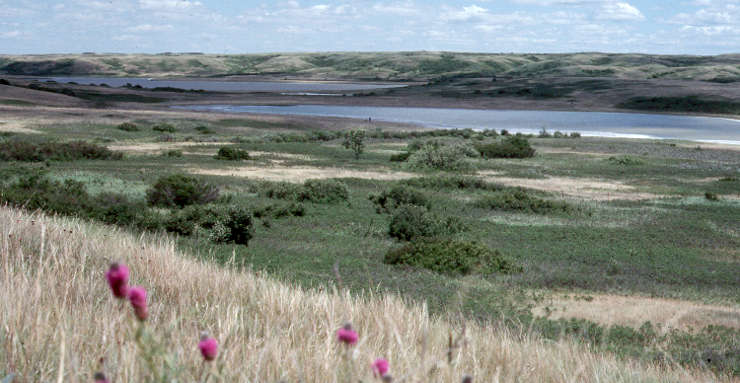 Lostwood National Wildlife Refuge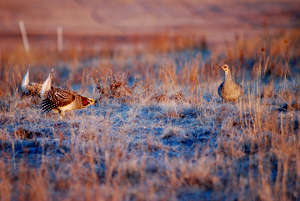 Lostwood National Wildlife Refuge is a 26,904-acre property located in the Missouri Coteau region in northwestern North Dakota. The landscape is composed of rolling hills, steep hillsides and potholes (small lakes and ponds that fill in depressions in the land left by the retreating glaciers of the last Ice Age). There are more than 700 species of plants in the area with more than 100 species of native grasses found on the virgin northern mixed grass prairie that covers most of the property. The refuge is visited annually by more than 250 species of migratory birds, making Lostwood a Globally Important Bird Area. In addition, there are more than 200 ancient tipi rings to be found scattered around the refuge.
At one time, much of the refuge was homesteaded and the land cultivated. Then came the 1930's and many farmers in the area had to sell their land to the Federal Land Bank for as little as $2 per acre. Lostwood NWR was assembled from some of those lands and formally established in 1935. Since then US Fish & Wildlife personnel have been working to return the land to the state it was in in the early 1900's, before modern agricultural practices began transforming it into something it wasn't very well suited for.
The Giant Canada Goose, once thought to be extinct, was reintroduced to the wild at Lostwood in 1964 and has made a remarkable comeback since.
5,577 acres of Lostwood NWR became designated wilderness in 1975. This acreage (almost a quarter of the entire refuge) is located in the northwest corner of the property. Hiking, bird-watching, snowshoeing and cross-country skiing are allowed but camping, campfires and motorized vehicles are not.
The refuge is a day-use only property, open from 1/2 hour before sunrise to 1/2 hour after sunset every day of the year. The visitor center/headquarters office is open from 7:30 am to 4 pm, Mondays through Fridays except closed on Federal holidays. The auto tour route is open from 5:30 am to 10 pm May through September. There are no fees involved. No waterfowl hunting is allowed but archery and rifle deer hunting is allowed during North Dakota regular seasons. There is a 7-mile long auto tour route that connects with a 7-mile long nature trail.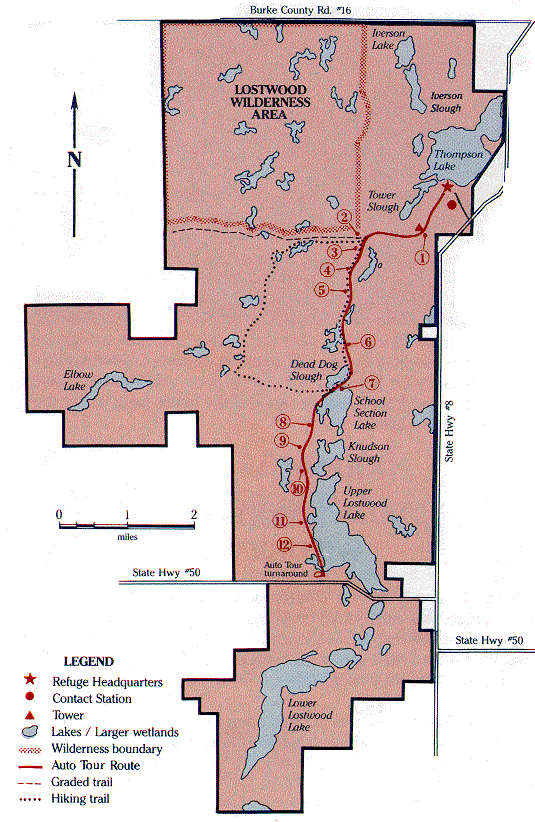 Lostwood National Wildlife Refuge
Upper photo is in the public domain
Upper left photo is courtesy of Nathan Carle
Map is courtesy of the US Fish & Wildlife Service