Menagerie Wilderness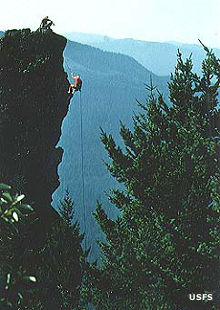 Menagerie Wilderness is a 5,084-acre property most known for its collection of low-elevation rock pinnacles. Rock climbers from all over the Northwest come to Menagerie to hone their skills.
Elevations in the wilderness vary from about 1,600 feet to about 3,900 feet. As a low-elevation wilderness, the property is open and accessible year round. The best known destination in the wilderness is Rooster Rock and of the few trails that do exist in the area, most end at Rooster Rock. Getting to any of the other pinnacles that may beckon you requires strenuous cross-country travel through a landscape of deep canyons and steep hillsides. Thankfully US Highway 20 parallels the southern border of the wilderness for the entire length of the wilderness, making it somewhat easier to get into the wilderness to some of the other popular rock climbing sites: Turkey Monster, Hen Rock, Roosters Tail, North and South Rabbit Ears, and Chicken Rock. Roosters Rock is rated at 5.4 but some of the towers rate up to 5.9. Vegetation in the area is mainly second-growth Douglas fir, western red cedar and western hemlock.
Self-issue (at the trailhead) permits are required from Memorial Day Weekend to Halloween. Some trailheads require a valid recreation pass. The north side of Menagerie Wilderness is closed to the public from January 1 through July 31 to protect wildlife in the area. Most folks access the wilderness via either the 2.1 mile Rooster Rock Trail (trailhead at milepost 51.5 on US 20, near Fern View Campground) or the 3.3 mile Trout Creek Trail (trailhead at milepost 48.8 on US 20, near Trout Creek Campground). Both trails end at Rooster Rock.
Menagerie Wilderness
Willamette National Forest -

US Forest Service

Upper photo is courtesy of the US Forest Service