Clearwater Wilderness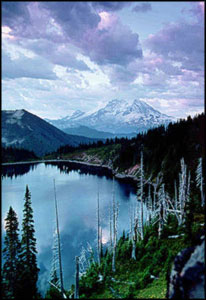 Clearwater Wilderness is a 14,300-acre property in Mount Baker-Snoqualmie National Forest on the northern border of Mount Rainier National Park. Clearwater Wilderness offers a wilderness setting with great views of Mount Rainier to the south.
The topography of Clearwater Wilderness is generally moderate with a couple large streams and eight small lakes. Most popular destination is probably Summit Lake. Clearwater Wilderness contains the headwaters of the north-flowing Clearwater River. The wet season is generally from October through May and snow levels can be as much as 25 feet. That snow often lingers into July. Because of the precipitation level, the understory of Clearwater Wilderness is primarily moss and fern.
Clearwater Wilderness has a lot of old growth western red cedar, western hemlock and Douglas fir. Mammals typically found in the area include black bear, marmot, elk, black-tailed deer, raccoon, mountain lion, bobcat, coyote, skunk and porcupine.
Busiest trail in the area is the Summit Lake Trail, an easy 2.5 mile walk in the woods. Hardest part is the 1,500 feet in elevation gain between the trailhead and the lake itself. Second hardest part is the number of people on the trail: Summit Lake has seen severe human impact, especially on the weekends. 6.5 miles beyond Summit Lake is the summit of Bearhead Mountain (6,089 feet), highest point in the wilderness and offering the best views of Mount Rainier.
Photo courtesy of the US Forest Service