Presidential Range-Dry River Wilderness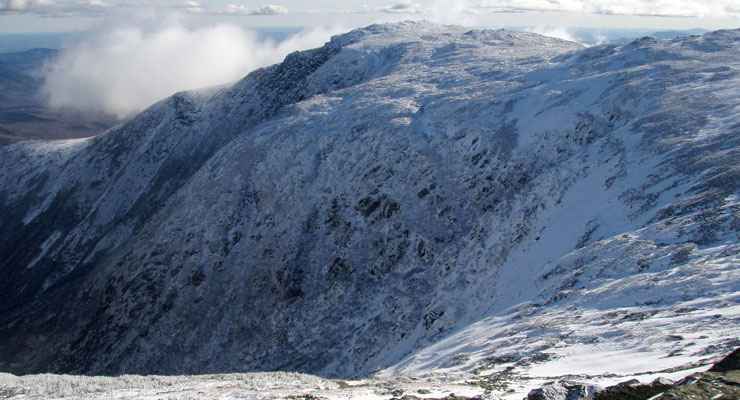 Boott Spur, on the northeastern corner of Presidential Range-Dry River Wilderness
The Presidential Range-Dry River Wilderness extends south from Mount Washington in the White Mountains. Dry River is a short river that flows from the glacial cirque at Oakes Gulf southwesterly through the wooded mountain valley until it reaches the Saco River at Crawford Notch. The Dry River Trail parallels the river from Crawford Notch to its source.
As this is basically a long, southerly-dropping glacial cirque with a headwall rising to the ridgeline atop Mount Washington, snowmelt will keep the rivers and streams in this area flowing high well into the summer months. The Presidential Range-Dry River Wilderness contains some 27,380 acres between the top ridge of the south Presidential Range on the west and the top of Montalban Ridge to the east.
The southern edge of the property is mostly a hardwood forest that really shows its colors in the autumn leaf change. The center of the wilderness is a mostly spruce-fir mix that drops from the mountainsides to the river bottoms. Above the spruce-fir vegetation is the largest contiguous area of alpine tundra east of the Rocky Mountains.
There's about 43 miles of maintained hiking trails in the Presidential Range-Dry River Wilderness, and along most of them you could turn a corner and find yourself face-to-face with a moose, black bear, deer or bobcat at any time.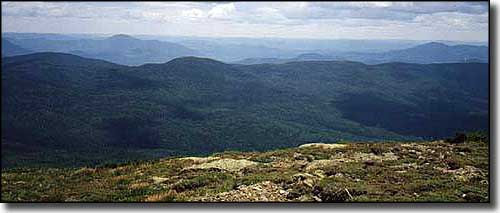 The view west across Presidential Range-Dry River Wilderness from the top of Montalban Ridge
Presidential Range-Dry River Wilderness
US Forest Service
Photo of Boott Spur courtesy of Wikipedia userid Paulbalegend
Photo of the view from Montalban Ridge courtesy of hikethewhites.com