Cottonwood Forest Wilderness
Cottonwood Forest Wilderness is a 2,620-acre property contained within Dixie National Forest. The property became Congressionally-designated wilderness as part of the Omnibus Public Land Management Act of 2009. There seems to be little information available about the property.
Immediately to the southwest is Cottonwood Canyon Wilderness, part of the BLM's Red Cliffs National Conservation Area.
This area is located at the very south end of the Pine Valley Mountains, a zone of deep, red sandstone canyons and jumbled rock originally emplaced back in the Jurassic age. Cottonwood Forest Wilderness is characterized by steep slopes and narrow canyons. Unlike Cottonwood Canyon Wilderness, there are no established hiking trails here because the countryside is simply too rugged for most folks.
The canyon bottoms are lined with typical Mohave Desert near-riparian vegetation (scarlet monkeyflower, columbine and maidenhair fern) while the upper areas sport a few pinyon pines, Utah junipers and the odd Ponderosa pine. For wildlife there are mule deer, coyote, kit fox, bobcat and mountain lion with several different species of raptors nesting on the high canyon walls.
Cottonwood Forest Wilderness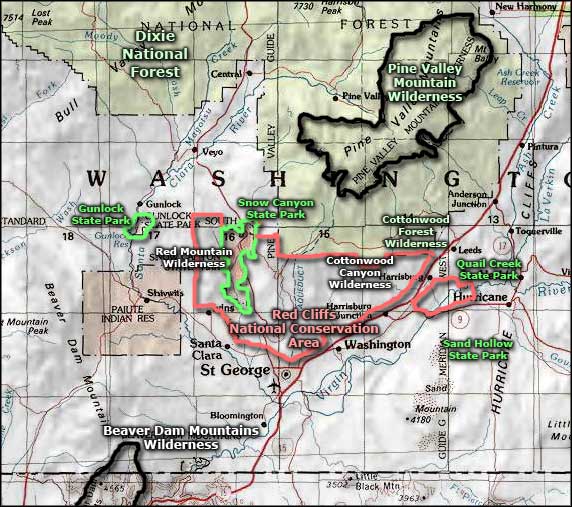 Related Pages
Map courtesy of National Geographic Topo!