Palo Verde Mountains Wilderness

Palo Verde Mountains Wilderness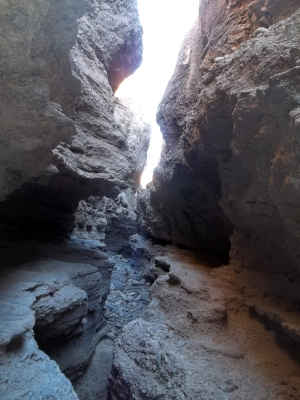 A slot canyon in the wilderness
Palo Verde Mountains Wilderness is a 39,955-acre property in southern California. To the east California State Highway 78 and Cibola National Wildlife Refuge.
On the edge of the Colorado River Valley, the Palo Verde Mountains are stark desert landscape: ironwood, mesquite, cholla, palo verde trees, etc. The high point is Palo Verde Peak, about 1,800 high. An interesting place is Clapp Spring, just east of Thumb Peak. Most springs in a desert setting bubble to the surface in the shade of a deep canyon and flow down the canyon, creating a riparian zone. Clapp is different: it comes up in flat land, open landscape. It's the only perennial, reliable water source in the wilderness, just ask any wild burro, desert bighorn sheep or desert tortoise you come across. They'll all point to the same place. Without shade, the water doesn't flow very far.
To get to the Palo Verde Mountains, take SR 78 south from Blythe for about 18 miles. The wilderness area is to the west, set back about 300 feet from the pavement. It seems there are several old 4WD trails cherry-stemmed into the wilderness. The landscape is so fragile that a few people walking close to each other makes a new trail. Anyone following them later builds on that trail. That said, there are several trails in the wilderness leading to significant points: the slot canyon, the Flattops, Palo Verde Peak, Clapp Spring and Thumb Peak.

Barren landscape along the trail to South Flattop

Thumb Peak
Palo Verde Mountains Wilderness
Bureau of Land Management