Absaroka-Beartooth Wilderness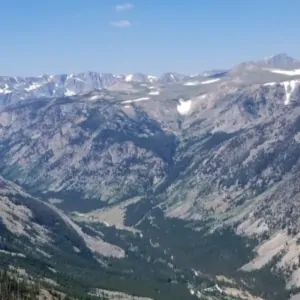 Rock Creek Canyon, at the edge of Absaroka-Beartooth Wilderness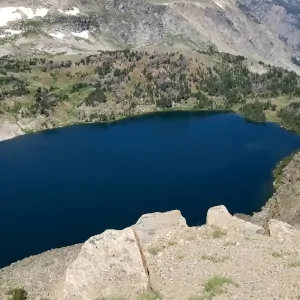 Just northeast of Yellowstone National Park you'll find the 943,626 acres of Absaroka-Beartooth Wilderness. Part of the Greater Yellowstone Ecosystem, Absaroka-Beartooth Wilderness offers high, sharp mountains (Granite Peak (12,799'), highest point in Montana), active glaciers, hundreds of lakes, deep canyons, large alpine tundra plateaus and some of the best trout fishing on Earth. There's even a couple glaciers here that are filled with the fresh-frozen bodies of thousands of grasshoppers.
920,343 acres of Absaroka-Beartooth Wilderness are in Montana with another 23,283 acres in Wyoming. The eastern side of Absaroka-Beartooth Wilderness is defined by the Beartooth Mountains, so named because one high peak closely resembles a bear tooth. The Beartooth Range is a mostly granitic range and tends to be higher and more rugged than the Absaroka Range to the west. The great mass of the Beartooth is a huge treeless plateau running between 9,000' and 10,000' in elevation. There are several peaks that stuck up above 12,000'. The range is obviously very glaciated, and resembles what's left of the Alaska Range with many glacial cirques and high mountain ponds and tarns.
The Absaroka Range is not nearly as wet. The Absarokas aren't as stark either as they are composed of more malleable metamorphic and volcanic rock. The highest Absaroka peak is Mount Cowan (11,206'), and most areas are well covered in vegetation. The waters in both mountain ranges carry lots of trout and whitefish but you'll find more wildlife in the Absarokas.
The Absaroka-Beartooth Wilderness sports more than 700 miles of maintained hiking trails, but the area is huge and it's easy to lose your way. You'll want good maps and a compass or good GPS device. You also need to be prepared for changeable weather: it can and will snow on any day of the year. You'll also find deep drifts in the high country late into August, about the time it starts to really snow again. Late summer is when the countryside puts on its best clothes and the meadows are filled with an incredible display of wildflowers.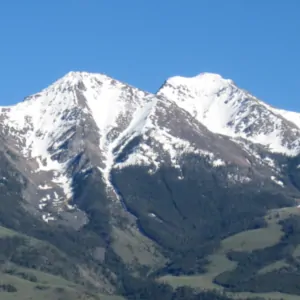 Along the western edge of Absaroka-Beartooth Wilderness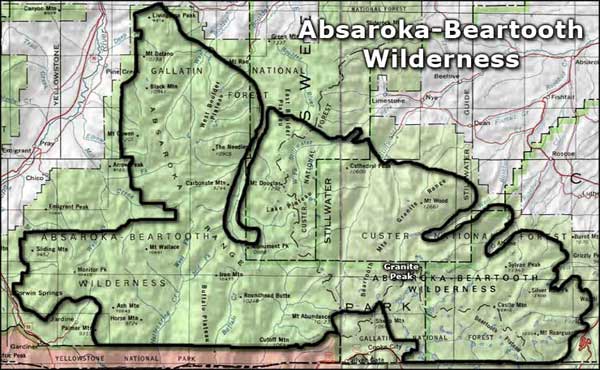 Absaroka-Beartooth Wilderness area map
Photos are courtesy of TheArmchairExplorer,
CCA-by-SA 4.0 License
Map courtesy of National Geographic Topo!
Related Pages
Map courtesy of National Geographic Topo!