Tatoosh Wilderness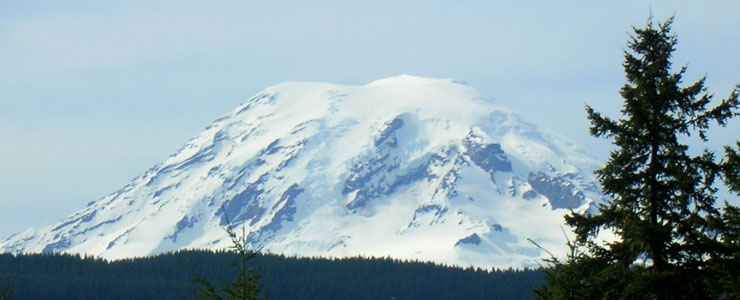 Mount Rainier from Tatoosh Wilderness
Tatoosh Wilderness is a 15,725-acre property on the southern boundary of Mount Rainier National Park in Gifford Pinchot National Forest. The name comes from Tatoosh Ridge, a very rugged north-south ridge that runs out of the National Park and across the middle of the wilderness area. Backbone Ridge, also running south of the Mount Rainier National Park, runs along the eastern section of Tatoosh Wilderness.
With an annual average of 25 feet of snow every year, numerous streams cascade off the high ridges and eventually empty into the Cowlitz River south of the wilderness. The forest tends to be thick with western red cedar, western hemlock and Douglas fir, the ridgetops are often open subalpine meadows. Among the mammals found on Tatoosh Wilderness are black bear, black-tailed deer, elk, pine marten, wolverine, gray wolf, coyote and mountain goat. The views from the high country north to Mount Rainier are breathtaking.
The busiest trails are probably the 8.6-mile Tatoosh Trail (that climbs straight up onto Tatoosh Ridge, then levels out and runs along the top of the ridge in a slow descent), the side trail to Tatoosh Lakes and the side trail to the old Tatoosh Lookout. Other trails enter from the north via Mount Rainier Wilderness.
Wilderness permits are needed if you're staying overnight, a Northwest Forest Pass is needed if you park a vehicle on or near US Forest Service property. Around the lakes in Tatoosh Wilderness no camping, fires or stock are allowed. For that matter, the trail conditions are so bad stock isn't allowed in most areas of the wilderness.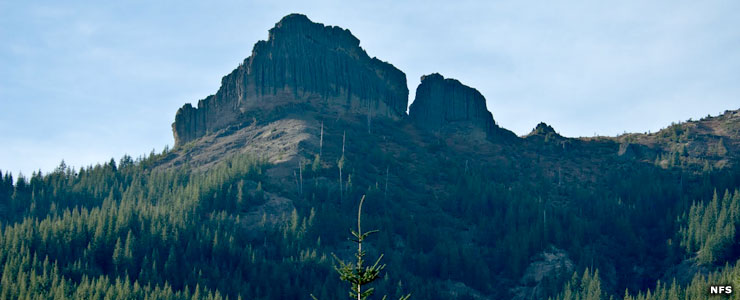 Rock formation on Tatoosh Ridge
Upper photo courtesy of TheArmchairExplorer,
CCA-by-SA 3.0 License
Bottom photo courtesy of the US Forest Service