Roaring River Wilderness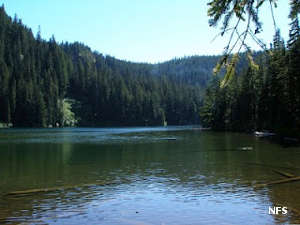 The Roaring River
Roaring River Wilderness is a 36,768-acre property in the southwest area of Mount Hood National Forest. The wilderness came into existence in 2009 to protect the upper drainage of the Wild & Scenic Roaring River, a designation made in 1988 that protected the entire length of the river except for the 0.2 miles close to its mouth into the Clackamas River (where the designation was not "wild" but "recreational").
Hardcore whitewater enthusiasts have been known to carry their gear into the wilderness and raft the last 3.2 miles of the river to where it meets the Clackamas. That section of Roaring River is rated at Class IV with ledges, boulders, shifting wood hazards and multiple portages to deal with.
Forested mostly in western hemlock, western red cedar and Douglas fir, the wilderness area provides habitat for black bear, mountain lion, Rocky Mountain elk, mule deer, spotted owls and pileated woodpeckers. The Roaring River is also a spawning area for salmon and steelhead trout. Treeline in the wilderness is around 6,000 feet and above that are numerous alpine meadows and glacially-carved lakes.
There are ten trails in the wilderness: Dry Ridge, Grouse Point, Serene Lake, Shining Lake and Shellrock Lake are the major destinations. Free wilderness permits are required in Roaring River Wilderness between May 15 and October 15. The permits are self-issuing at the trailheads and wilderness boundaries. Most folks access the wilderness via Oregon Highway 224, beginning on the east side of the road about 17 miles southeast of Estacata. In areas across the road to the southwest are sections of the Clackamas Wilderness along the Clackamas River.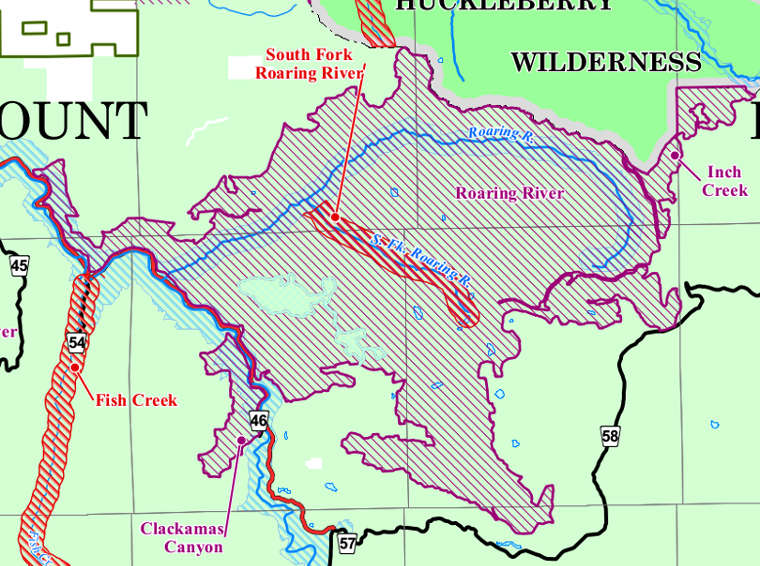 Roaring River Wilderness
Mount Hood National Forest -

US Forest Service

Photos courtesy of the US Forest Service