Thousand Lakes Wilderness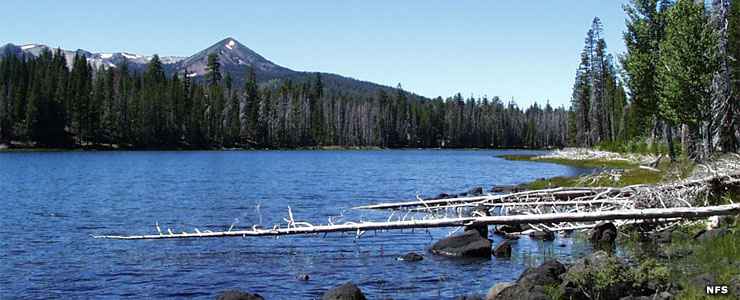 Eiler Lake in Thousand Lakes Wilderness
Thousand Lakes Wilderness is a 16,335-acre property on Lassen National Forest near Lassen Volcanic National Park. The property is dominated by Crater Peak (8,677 feet, the highest point on Lassen National Forest). The lowest point of the wilderness is at 5,546 feet on the base of the ancient volcano. This is a countryside of rocky ravines, open meadows, mountain slopes, volcanic and glacial formations mixed with stands of lodgepole pine and red fir.
Many years ago there was a large volcanic cone here named Thousand Lakes Volcano but what we see today is what remains after glaciers scraped off most of that mass and left depressions in the surface that slowly became the many small lakes and ponds scattered through the area. There has been volcanic activity and cone building since that last Ice Age, the most recent activity being around Hall Butte, a cinder cone that erupted maybe 500 years ago.
There are seven major lakes in the wilderness and all are regularly stocked with trout. Among the mammals present on the property are blacktail deer, pine marten, black bear, pika and the occasional elk.
Summer season generally runs from mid June to mid October, coinciding with the heavy bug season: you'd be well advised to carry industrial-strength bug repellant with you on your visit. The wilderness does see heavy use in the summer so folks who can visit during the week and not on weekends or holidays will enjoy the experience more... There are three trailheads providing access to the wilderness and its nearly 21 miles of trails. Wilderness permits are not required but if you're going to stay overnight, you'll probably want a California campfire permit.
Thousand Lakes Wilderness
Lassen National Forest -

US Forest Service
Photo courtesy of the US Forest Service