Mount Adams Wilderness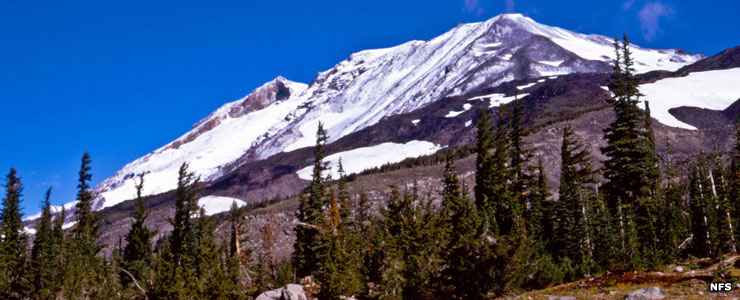 Mount Adams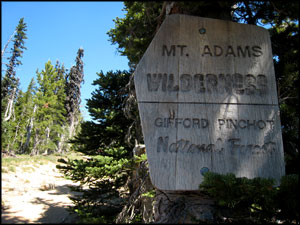 Mount Adams Wilderness is a 47,280-acre property on the west side of Mount Adams in Gifford Pinchot National Forest. The southeast side of the mountain is part of the Mount Adams Recreation Area while the east side is part of the Yakama Nation. Centered around one of the larger volcanoes in the Cascade Range (second highest point in Washington state at 12,276 feet), the Mount Adams area is ecologically diverse and geologically active. Mount Adams is also home to several large glaciers, including the second largest glacier in the 48 contiguous states. Everywhere you go on the mountain you'll come across evidence of past lahars and avalanches. Mount Adams itself is a collection of various eruption sites that have built up and merged depending on the direction and volume of the various lava flows.
The Pacific Crest National Scenic Trail traverses Mount Adams Wilderness for about 21 miles, passing west and north of Mount Adams itself. There are another 45 miles of trails in the wilderness that connect virtually everything of interest not on the Yakama Nation.
Hundreds of people try every year to reach the summit of Mt. Adams. Because the summit is almost surrounded by steep glaciers, most routes require the use of crampons and an ice ax. Only the South Climb Spur allows folks to get close with only good hiking boots and ski poles but even on that trail, the loose rock and talus can be a problem, especially for anyone on the slopes below. The mountain is dangerous in a lot of ways and folks have been known to die on the slopes. Elevation gain from most trailheads to the summit of the mountain is in the vicinity of 7,000 feet. Recommended time for a round trip to the summit: 2 days.
Most trails in Mount Adams Wilderness start low and gain anything from 1,500 feet to 3,000 feet in the first 3 to 6 miles. Usually the trails are impassable from late November into early summer.
Accessing most trailheads requires a valid Northwest Forest Recreation Pass displayed on the dashboard of your vehicle. Wilderness permits are free but required everywhere in the wilderness. Activities above 7,000 feet on the mountain also require possession of a Cascades Volcano Pass from the National Forest Service. Between June 1 and September 30 the Cascades Volcano Pass parking stub will satisfy the Northwest Forest Recreation Pass requirement. Backpacking stoves are allowed, open fires are banned above 6,000 feet.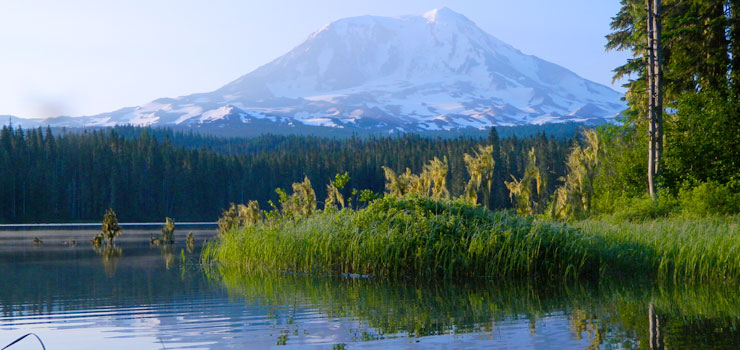 A view of Mount Adams across Takhlakh Lake