Breton National Wildlife Refuge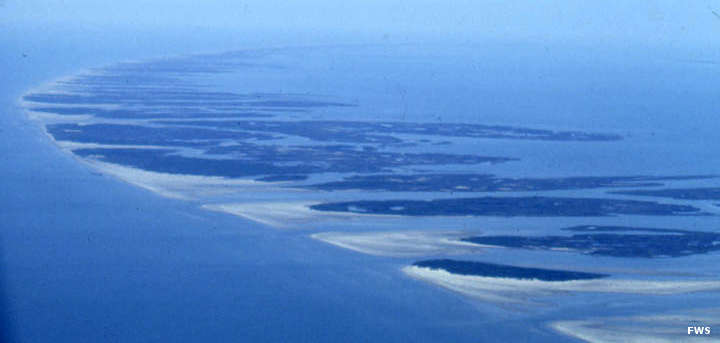 Shoreline eroding in the Chandeleur Islands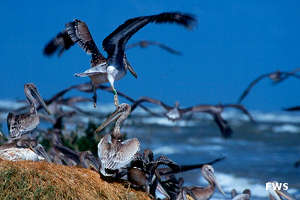 Breton National Wildlife Refuge was established in 1904 and is the second oldest National Wildlife Refuge in the system (after Pelican Island National Wildlife Refuge in Florida). President Theodore Roosevelt signed the Executive Order in 1904, then actually visited the property in 1915. At first the name was Breton Island Reservation and that was changed to Breton National Wildlife Refuge in 1938. In 1990 an agreement was made with the State of Louisiana that put state-owned lands in the area under US Fish & Wildlife Service control, an agreement that more than doubled the land mass in the refuge.
The refuge consists of Breton Island and all of the Chandeleur Islands, a series of barrier islands left over from the days when the Mississippi River flowed through the St. Bernard and Lower Plaquemines Delta about 2,000 years ago. The islands are dynamic: they change form and elevation with every tropical storm that flows through the area. Today there are about 6,000 acres that rise above mean high tide (up to 19 feet above mean high tide in some spots). A lighthouse was built on North Breton Island around 1895 but that was destroyed in 2005 by Hurricane Katrina. A settlement was established on Breton Island around the turn of the century but that was evacuated before a hurricane in 1915, a hurricane that washed the entire settlement away. It was never rebuilt. There is also the remains of an oil production facility on North Breton Island, a facility that prevented the inclusion of that island in the Breton Wilderness when that was designated in 1975.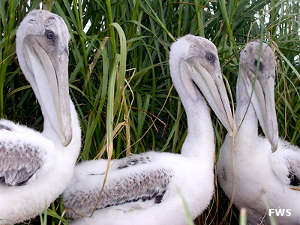 Hurricane Katrina impacted the islands hard, removing about 70% of the land base and damaging or destroying much of the vegetation and large areas of beach and marsh. Oil spills have been a problem in the area for years, especially the oil spill following the Deepwater Horizon explosion in 2010. That said, the 2011 bird season showed the largest number of brown pelican nests since Katrina and the largest number of tern nests in more than a decade.
Public use of the property is limited to wildlife viewing and fishing. Access is by boat only and as each species of bird goes into nesting season, those areas of the refuge are closed to the public. Camping is not allowed since Katrina washed away so much of the land mass. About 5,000 acres of what's left of Breton National Wildlife Refuge are included in the wilderness area.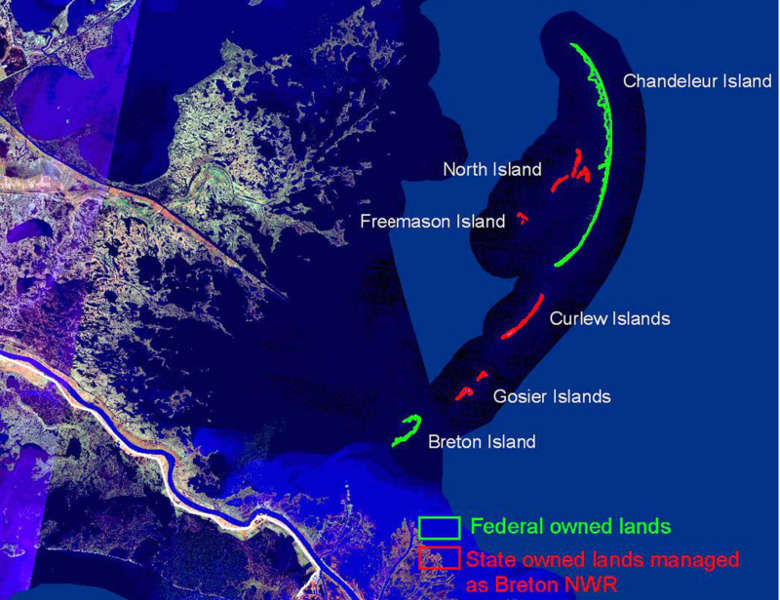 Breton National Wildlife Refuge

Photos and maps courtesy of the US Fish & Wildlife Service