Dry Creek Wilderness
Dry Creek Wilderness is a 6,310-acre property on the northern side of Ouachita National Forest. The second-smallest wilderness in Arkansas, Dry Creek offers scenic vistas and great opportunities for solitude in this roadless drainage. Dry Creek flows only part of the year in that area of the Ouachita Range between Dry Creek Mountain and North Petit Jean Mountain.
This is an area of high sandstone bluffs and ridges, rocky outcroppings and steep slopes above a dense forest of pine, oak and hickory. Surrounded by gravel roads, the wilderness hides a relatively large population of black bear, in addition to white-tailed deer, bobcat, fox, raccoon, opossum and several species of squirrel. The Dry Creek Trail closely follows Dry Creek through the wilderness for a bit more than 5 miles. The path is rugged and where it isn't steep, it's very steep. There are several side paths that lead out of the creek bottom to the road along the northern boundary of the wilderness.
A popular destination in this little used wilderness is Chimney Rock. Chimney Rock is a piece of a vertical rock formation that split off long ago but still stands, just a few feet out from the rock wall.
To get there: From Booneville take US Highway 23 south to County Road 19. Turn south on that and go to FSR 141, then to FSR 51 to the wilderness boundary. From Sugar Grove follow County Road 31 to CR 604 to CR 38 to FSR 133 to get to the northwest side of the wilderness. From Waveland follow Highway 309 south past Blue Mountain Lake to County Road 28. Turn on that and go to FSR 18. turn and go to FSR 3. Go west on FSR 3 to access the eastern side of the wilderness.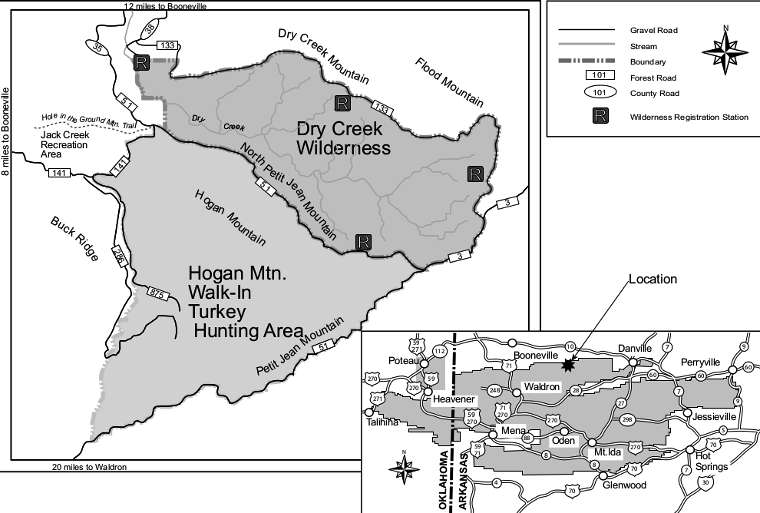 Dry Creek Wilderness
Ouachita National Forest -

US Forest Service

Map courtesy of the US Forest Service