Ouachita National Forest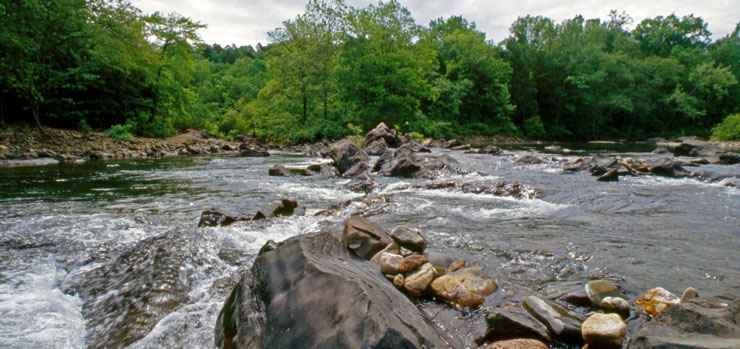 The Cossatot River, great whitewater rafting on the Ouachita National Forest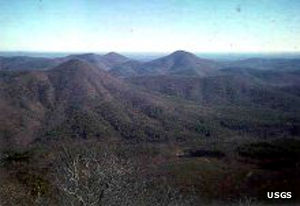 Ouachita National Forest contains some 1.8 million acres of countryside centered around the Ouachita Mountains of central and western Arkansas and southeastern Oklahoma. About 20% of the forest land is in Oklahoma. A 165,000-acre chunk of the forest was nearly declared a national park in the 1920's but a veto by President Calvin Coolidge ended that effort. The original forest declaration named the Arkansas National Forest in 1907, then the name was changed in 1926.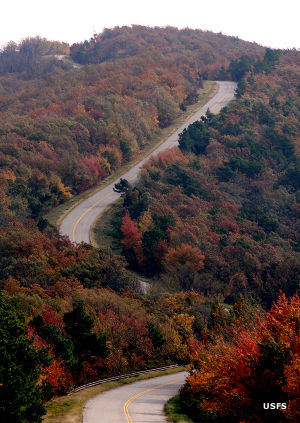 Along the Talimena Scenic Drive
This area was first explored by Europeans of the Hernando de Soto expedition in 1541. They were followed about 100 years later by French trappers and traders who traveled the rivers, trading with those of the Ouachita Tribe who'd survived the diseases brought by the Spaniards.
The Ouachita Mountains are truly ancient. They are the product of a collision between the South American and North American tectonic plates. That's why the ridges all run east-west instead of north-south like most of the other mountain ranges in North America do. The Ouachitas are also singularly devoid of evidence of volcanic activity, meaning the only mountain building process that took place here came as a result of that tectonic collision so long ago. At one time they were about the same height as today's Rocky Mountains but millions of years of erosion have reduced them to just the hearts of what they once were. Still, the slopes are dry, steep and heavily wooded. The Forest Service estimates that about 800,000 acres of Ouachita National Forest is covered with old-growth timber, never logged because the pain of removing the timber was more than the timber was worth.
The Ouachita National Recreation Trail runs east-west across the forest for 192 miles, between Talimena State Park in Oklahoma and Perryville, Arkansas. The trail is well-maintained for hikers and horseback riders (mountain biking is only allowed on certain marked sections of the route) and there are overnight shelters scattered along the way.
The Talimena Scenic Drive is a National Scenic Byway that also crosses the forest offering great views and easy-to-access trails into some of the old-growth woodlands on Rich and Winding Stair Mountains.
Caddo River, Ouachita River, Little Missouri River and Mountain Fork River have made canoeing and fishing very popular on Ouachita National Forest. The forest is also crossed by the Cossatot River, thought by many to be the most difficult whitewater rafting stream east of the Rockies and west of the Smokies.
Campgrounds on Ouachita National Forest
Albert Pike
Bard Springs
Big Brushy
Billy Creek
Cedar Lake Equestrian Camp
Cedar Lake Recreation Area
Charlton Recreation Area
Crystal

Dragover
Fourche Mountain
Fulton Branch
Jack Creek
Knoppers Ford
Lake Sylvia
Little Pines
River Bluff

Rocky Shoals
Shady Lake
Shirley Creek
South Fourche
Winding Stair
Winding Stair Campground
Winding Stair Mountain National Recreation Area
Select Hiking, Mountain Biking and Equestrian Trails
Albert Pike
Athens Big Fork
Bard Springs
Bear Creek
Beech Creek
Beech Creek National Scenic Area & Botanical Area
Big Brushy
Big Brushy Trail Complex
Billy Creek Recreation Area
Billy Creek Trail
Black Fork Mountain
Boardstone/Military Road
Buffalo Gap
Camp Clearfork
Caney Creek
Cedar Lake Equestrian Camp
Cedar Lake Recreation Area
Cedar Lake/Old Pine
Charlton Recreation Area
Charlton Trail
Crystal

Crystal Vista
Danville Mountain
Eagle Rock Loop
Earthquake Ridge
Fourche Mountain
Friendship
Fulton Branch
Hole in the Ground
Horsethief Springs
Horsethief Springs Trail
Hunt's Loop
Indian Nations National Scenic and Wildlife Area
Iron Springs
Jack Creek
Kerr Arboretum Trails
Knoppers Ford
Lake Ouachita Vista Trail
Lake Sylvia
Little Blakely
Little Missouri

Little Missouri River Falls
Little Pines
Mountain Top Trail
Orchard Trail
Ouachita National Recreation Trail
Possum Kingdom
River Bluff
Rocky Shoals
Serendipity
Shady Lake
Sugar Creek Hiking
Sugar Creek Multi-Use
Viles Branch
Wildcat Mountain
Winding Stair
Winding Stair Campground
Winding Stair Equestrian
Winding Stair Mountain National Recreation Area
Wolf Pen Gap
Womble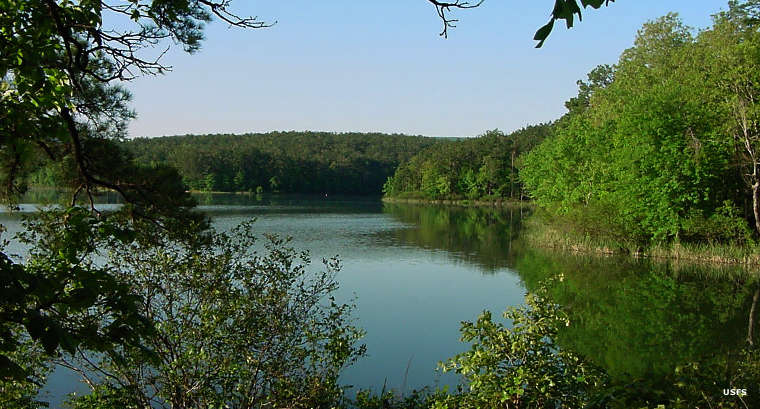 Cedar Lake
Ouachita National Forest
US Forest Service
100 Reserve Street, PO Box 1270

,

Hot Springs

,

AR

71902
501-321-5202

Upper left photo courtesy of the US Geological Survey
Other photos courtesy of the US Forest Service