Upper Kiamichi River Wilderness
The Upper Kiamichi River Wilderness is a 10,819-acre property on Ouachita National Forest in Oklahoma. The wilderness is in an area of high east-west ridges, some points more than 2,600 feet above sea level. Several streams and waterfalls flow off the ridges and gather into the Upper Kiamichi River watershed. The ridges are steep and sharp, the valley floors flat and narrow. The forest is a dense mix of oak, hickory and pine.
The Talimena Scenic Drive follows the northern boundary of the wilderness, offering overlooks all along the way. Most folks access the wilderness from the south, though, via US Highway 259. About one mile north of Big Cedar, OK, turn east on FSR 6032 and go about three miles to the parking lot at Pashubbe Creek. That's the western terminus of the Ouachita National Recreation Trail, a route that runs almost 200 miles across the forest east-west. The Oklahoma section of the trail is about 57 miles long. Here the route runs across the wilderness area from the Pashubbe Creek parking area to Stateline Monument on the Arkansas-Oklahoma border. The trail closely follows the path cut by the Upper Kiamichi River, which means crossing through the river several times. There's another parking area near the southeast corner of the wilderness where Horsepen Creek flows out. Oklahoma Route 63 parallels the southern boundary of the wilderness area and there are several access points along the road.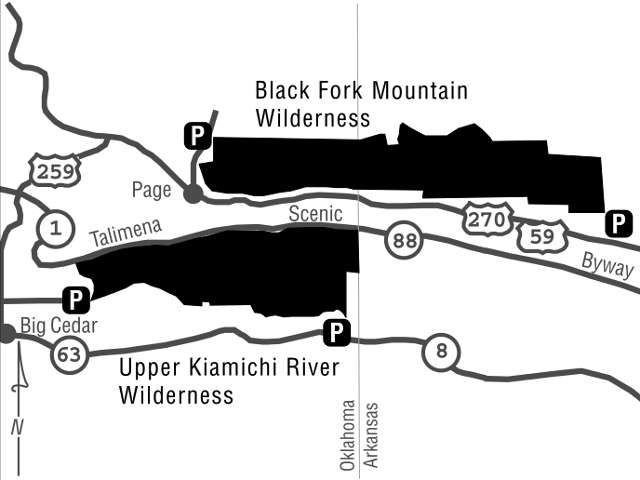 Upper Kiamichi River Wilderness
Map courtesy of the US Forest Service