Pictured Rocks National Lakeshore

Pictured Rocks National Lakeshore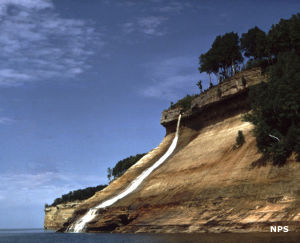 Bridal Veil Falls
Pictured Rocks National Lakeshore is a 73,236-acre property along the shoreline of Lake Superior on the Upper Peninsula of Michigan. To the southwest is Hiawatha National Forest and Grand Island National Recreation Area. Geologically speaking, Pictured Rocks exhibits escarpments, prehistoric Lake Nipissing beach ridges and post-glacial meltwater channels in a multi-colored landscape with towering sandstone cliffs, spectacular waterfalls, miles of beach strands, sand dunes and inland lakes and streams.
The 42 miles of lakeshore offer about 15 miles of multi-color sandstone cliffs. There are about 100 miles of hiking trails and 14 designated backcountry camping areas. Camping is only allowed in designated campsites and each camping area allows only a limited number of campers. About 42 miles of the North Country National Scenic Trail traverse the park, running from Grand Marais to Munising. The park is open year-round but some areas are not plowed in winter and can be hard to access.
About 11,740 acres of the park have been included in Beaver Basin Wilderness. The wilderness area includes about 17 miles of Lake Superior shoreline, from Sevenmile Creek on the east to Spray Falls on the west. The wilderness area runs inland for about 3.5 miles and includes the exceptionally clear waters of Legion Lake, Trappers Lake and Beaver Lake plus five coldwater streams. Beaver Basin Wilderness provides critical habitat for native coaster brook trout and numerous other species. The extensive wetlands is balanced by an old-growth cedar swamp and an extensive beech-maple upland hardwood forest.
The Grand Sable dunes are sitting atop the Grand Sable Banks along the shore of Lake superior about a mile west of Grand Marais. This remnant left by ancient glaciers covers about five square miles. A portion of the area has been set aside as the Grand Sable Dunes Research Natural Area.
Pictured Rocks National Lakeshore and Hiawatha National Forest share an Interagency Welcome Center in Munising. That welcome center is open year round while other visitor centers and sites on the property are usually only open from about Memorial Day Weekend to Labor Day Weekend. The Interagency Welcome Center is open Monday through Saturday, 9 am to 4:30 pm, closed on Sundays and all Federal holidays. There are no fees to visit the park but backcountry camping requires a reservation and there is a fee for that.
The Pictured Rocks area has been invaded by multiple invasive foreign species and sections of the forest are dead or dying (mainly among the beech trees for now). In some areas hikers and campers need to be aware of the possibility of falling limbs and trees, especially when the wind picks up.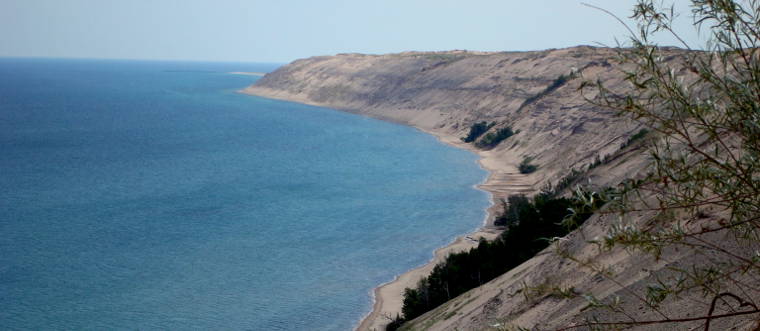 Grand Sable Dunes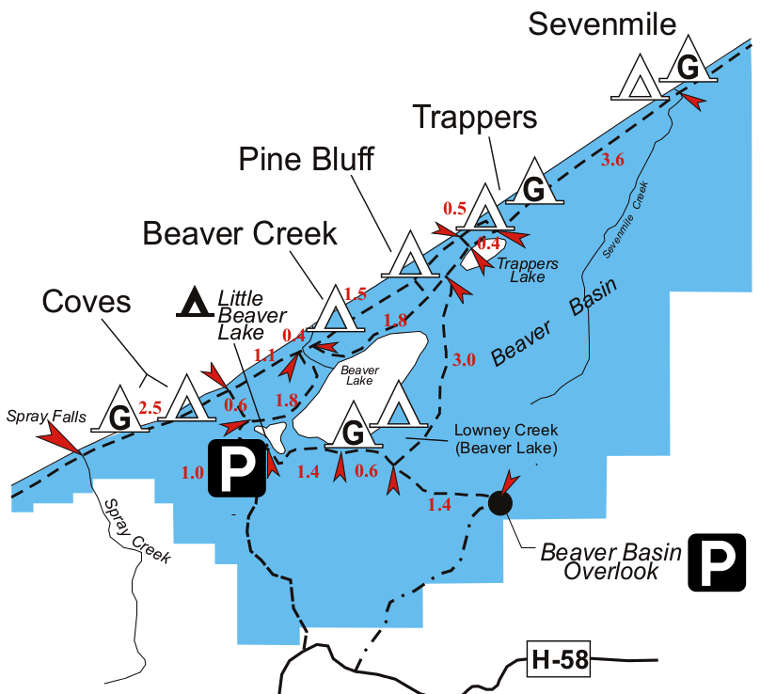 Hiking trails in the Beaver Basin Wilderness area
Pictured Rocks National Lakeshore
Lower photo courtesy of Wikipedia userid Looy9712,
CCA-by-SA 3.0 License
Other photos and map courtesy of the National Park Service