Hiawatha National Forest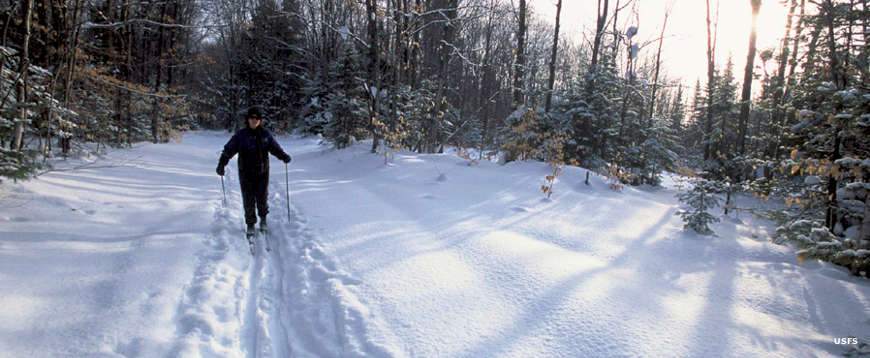 Cross country skiing on Hiawatha National Forest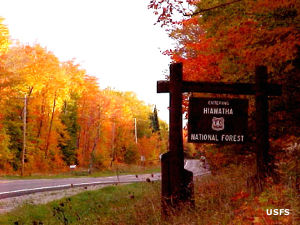 Hiawatha National Forest is an 894,836-acre property, mostly contained in two large non-contiguous parcels (Eastside and Westside) with a few outlying parcels. Both parcels stretch across the Upper Peninsula of Michigan and have shorelines on the north and south sides. Forest Service began putting the forest together out of abandoned farms, land devastated by forest fire and land razed by logging in the late 1920's. In 1931 the property was characterized as "the land nobody wanted."
Wilderness Areas
Delirium
Horseshoe Bay
Mackinac
Round Island
The Eastside contains about 44% of the forest. It sits on a largely infertile, sandy stretch of land scraped bare by the glaciers 10,000 years ago. The land was too poor to ever be homesteaded or developed so President Theodore Roosevelt rolled it up into the Marquette National Forest in 1909. From 1918 to 1962 the parcel was managed by Huron National Forest under the name of Michigan National Forest. In 1962 management of the forest was transferred to Hiawatha National Forest.
National Rivers
Carp River
Indian River
Sturgeon River
Tahquamenon River
Whitefish River
The Westside contains about 56% of the forest land. The government began acquiring land for Westside in 1928 and Hiawatha National Forest was designated in 1931. Between 1880 and 1930 most of Westside was clear cut and left with large piles of slash on the ground. Massive forest fire followed by severe erosion was inevitable. The Civilian Conservation Corps spent several years cleaning up the mess and replanting the forest. Westside borders Pictured Rocks National Lakeshore and Grand Island National Recreation Area.
Hiawatha National Forest touches on Lakes Superior, Michigan and Huron and preserves six historic lighthouses within its boundaries. The area is very wet with miles of rivers and streams and dozens of waterfalls. The vegetation is a mix of hardwoods (beech, birch, maple, quaking aspen) and conifers. The landscape is mostly rolling hills with scattered bogs and swamps. Wildlife in the forest includes black bear, bobcat, coyote, white-tail deer, porcupine, badger, wolverine, fox, skunk and moose.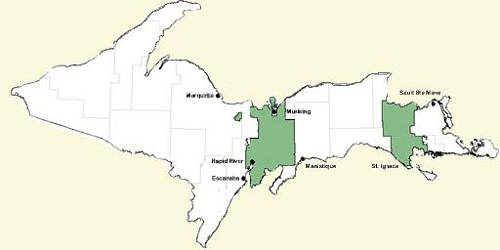 Locations of the two units of Hiawatha National Forest
Hiawatha National Forest
US Forest Service

Photos and maps courtesy of the US Forest Service