Big Island Lake Wilderness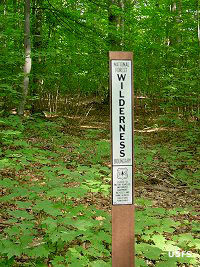 Wilderness boundary sign
Big Island Lake Wilderness is a 5,295-acre property in Hiawatha National Forest. There are 23 lakes on the property, ranging in size from 5 to 149 acres. Each of the lakes is connected by short portages, making Big Island Lake Wilderness an excellent wilderness trip for canoeists.
The area was heavily logged between the 1890's and 1930's. The landscape is a mix of gently rolling hills and bogs. The loggers brought railroad tracks with them and evidence of that criss-cross the area. The southern boundary of the wilderness lies along one of the old railroad grades that doubles as a Forest Service road (in season). There are four old logging campsites and several piles of railroad ties in the wilderness area. Roads in the surrounding area are so close to the wilderness that on quiet days, vehicles can be heard in the heart of the wilderness: County Road 445 borders the property on the west, CR 437 on the south and FR 2303 on the northeast. The only trails in the area are the marked portages between the lakes. Cross-country travel requires bushwhacking through dense undergrowth in an area with virtually no landmarks.
All the lakes in the area are part of a special fisheries district under the care of the Michigan Department of Natural Resources because the lakes are almost sterile and support very small fish populations. Fishing in the area is limited to special kinds of lures and fish sizes have to be large to be kept. The area receives about 34 inches of precipitation per year, with about 160 inches of snow accounting for some of that. The average snowpack of 48 inches allows for good snowshoeing and cross-country skiing from mid-December to mid-March.
The upland forest is a mix of hardwoods: white birch, beech, maple and quaking aspen. Lower areas and along the streams and bogs are hemlock, balsam and spruce. The deciduous trees make for quite a display in early spring and fall. Sandhill cranes feed in the open upland areas of the wilderness while loons, ducks, beaver, great blue herons and the occasional bald eagle frequent the areas around the lakes. There are also black bear, porcupine, pine marten, bobcat and raccoon in the woods.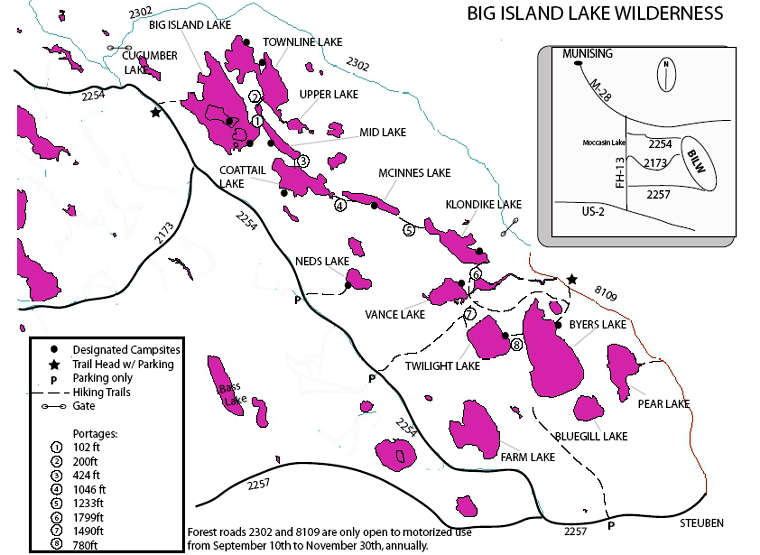 Big Island Lake Wilderness map
Big Island Lake Wilderness
Hiawatha National Forest

Map courtesy of the US Forest Service