Sabinoso Wilderness

Sabinoso Wilderness from the parking area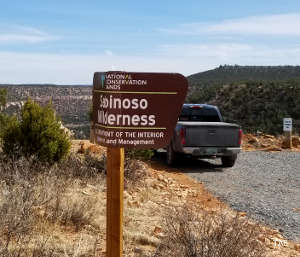 Sabinoso Wilderness is a 16,030-acre Bureau of Land Management property located in a remote area of eastern New Mexico. The landscape is a mix of cliff-lined canyons and high, narrow mesas. Elevations vary mostly between about 4,500' and 6,000'. For vegetation there are occasional stands of Ponderosa pine surrounded by a thick pinon-juniper woodland. The mesa tops are covered mostly in a thick sea of savanna-like grasses. Many of the canyon bottoms flow with enough water to support riparian ribbons of vegetation which includes clumps of cottonwood and willow. The area is rather unique for the eastern New Mexico Plains: Canon Largo, Canon Olguin and Lagartija Creek are deep cuts into what is otherwise a regular, almost flat terrain.
Sabinoso Wilderness was declared a part of the National Wilderness Preservation System in 2009. The property is surrounded completely by private ranches. The property is located in eastern San Miguel County, about one mile west of the village of Sabinoso.
Update 2017: There is finally public access to Sabinoso. The Wilderness Land Trust purchased the adjoining Rimrock Rose Ranch and offered to donate it to the Wilderness Conservation System with the stipulation that the donated land be designated wilderness, too. The proposal was making its way past all the government hoops until Donald Trump took office. All the documentation and designation needed was his signature and he held that up for 10 months. However, he did finally sign off and public access is now official. That signature also added acreage to Sabinoso so that now the total wilderness area covers some 19,625 acres.
To get there: Most folks get off the I-25 at exit 345 in Las Vegas and head east for 32.7 miles to the village of Trujillo. At Trujillo turn north onto San Miguel County Road C51A and go east about seven more miles on that improved dirt road. At the Y, follow the BLM signage and go left. That's a lightly maintained route that reaches the Sabinoso Wilderness parking area after about three miles. That last stretch of road is impassable when wet. Leave any gates you find just the way you found them. The wilderness is considered a prime hunting area and hunters are the primary users (and supporters) of the wilderness. Outside of hunting season you might have the place all to yourself.
I went to visit on a beautiful Saturday in mid-April. The road is was better (and worse) than I expected, but I got in easily in my Subaru Forester. There were several vehicles at the small parking area, indicating people in the canyon. I only saw a couple who had come for a picnic in a quiet place.
There's a road down the canyon wall to a gate next to the streambed. The road is steep, eroded and nearly impassable by a vehicle. At the bottom of the hill is a gate and stream crossing. The two-track continues through the canyon bottom and, while I went well into the canyon, I didn't find an end to the road. I did cross the stream several times and thoroughly enjoyed this peaceful oasis surrounded by a sea of grasses and cattle ranches.
It had been a dry winter and there wasn't stream flow at all. However, there was plenty of evidence of past flash floods and high waters. There were also fresh cow flops everywhere. The only wildlife I came across was a lone coyote that stirred when I walked through some brush next to the streambed.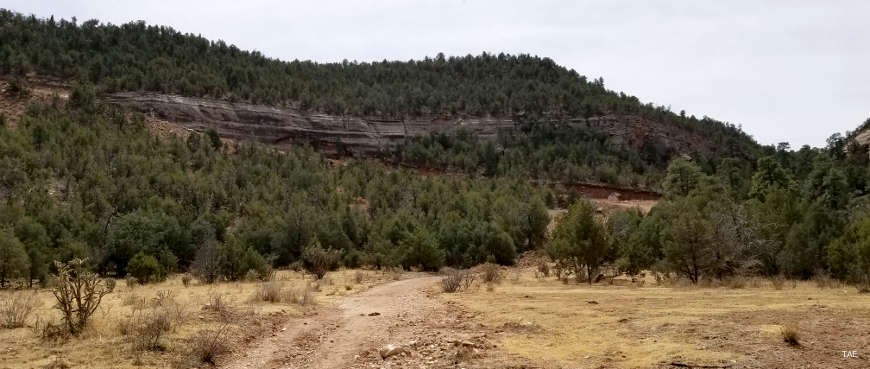 Looking back at the road in from the gate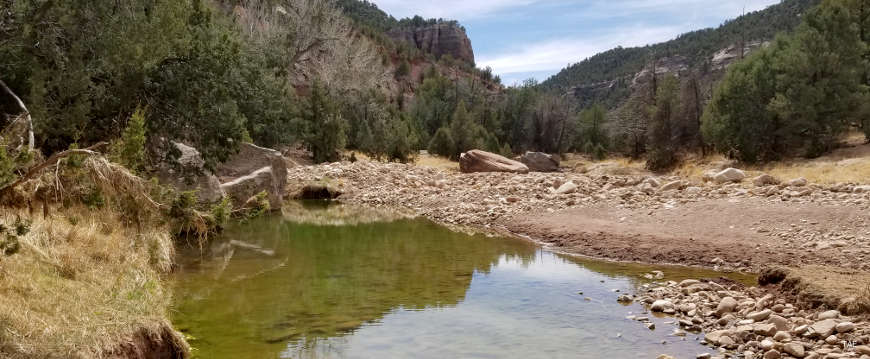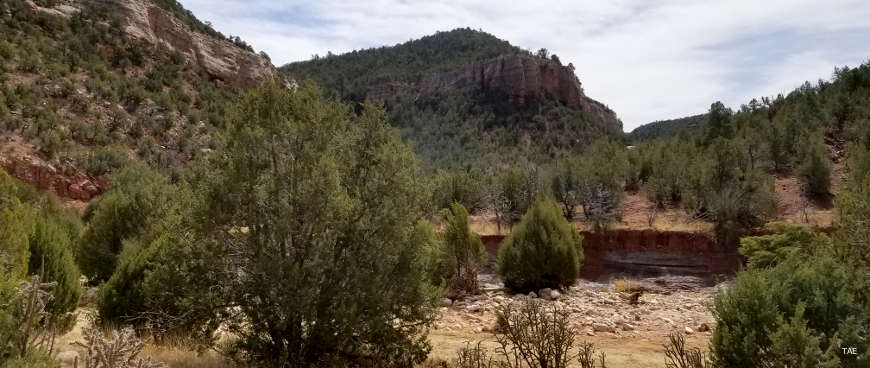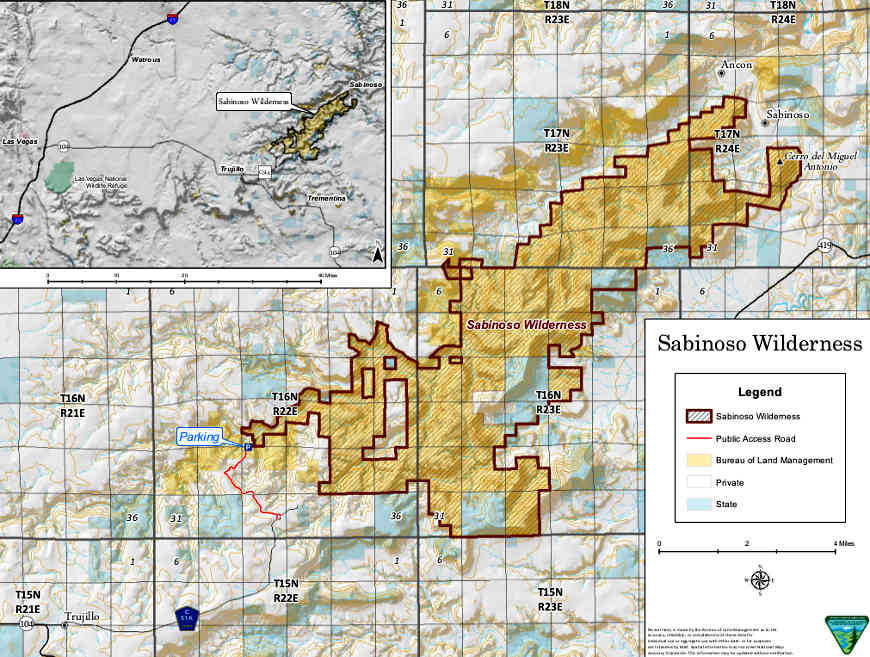 Sabinoso Wilderness
Bureau of Land Management

- Taos Field Office
Photos courtesy of TheArmchairExplorer,
CCA-by-SA 4.0 License
Map courtesy of the Bureau of Land Management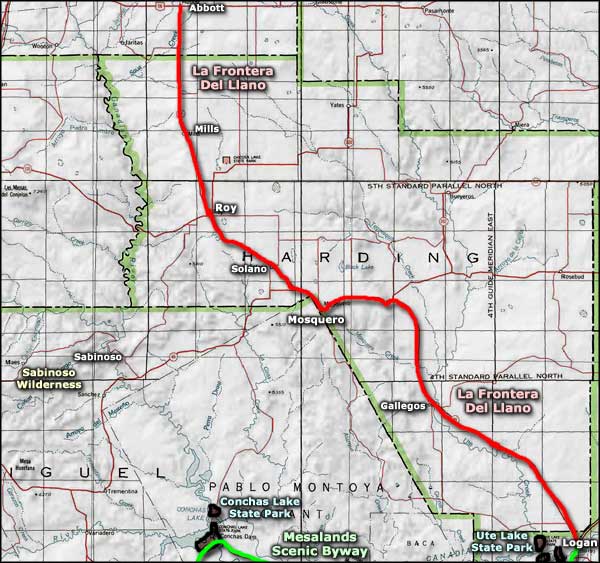 Related Pages
Map courtesy of National Geographic Topo!