Mesalands Scenic Byway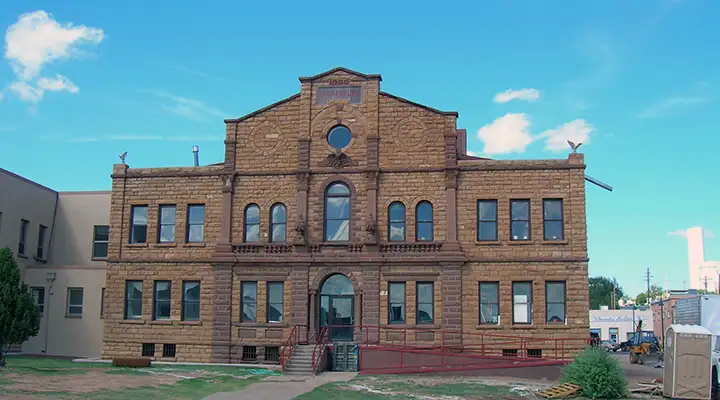 Guadalupe County Courthouse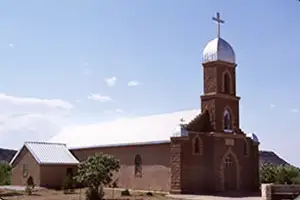 Mesalands Scenic Byway is a 320-mile complex route that figure-eights and ends at multiple legs. Most of the route is drawn around the constraints on using any portion of an Interstate Highway as part of a byway, but sections of Interstate 40 do make it easier to drive the entire byway without backtracking several sections.
As much as this countryside is now semi-arid grasslands on reddish plateaus and mesas filled mostly with big cattle ranches, during the Mesozoic geological age this was a wonderland of dinosaurs and tropical forests along the shores of an inland sea. Fossils of plants and animals large and small have been discovered in many places.
The famous Bell Ranch, about 45 miles northwest of Tucumcari, is crossed by Mesalands Scenic Byway. Bell Ranch is 300,000 acres of cattle ranch, used in the filming of many Westerns (including the TV show "Rawhide"). Several of the Marlboro Men were Bell Ranch cowboys before and after their time in the limelight. When the ranch is open to visitors, there's a museum on the property filled with artifacts collected since the founding of the ranch in 1875.
Near Bell Ranch is Conchas Lake State Park, surrounding a 25-mile-long reservoir and offering camping, picnicking, boat ramps and water sports galore. Along the shore of Conchas Lake you might stumble across fossilized dinosaur bones sticking out of the rock. Another place where you'll find dinosaur fossils is the Mesalands Dinosaur Museum in Tucumcari. The Museum focuses on fossils from the Triassic, Jurassic and Cretaceous periods of the Mesozoic Era, the time span when most dinosaur fossils found in Quay County were deposited in the soils.
East of Conchas Lake State Park is Ute Lake State Park, centered around a 12-mile-long reservoir on the Canadian River. Ute Lake State Park also offers camping, picnicking, boating and fishing on a lake that has produced several state-record game fish. Most folks are looking for bass, catfish, crappie and walleye in these waters.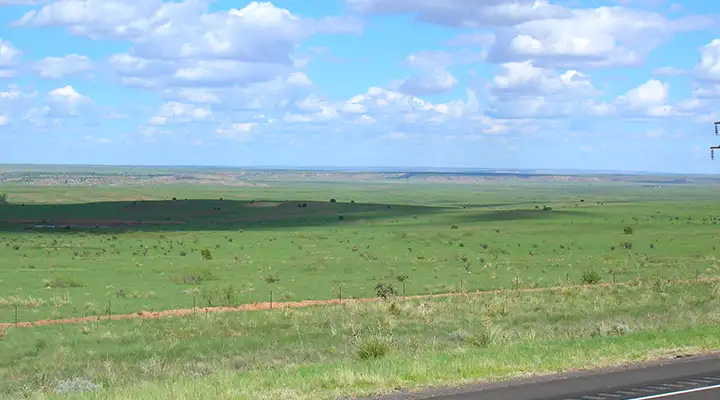 Mesalands countryside
South of Santa Rosa is the village of Puerto de Luna ("Door of the Moon"). Supposedly the name is derived from the days when Francisco de Coronado's conquistadores built a bridge across the Pecos River here and observed it under the light of a newly-risen full moon. 300 years later a man named Alexander Grzelachowski built his home and mercantile here. Billy the Kid was a regular visitor to Puerto de Luna, even eating his last Christmas dinner at Grzelachowski's house. Back in those days Puerto de Luna was the county seat but that changed when the railroad steamed into Santa Rosa and bypassed Puerto de Luna. The town hasn't changed much in the years since so if you're interested in what Hispanic New Mexico was really like...
North of Santa Rosa is Santa Rosa Lake State Park, offering camping, fishing, swimming, hiking, biking, boating and plenty of other water sports. Santa Rosa Lake was formed by the damming of Pecos River. Nearby is the famous Blue Hole: a bell-shaped pool 80 feet deep with crystal clear water and a constant temperature of 64°F. The Blue Hole is somewhat of a mecca for scuba diving enthusiasts in New Mexico. The Blue Hole is also wider at the bottom than the top. There's a privately operated dive center just a few feet away offering equipment rentals, tank refills and diving permits. The water flow in this glorified artesian well ensures that the entire reservoir of water is replaced every six hours.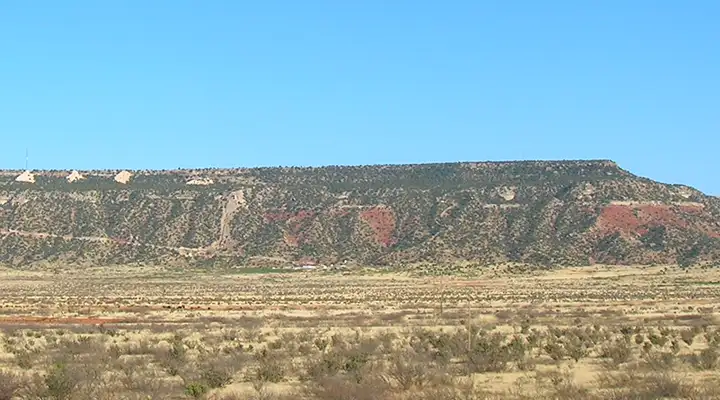 Another typical view in Mesalands Country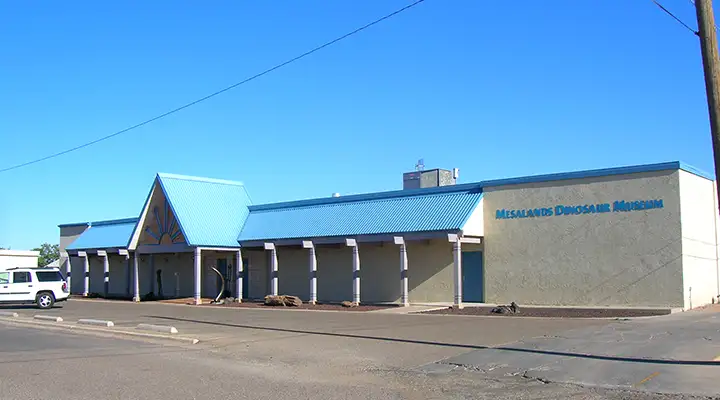 Mesalands Dinosaur Museum in Tucumcari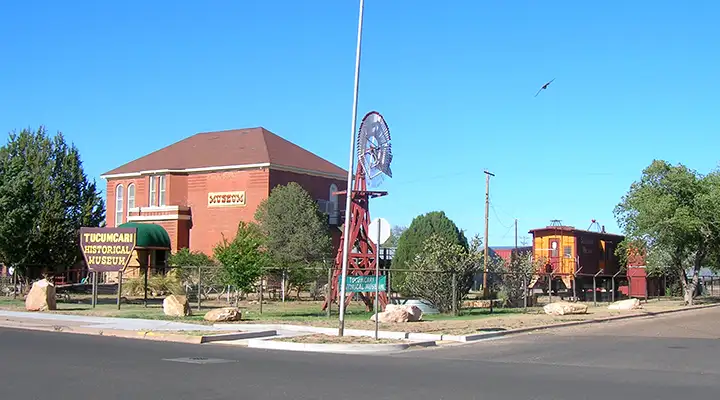 Tucumcari Historical Museum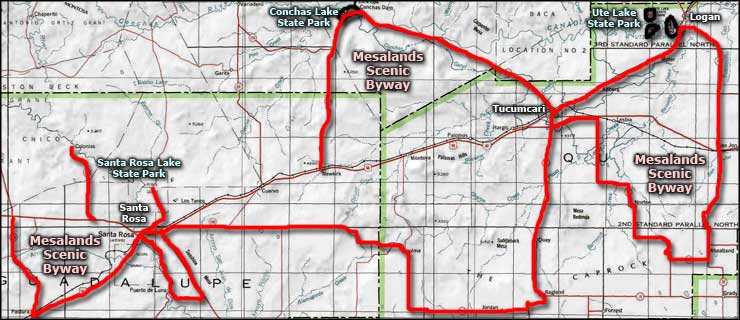 Related Pages
Map courtesy of National Geographic Topo!