Kootznoowoo Wilderness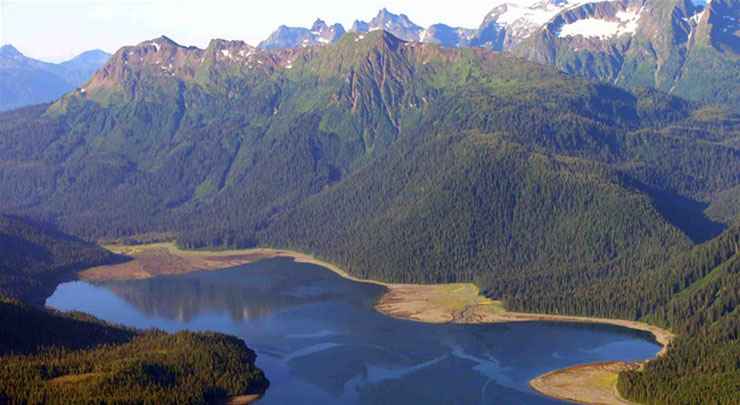 Windfall Harbor in Kootznoowoo Wilderness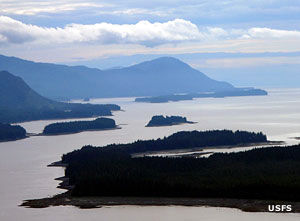 Admiralty Island National Monument encompasses about 955,747 acres on Admiralty Island, about 15 miles south of Juneau. Kootznoowoo Wilderness encompasses about 937,396 acres of Admiralty Island National Monument. To the east is Stephens Passage, to the south Frederick Sound and to the west, Chatham Strait. All of these waterways are major marine transportation routes in the Alaska panhandle.
Most of Admiralty Island (below treeline) is covered with a spruce-hemlock forest interspersed with small areas of muskeg. Timberline varies between 2,000' and 2,500' above sea level. Above timberline, the tree sizes drop off and the landscape turns to alpine/tundra vegetation before it fades into ever greater rock outcroppings, then permanent and semi-permanent ice and snow fields. Most human activity in the area takes place in the lower areas along the major bays and inlets.
Kootznoowoo Wilderness has high densities of Alaskan brown bear and some of the highest densities of nesting bad eagles in the world. Along the beaches you're liable to find numbers of sea lions and harbor seals while porpoises and humpback whales hover just offshore. Winter sees many seabirds and waterfowl hanging out while late summer and fall bring huge runs of salmon to the bays and tributary streams.
A unique feature of Kootznoowoo Wilderness is the Cross Island Canoe Route, connecting the Tlingit village of Angoon on the west with Mole Harbour in Seymour Canal on the east. The canoe route passes across eight lakes, all interconnected by maintained portage trails that date back to the 1930's. Some of these lakes offer Forest Service-owned recreation cabins for rent while others have three-sided "Adirondacks" and more primitive camping accommodations. The lakes usually harbor large numbers of nesting loons and ducks and fishermen will have an easy time landing some good catches of Dolly Varden char and cutthroat trout. In all, there are 14 public recreation cabins, 10 three-sided shelters and three maintained hiking trails in Kootznoowoo Wilderness.
About 500 Tlingit live in the village of Angoon. They can tolerate visitors in small numbers and actually offer a small bed and breakfast in town. There is also ferry service to Juneau available.
Visitors will find a landscape where summer temperatures range from 45°F to 65°F in a cool and often overcast ecosystem. You'll want to be prepared with proper shelter equipment, clothing, travel gear, water purification systems and safety equipment. Be prepared for lots of large, potentially dangerous wildlife. When the salmon are running, the areas around the streams are particularly dangerous. Boaters need to remember that tidal variations can be as much as 25 feet and in many areas, they need to be watching out for submerged rocks, reefs and trees.
Kootznoowoo Wilderness
Tongass National Forest - Juneau Ranger District -

US Forest Service

Photos and maps are courtesy of the US Forest Service