Dinkey Lakes Wilderness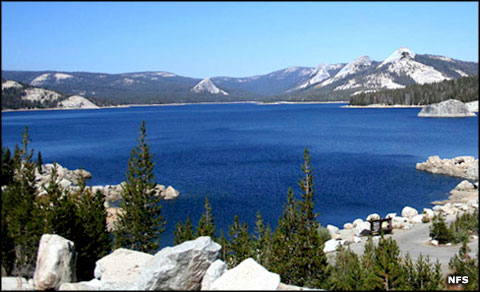 Courtright Reservoir, on the southern edge of Dinkey Lakes Wilderness
Dinkey Lakes Wilderness is a 30,000-acre property in Sierra National Forest along the western side of the Sierra Nevada mountains south of Yosemite National Park. Elevations in the wilderness range from about 8,200 feet to 10,619 feet. The southwestern boundary of Dinkey Lakes Wilderness runs along a high ridge with several peaks above 10,000 feet. In the heart of the wilderness, Dogtooth Peak (10,256') and Three Sisters Peak (10,619') see lots of traffic in the summer, possibly because both offer Class 2 and 3 climbing routes to their summits. Snowfall begins usually in November and snow can hamper access well into June.
Dinkey Lakes Wilderness is separated from John Muir Wilderness to the east by the Dusty-Ershim Off-Highway Vehicle route, a route that connects Courtright Reservoir in the south with Kaiser Pass to the north. There are three other popular OHV routes near the western boundary of the wilderness.
Treeline sets in around 10,000 feet and there is evidence of extensive glaciation above that. Below that are forests of lodgepole pine, red fir, whitebark pine, mountain hemlock and western white pine. Fourteen of the seventeen lakes in the wilderness area are regularly stocked (via helicopter) with brook, rainbow and golden trout.
While human use is rated as moderate, wilderness permits are required year-round to visit the Dinkey Lakes Wilderness and trailhead quota systems are in place to limit daily visitor numbers and overnight users to protect the wilderness experience. Permits are divided up 60/40 between advance reservations and walk-ins. Overnight visitors also need to have California campfire permits in hand before lighting a match anywhere on the property. The number of visitors allowed varies at each trailhead. The trails are well-suited for stock travel but other than in the meadows north of First Dinkey Lake and near Nelson Lake, natural feed is scarce. Firewood is also in short supply near any of the lakes.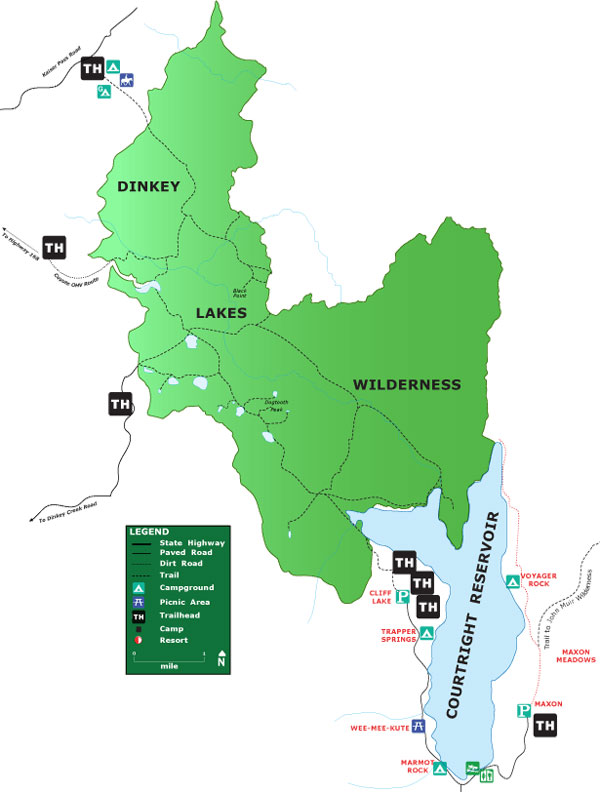 Photo and map courtesy of the US Forest Service