Bob Marshall Wilderness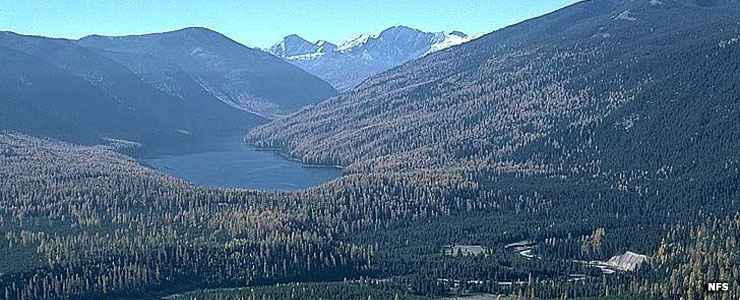 Big Salmon Lake in the Bob Marshall Wilderness
Named in honor of Wilderness Society co-founder Bob Marshall, the Bob Marshall Wilderness is 1,009,356 acres straddling the Continental Divide in western Montana. Together with the Great Bear Wilderness to the north and the Scapegoat Wilderness to the south, the 3 wildernesses make up the Bob Marshall Wilderness Complex covering 1.5 million acres of prime, untouched and untrammeled Heart-of-the-Rocky-Mountains real estate: alpine lakes emptying into cold, crystal clear streams that drop over cascading waterfalls past wildflower-strewn meadows between huge, towering conifers in broad river valleys below incredibly rugged peaks and sheer, glacier-carved walls... This is one of the most original, completely preserved and protected mountain ecosystems on Earth.
60 miles of the Continental Divide National Scenic Trail run through the Bob Marshall Wilderness. 22 miles of that journey is along "the Chinese Wall:" a huge escarpment that rises straight up as much as 1,000' above the surrounding forest. On the eastern side of the Continental Divide are the drainages encompassing the North and South Forks of the Sun River. On the western side are the drainages encompassing the Upper South and Middle Forks of the Flathead River.
The Bob Marshall Wilderness is Montana's largest wilderness and contains more than 1,000 miles of trails that range from well-maintained to primitive, easily-lost traces in the forest. This is prime habitat for wolf, elk, deer, moose, mountain goat, bighorn sheep, lynx, black bear and grizzly bear (more grizzly bears here than in any other area of the US outside of Alaska). The trout fishing isn't bad either.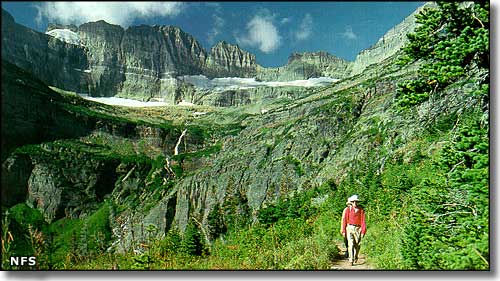 Just below the Continental Divide (the Chinese Wall)
Related Pages
Photo of the Chinese Wall and Big Salmon Lake courtesy of the US Forest Service
Map courtesy of National Geographic Topo!