Lewis and Clark National Forest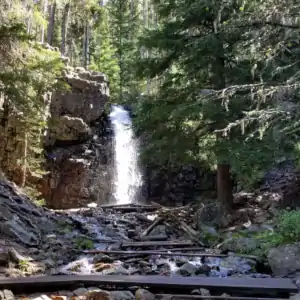 A waterfall I found along a trail in Lewis and Clark National Forest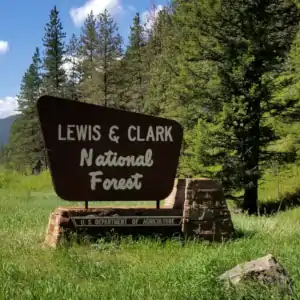 Lewis and Clark National Forest boundary marker
Elevations across the Lewis & Clark National Forest vary from a low of about 4,500' to a high of 9,362' at the summit of Rocky Mountain Peak. The Forest is within the upper Missouri River system in central and north central Montana. More than 380,000 acres of the Forest are contained within the Bob Marshall-Great Bear-Scapegoat Wilderness Complex. There are two other Congressionally designated Wilderness Study Areas on the forest, one in the Little Belt Mountains and the other in the Big Snowy Mountains. Another 10,730 acres in the Forest are contained within various designated Research Natural Areas.
There are about 1,600 miles of perennial streams flowing in the Lewis & Clark National Forest but there are only a few small natural and man-made lakes on the forest. One stream is the Smith River, a nationally acclaimed blue ribbon trout stream with more than 20 miles of frontage on the Lewis & Clark. More than 60 streams have been shown to support populations of westslope cutthroat trout, an imperiled fish native to the Upper Missouri Basin.
The Lewis & Clark National Forest Headquarters is in Great Falls with local ranger district offices in Harlowton, Choteau, Stanford, White Sulphur Springs and Neihart. Among the seven mountain ranges that are part of the Forest are the Judith, Big Snowy, Castle, Crazy, Little Snowy, Highwood and Little Belt Mountains.
There are more than 1,500 miles of hiking and horseback riding trails on the Forest. You'll usually find the least people in the Crazy Mountains and in the wilderness areas along the Continental Divide. In the more exposed east-facing areas of the high mountains, snow can linger well into July.
Update, 2018: Lewis & Clark National Forest has been administratively combined with Helena National Forest.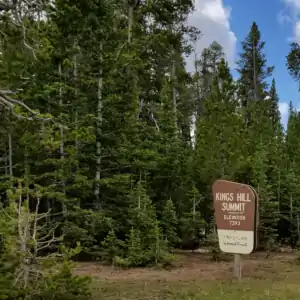 At the top of the Kings Hill Scenic Byway
Lewis & Clark National Forest
US Forest Service
Campgrounds & Other Amenities
The following list was compiled from a Forest Service website and may not be up to date regarding damage resulting from wildfires.
Note: BMWC = Bob Marshall Wilderness Complex.
Jefferson Division Campgrounds
Aspen Campground: Summer/Fall season, 6 sites, 6 miles west of Niehart.








Crystal Lake Campground: Summer only, 28 sites, 34 mi. SW of Lewistown, 32 mi. SE of Stanford, ice caves trailhead








Dry Wolf Campground: Summer only, 26 sites, 20 mi. S of Stanford








Grasshopper Campground: Summer/Fall season, 12 sites, 11 mi. SE of White Sulphur Springs








Hay Campground: All Year, 9 sites, 19 mi. SW of Utica





Indian Hill Campground: All Year, 7 sites, 27 mi. SW of Hobson




Jumping Creek Campground: Summer/Fall season, 15 sites, 22 mi. NE of White Sulphur Springs









Kings Hill Campground: Summer/Fall season, 18 sites, 9 mi. S of Neihart










Logging Creek Campground: Summer/Fall season, 26 sites, 15 mi. NW of Neihart









Many Pines Campground: Summer/Fall season, 23 sites, 4 mi. S of Neihart










Moose Creek Campground: Summer/Fall season, 6 sites, 27 mi. NW of White Sulphur Springs




Richardson Creek Campground: Summer/Fall season, 3 sites, 12 mi. SE of White Sulphur Springs



Spring Creek Campground: Summer/Fall season, 10 sites, 38 mi. NW of Harlowton







Thain Creek Campground: Summer only, 20 sites, 39 mi. E of Great Falls








Rocky Mountain Division
Benchmark Campground: Summer/Fall season, 25 sites, 30 mi. W of Augusta; horse handling facilities, adjacent air strip, BMWC trailhead








Cave Mountain Campground: Summer/Fall season, 14 sites, 28 mi. NW of Choteau; BMWC trailhead








Elko Campground: Summer/Fall season, 3 units, 31 mi. NW Choteau






Home Gulch Campground: Summer/Fall season, 15 sites, 20 mi. NW of Augusta; boat launch









Mill Falls Campground: Summer/Fall season, 4 sites, 33.8 mi. NW of Choteau; waterfalls






Mortimer Gulch Campground: Summer/Fall season, 28 sites, 26 mi. NW of Augusta; BMWC trailhead, primitive boat launch








South Fork Campground: Summer/Fall season, 7 sites, 31 mi. W of Augusta; BMWC trailhead









Summit Campground: Summer only, 17 sites, 12 mi. W of East Glacier; telephone, Continental Divide trailhead, historical site








West Fork Campground: Summer/Fall season, 6 sites, 39 mi. NW of Choteau; BMWC trailhead








Wood Lake Campground: Summer only, 9 sites, 24 mi. NW of Augusta; canoeing, swimming