Byers Peak Wilderness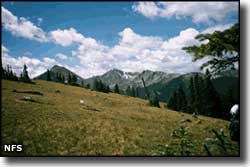 Byers Peak Wilderness was established by Congress in 1993. It encompasses 8,913 acres in Arapaho-Roosevelt National Forest in Grand County, but is actually part of a 100,000-acre roadless complex (with Vasquez Peak Wilderness on its southern boundary and the Williams Fork-Ptarmigan Peak roadless area south of that).
Byers Peak was named after William N. Byers, founder of Colorado's first newspaper - the still-published Rocky Mountain News (although now the News has merged with the Denver Post). He was also the first mayor of Hot Sulphur Springs.
Byers Peak Wilderness contains a variety of eco-zones, ranging from low-lying lodgepole pine forest and riparian drainages to alpine tundra over 12,000 feet in elevation. About 1/2 of Byers Peak Wilderness is purely alpine tundra on landscape above treeline. Along with this variety of vegetation and climate comes a wide variety of flora and fauna. On any given day you can see deer, elk, bear, mountain goats, bighorn sheep, the occasional moose, ptarmigan, marmots, and several species of trout and small rodents.
The wilderness also contains two glacial lakes, three major creek drainages and two peaks over 12,500 feet, the highest being Byers Peak at 12,804 feet. The Byers Peak Trail crosses the Wilderness from Bottle Pass to St. Louis Peak (north to south) and almost never comes below treeline (meaning: expect no shade trees along the route). The Wilderness does contain some 23 miles of trails with some of the finest ridge trekking in the state. Great panoramic views, several scenic lakes... and all in a small and obscure wilderness in the Rocky Mountains of Colorado.
Fast Facts about Byers Peak Wilderness
Size: 8,913 acres
Designated: 1993
Elevations: 9,200' to 12,800
Miles of Trails: 23
Game Management Unit: 28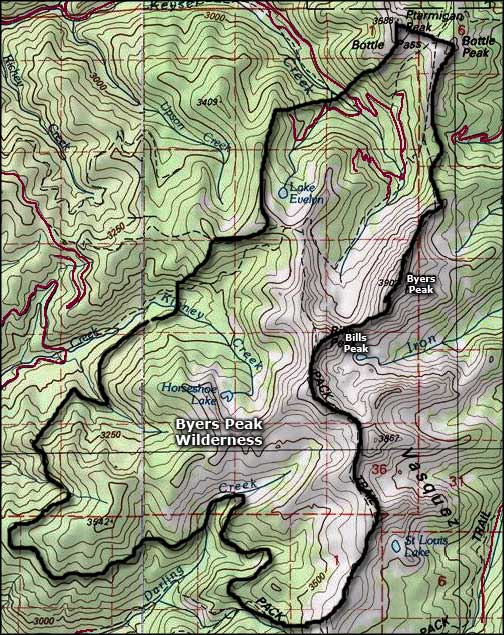 Byers Peak Wilderness
Arapaho-Roosevelt National Forest -

US Forest Service
2150 Centre Avenue

, Building E,

Fort Collins

,

CO

80526
970-295-6600

Upper right photo courtesy of the US Forest Service
Map courtesy of National Geographic Topo!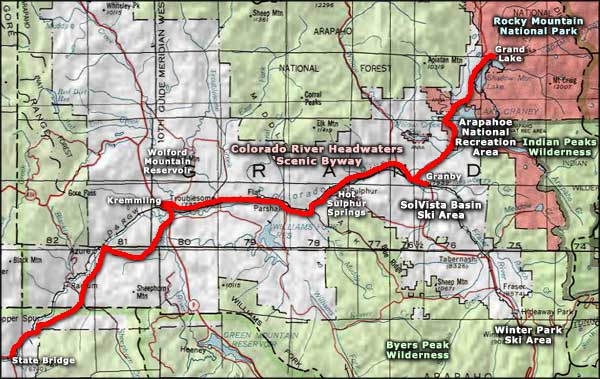 Related Pages
Map courtesy of National Geographic Topo!