Castle Creek Wilderness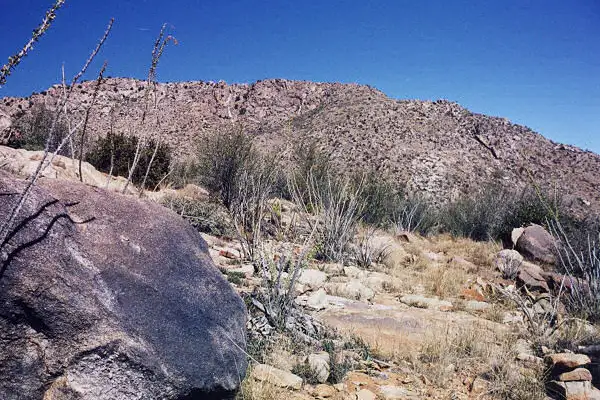 A typical view in Castle Creek Wilderness
Most of the 25,215 acres of Castle Creek Wilderness are extremely rugged with several high granite peaks looking down into the canyon of the Agua Fria River and Agua Fria National Monument on the eastern side of the Bradshaw Mountains. Elevations range from about 2,800 feet to about 7,000 feet. The lower areas are covered with typical desert vegetation (saguaro cactus, ocotillo, paloverde, mesquite, jojoba and catclaw) and as you rise, you come into grasslands, then sagebrush/mountain mahogany/manzanita chaparral and then at the highest points Arizona white oak, alligator juniper and pinion and Ponderosa pine.
Castle Creek Wilderness offers nine marked trails but maintenance is quite spotty. All nine trails add up to about thirty miles. The 7.75-mile Twin Peaks Trail connects the Castle Creek Trail with the Horsethief Recreation Area. The Castle Creek Trail then connects with Trail #239, a major east-west pathway across the wilderness. Running between FR 52 and FR 259, the Algonquin Trail is a 5-mile north-south hike across the wilderness. But you can see from the topo map below that any trail in this wilderness is going to be steep and strenuous. Castle Creek Wilderness sits on top of a huge chunk of solid granite and is very water-challenged, in spite of its name. In Horsethief Basin you'll find developed campgrounds and some good primitive campsites.
Castle Creek Wilderness is not a place to go hiking in shorts: the area seems to have been over-grazed by cattle in the past and that promotes the growth of more woody-type plant cover: scrub oak and catclaw. Because of the lack of maintenance, nearly all of the trails are overgrown in spots and hard to follow. Sometimes you'll get lucky and spot a rock cairn. The upper areas in the pines are in much better shape than the lower sections. It's also usually much hotter down below tree line... but in the summer it's hard to know the difference.
Castle Creek Wilderness is mostly populated with javelina and mule deer but there are a few black bear, mountain lions, coyotes, bobcats, rabbits, foxes, badgers, skunks and other smaller mammals. You'll also find plenty of reptiles, raptors, jays, doves and quail.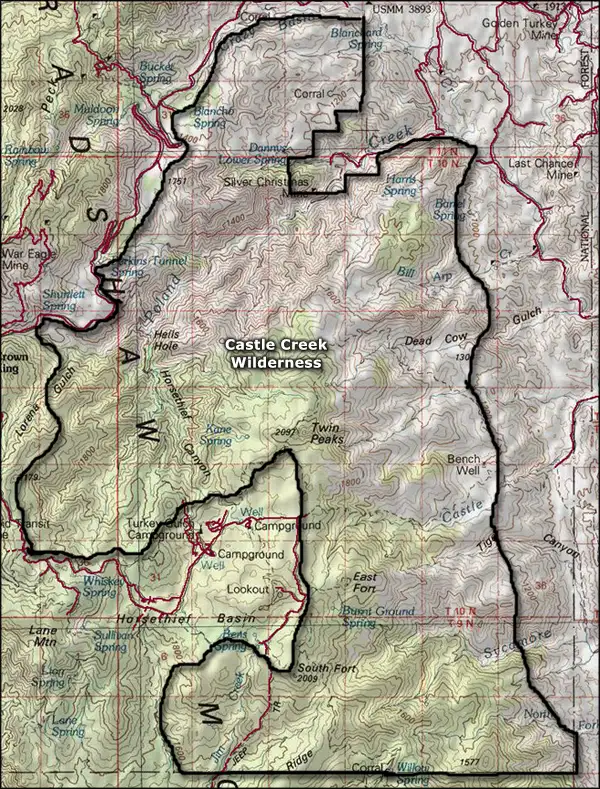 Castle Creek Wilderness
Castle Creek Wilderness
Prescott National Forest -

US Forest Service

Map courtesy of National Geographic Topo!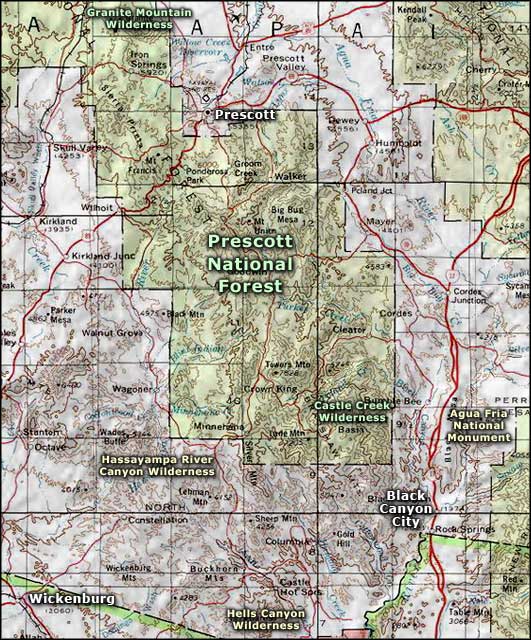 Related Pages
Map courtesy of National Geographic Topo!