Granite Mountain Wilderness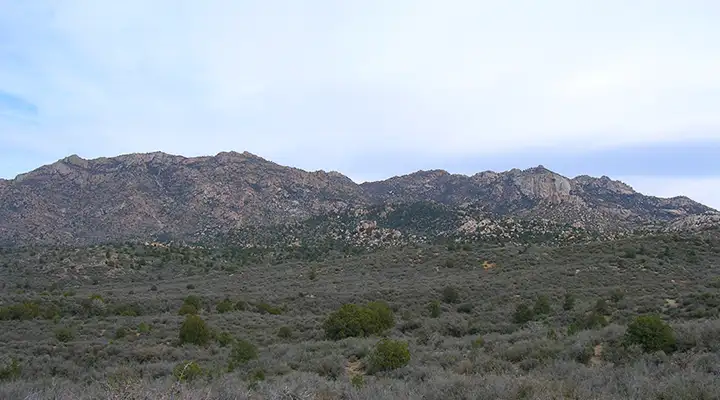 Granite Mountain Wilderness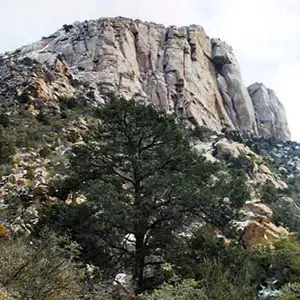 Granite Mountain Wilderness is a 9,762-acre wilderness area about eight miles west of Prescott in Prescott National Forest. The mountain is mostly a pile of large granite boulders stacked to a height of 7,626 feet above sea level. From the summit of Granite Mountain, the views over Chino Valley and Skull Valley are excellent.
There are three primary trails into and through the wilderness with the main trail head located in Granite Basin near the parking area. The busiest trail (#261) leads to the summit of Granite Mountain, the others wander off in the rocks. Because of the close proximity of a large population center, you'll probably find quite a few hikers and horseback riders on the 12 miles of trail inside Granite Mountain Wilderness. In season, the wilderness is overrun with hunters, too, looking for mule deer and javelina. They might also come across bobcat, mountain lion, coyote, fox, badger, skunk, cottontail and other small mammals.
The trail head for Trail #308 is located off Williamson Valley Road in Prescott, and draws more horseback traffic than hikers. The Metate Trailhead (with parking area, rest rooms, drinking water, trail maps and a self-pay station: yeah, hiking here costs $2 per person, fees subject to change) at Granite Basin Recreation Area gives access to Trail #261, a 4.1-mile route that leads up the hill to incredible views. Trail #205 is a new trail (built in 2005) that leads north for about 3 miles to its intersection with Trail #261.
The southern slopes of the wilderness are vegetated mostly with manzanita, lemonade berry bush, shrub live oak and mountain mahogany with small stands of juniper and pinion pine scattered around. On the north slopes you''ll find less chaparral and more juniper, pinion and even Ponderosa pine.
Because of the popularity of Granite Mountain Wilderness, hiking groups are limited to a maximum of 15 people, equestrian groups to 10 people with one stock animal per person. Camping is allowed everywhere except within 200 feet of Granite Mountain Trail #261. Campfires are not allowed but propane and white gas stoves are.
The southwest face of Granite Mountain offers a sheer granite cliff about 500' high. Among rock climbers, that face is one of the most highly recommended places for climbing in Arizona. If you're out here to rock climb, there's a ban on placement of new anchors: use the existing ones, there's plenty of them. Because the southwest face of the mountain is also a favored nesting area for the peregrine falcon, the face is usually closed to climbers from February 1 until July 15 each year.
Update: The Doce Fire in 2013 burned probably 75% of Granite Mountain Wilderness. That means the majority of the property now has problems with trees falling, flash flooding, aggravated soil erosion and burned out tree stumps. The Forest Service is asking everyone who visits the area to stay on established trails and do as little bushwhacking as possible.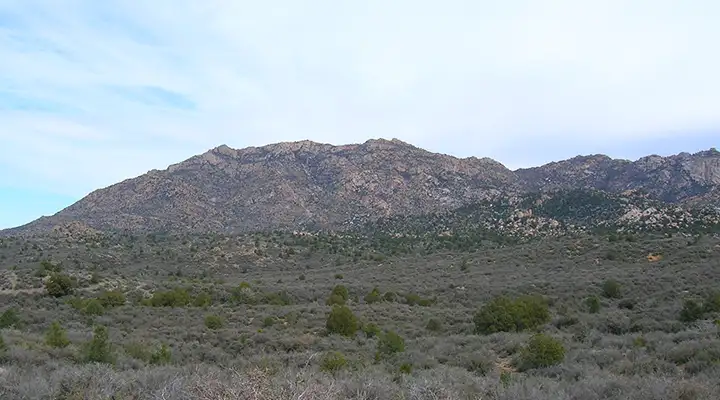 Granite Mountain Wilderness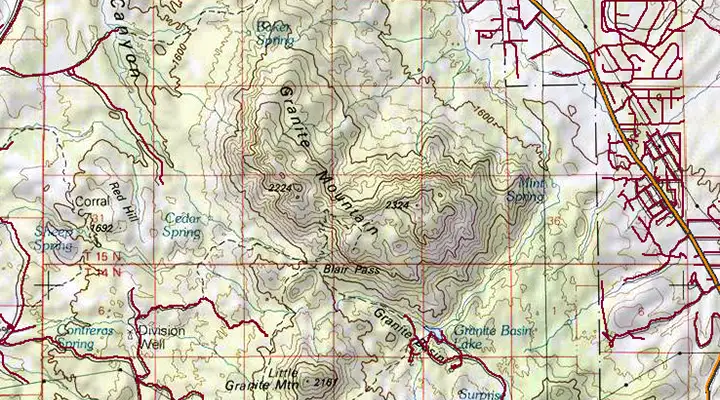 Granite Mountain Wilderness
Prescott National Forest -

US Forest Service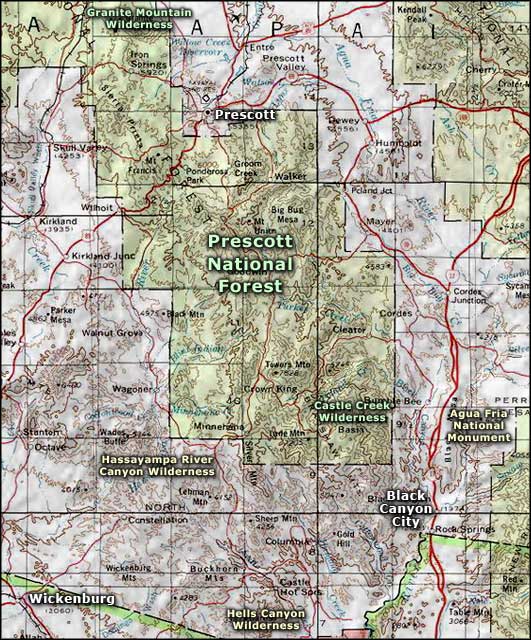 Related Pages
Map courtesy of National Geographic Topo!