Carson-Iceberg Wilderness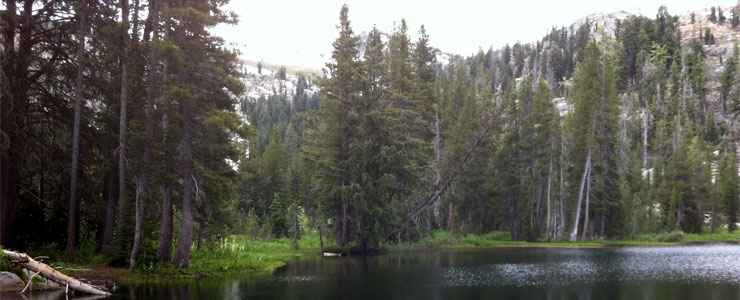 Bull Run Lake, Carson-Iceberg Wilderness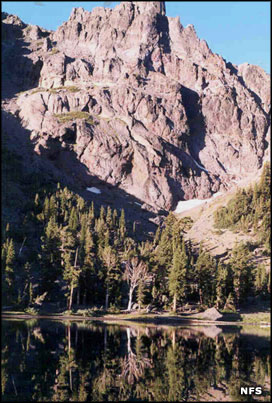 The Carson-Iceberg Wilderness is a 161,181-acre property straddling the line between Stanislaus and Humboldt-Toiyabe National Forests between Sonora Pass on the south and Ebbetts Pass on the north. Emigrant Wilderness is to the southwest, Hoover Wilderness to the south and Mokelumne Wilderness to the northwest.
Carson-Iceberg Wilderness also straddles the crest of the Sierra Nevada Mountains as it also contains the headwaters of the Carson River (which flows east to eventually sink into the sands of Nevada) and the Stanislaus and Mokelumne Rivers (which flow west to eventually drain into the Pacific Ocean). Lakes are fairly common on the eastern side of the Sierra Crest but rare on the western side. At the same time, precipitation on the western slopes averages about 50 inches per year while precipitation on the eastern slopes averages about 15 inches (and about 80% of that is usually snow, which often lingers in the high country into June).
The first Euro-American recorded to have traveled the area was Jedediah Smith in 1827. Kit Carson came through about 10 years later and the Bartleson-Bidwell emigrant party crossed Sonora Pass on the south side of the Carson-Iceberg area in 1841.
Elevations in Carson-Iceberg Wilderness range from a low of about 4,800 feet to a high of 11,462 feet with 12 peaks rising above 10,000 feet. The landscape is spectacular with many peaks rising above 9,000 feet above broad river valleys, granite-strewn slopes, perennial streams with multiple small waterfalls and numerous large meadows. The tree cover is mainly Jeffrey pine, lodgepole pine, western white pine, curl-leaf mountain mahogany, aspen, western red fir, and Sierra juniper. The wilderness supports large populations of black bear and mule deer. Endangered species in the wilderness include the Paiute trout, the Yosemite toad and the mountain yellow-tailed frog.
Overnight visitors to Carson-Iceberg are required to obtain a wilderness permit during the May-to-October season. There is also a group limit of 15 people and 25 stock on the property. The Pacific Crest National Scenic Trail travels more than 26 miles across Carson-Iceberg, part of about 200 miles of developed trails in the wilderness. Travelers on the Pacific Crest passing through more than one wilderness only need to obtain one wilderness permit for their trip. Most human traffic on Carson-Iceberg seems to be on the western slopes of the Sierras. Overnight visitors need to be prepared for freezing nighttime temperatures at any time of the year. Late summer is also a time of regular thunderstorm activity.
Top photo courtesy of Gregory Veen,
CCA-by-SA 2.0 License
Other photos and maps courtesy of the US Forest Service