Pinto Mountains Wilderness

The Pinto Mountains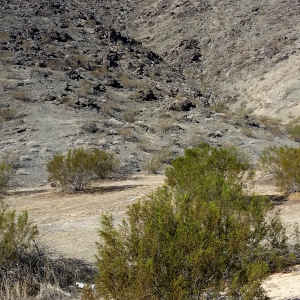 Typical landscape
Pinto Mountains Wilderness is a 24,348-acre property located against the northern boundary of Joshua Tree National Park. About half the rugged Pinto Range is inside the park as part of Joshua Tree Wilderness.
Portions of the Pinto Mountains have been heavily worked by miners but the wilderness area is comprised of the most rugged and least disturbed part of the mountain range outside the park's northern boundary.
Wildlife in the area includes the American badger, the California leaf-nosed bat, the Bendire's thrasher, the pallid bat, Nelson's bighorn sheep and the desert tortoise. The US Fish & Wildlife Service says the Pinto Mountains Wilderness is critical habitat for the desert tortoise.
Pinto Mountains Wilderness
Bureau of Land Management