Otay Mountain Wilderness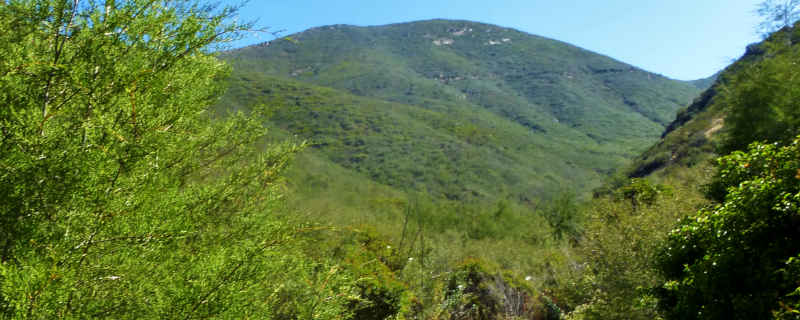 Otay Mountain Wilderness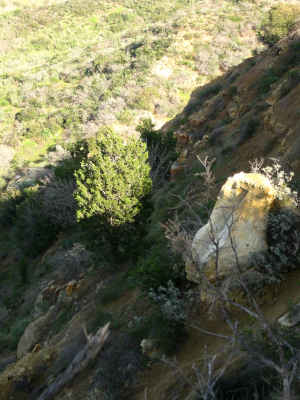 A Tecate cypress
Otay Mountain Wilderness is a 16,893-acre property in the San Isidro Mountains about 12 miles east of the city of Otay Mesa in San Diego County. The southern boundary of the wilderness is against the US-Mexico border and has been severely violated by Homeland Security in their zeal to build a border wall. That work began in 2008 under the auspices of the Secure Fence Act of 2006. A special waiver of environmental law was rewuired first because the environmental impact statement first required stated that the work involved would severely impact plants, animals and water courses in the area for many years. There are more than 15 plants alone in the Otay Mountain Wilderness area that are being considered for inclusion in the federal threatened and endangered species lists.
The San Isidro Mountains are the remnants of a chain of ancient volcanoes. At 3,566-feet in elevation, Otay Mountain is the highest of these. The meta-volcanic soils are very fertile and support a diverse community of coastal sagebrush, mixed chaparral and chamisa. The landscape is extremely rugged with steep hillsides and vertical canyon walls.
The larger wildlife is a mix of mule deer, desert bighorn sheep, mountain lion and bald eagle. The smaller wildlife includes kangaroo rats and an assortment of lizards and snakes.
Access to Otay Mountain Wilderness is via the Otay Truck Trail, which traverses Otay Mountain east to west.To get there, there is a turnoff about 5.4 miles NW of Dulzura at Cedar Canyon on State Highway 94 (the Otay Lakes Road). Turn south on the Minnewawa Trail and go to the Truck Trail Lookout at Doghouse Junction. There you are at the top of the wilderness area.
Otay Mountain Wilderness
Bureau of Land Management