St. Marks National Wildlife Refuge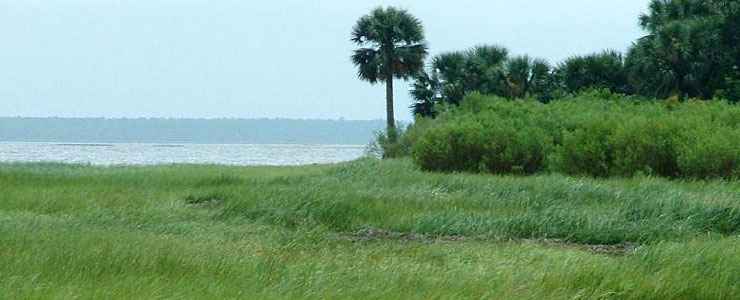 Along the shore on St. Marks National Wildlife Refuge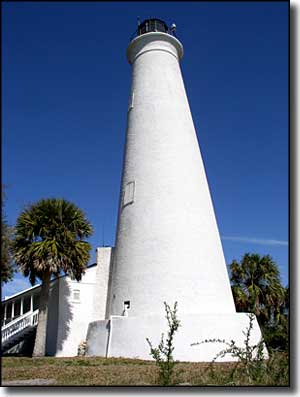 The St. Marks Lighthouse
St. Marks National Wildlife Refuge encompasses about 68,000 acres spread across Wakulla, Taylor and Jefferson Counties along the Gulf of Mexico in northwestern Florida. The Refuge was established in 1931 to preserve and protect wintering ground for native and migratory birds. Included on the property are the estuaries of 7 of Florida's rivers with a nice selection of tidal creeks, saltwater marshes and nearby offshore islands. The Refuge is broken into four units:
The Wakulla Unit is west of the town of St. Marks, off Highway 98. The Wakulla Unit offers fresh and brackish water marshes, palm hammocks, upland pine forests and tidal beach access to Apalachee Bay. Use of the area is free but there are no facilities provided.
The St. Marks Unit is where you'll find the Visitor Center and Refuge Headquarters. There is a seven-mile drive from there that passes several fresh and brackish water impoundments before arriving at the foot of Apalachee Bay near the St. Marks Lighthouse. There is an entrance fee involved but you also get toilets, a developed picnic area, boat ramps and nature trails. The property contains forested swamps, upland pine forest, fresh and brackish water marshes and the ecosystem of a pristine salt-water estuary.
The Panacea Unit has several fresh water lakes but is dominated by uplands oak and pine forests. Otter Lake Recreation Area offers restrooms, picnic shelters and a launch point for boats with less than 10 horsepower motors attached. This Unit is on Highway 98, partially within the boundaries of Medart and running south along Highway 319 almost to the town of Sopchoppy. Use of everything on the unit is free.
The Aucilla River Unit is along the Aucilla River and offers a boat ramp and excellent fishing opportunities. The unit is located about 15 miles east of Newport off Highway 98. As the unit is managed in conjunction with Taylor County, there are user fees in place for the boat ramp.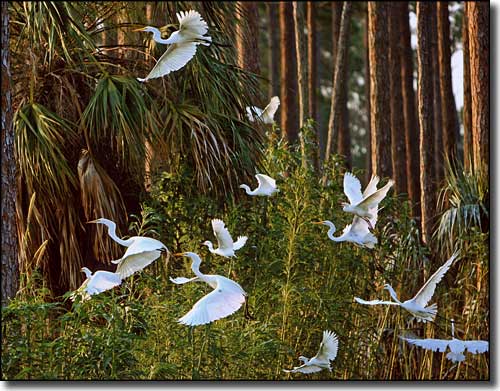 A flight of common egrets at St. Marks National Wildlife Refuge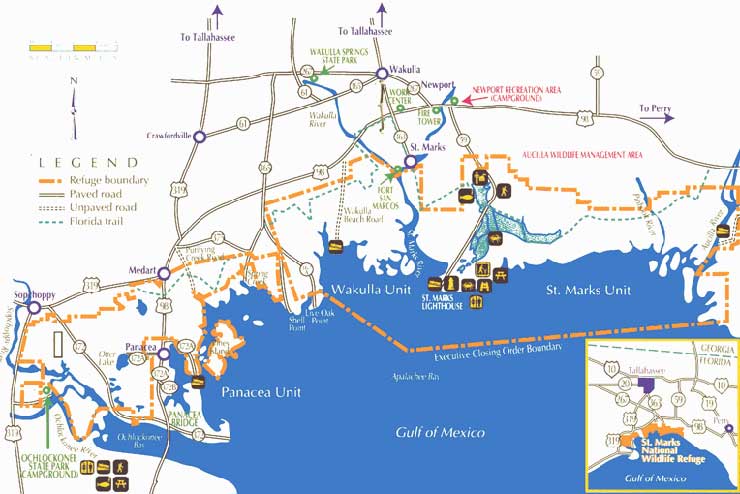 St. Marks National Wildlife Refuge
US Fish & Wildlife Service
PO Box 68

,

St. Marks

,

FL

32355
850-925-6121
Photo of St. Marks NWR shoreline courtesy of Tim Ross
Photo of St. Marks Lighthouse courtesy of Matthew A. Lynn
Photo of Common Egrets at St. Marks NWR courtesy of Betsy Kellenberg
Map of St. Marks NWR courtesy of the US Fish & Wildlife Service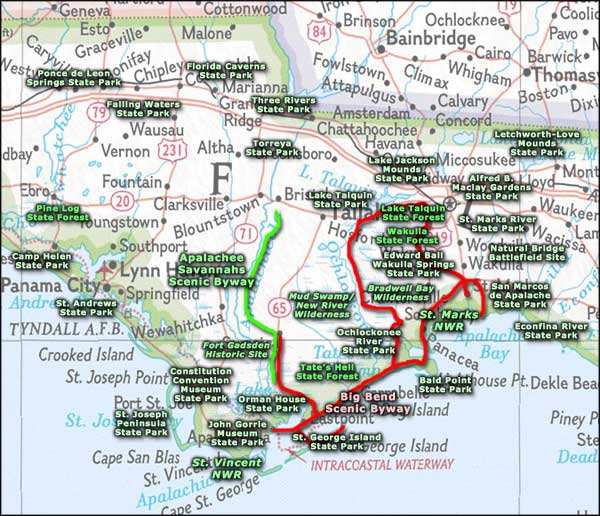 Related Pages
Area map courtesy of National Geographic Topo!