Wakulla State Forest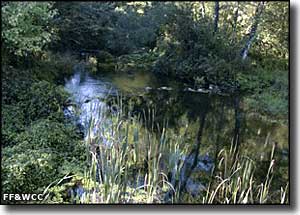 Wakulla State Forest is about six miles south of Tallahassee in Wakulla and Leon Counties. The property covers some 4,219 acres adjoining the northern boundary of Edward Ball Wakulla Springs State Park. 4,045 acres of the forest are cooperatively managed with the Florida Fish & Wildlife Conservation Commission as the Wakulla State Forest Wildlife Management Area. Hunting is allowed (in season and with proper permits) on every part of the forest except the 74-acre Woodville Tract (the only part of the forest in Leon County). Recreational users might want to check the Wildlife Management Area regulations for hunting seasons before visiting the forest.
Part of Wakulla State Forest is within the groundwater recharge area of Wakulla Springs. Wakulla Springs is one of the largest single-vent freshwater springs on Earth. The forest area is sprinkled with sinkholes and springs and is crossed by the McBride Slough, a slow-moving sheet of water that connects two small springs and empties into the Wakulla River.
Most of the property was owned by the St. Joe Corporation and sold to the State of Florida between 2001 and 2003. Years before, most of the property was drained and logged, the tree cover replanted as pine plantation. Since coming into state ownership, the Division of Forestry has been working to restore the original hydric hammocks, floodplain, basin and dome swamps, upland mixed forest, upland hardwood forest, sandhills and depression marshes to their condition before the advent of American industry. Restoration of those resources and protection of the water has brought back the populations of white-tailed deer, wild turkey, feral hog, bobcat and gopher tortoise. However, about 2,500 acres of the forest is still covered with pine plantation.
There are miles of old forest roads on the property but motorized vehicles are not allowed any more. So the old roads are now hiking, biking and horseback riding trails. Some trails are designated multi-use, some are for hiking only. Equestrians need to present a current negative Coggins test before unloading their horses on the property. Horseback riders under the age of 16 are required to wear a helmet at all times when mounted on a horse on state property. The primary forest trailhead is located at a picnic area on State Route 267. There's a parking lot there with enough space for horse trailers to maneuver. There are other, smaller parking areas available along Rosa Shingles Road and off Copperwood Road along the northern boundary of the forest. Camping is not allowed on the property.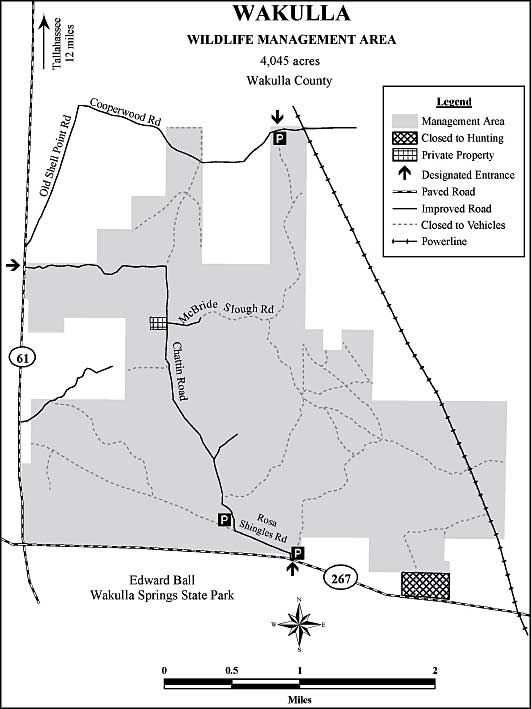 Wakulla State Forest
3674 Bloxham Cutoff Road

,

Crawfordville

,

FL

32327
850-421-3101
Latitude:

30.257900°N

Longitude:

84.285698°W
Upper left photo courtesy of David Moynihan, Florida Fish & Wildlife Conservation Commission
Map courtesy of the Florida Fish & Wildlife Conservation Commission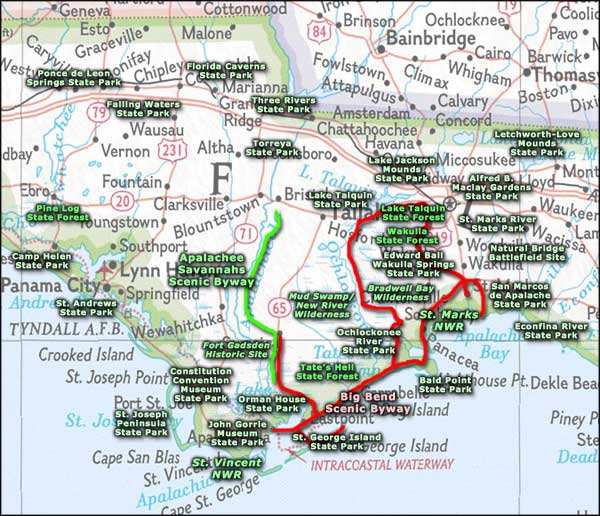 Related Pages
Area map courtesy of National Geographic Topo!