Big Bend Scenic Byway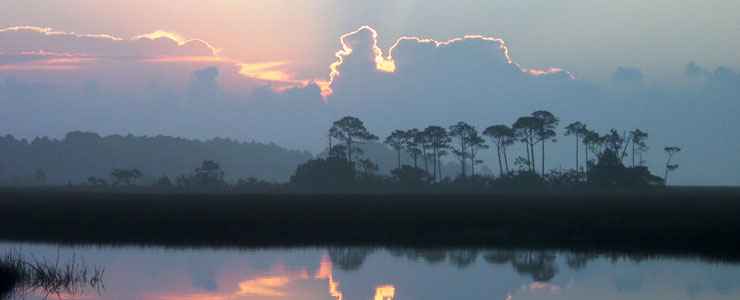 Dawn on a marsh along the Big Bend Scenic Byway
The Big Bend Scenic Byway is actually a combination of two beautiful routes southwest of Tallahassee: the Coastal Trail and the Forest Trail. Between the two routes, this is a fully paved 220-mile tour of some gorgeous north Florida countryside. You'll find hardwood forest and rolling sand hills that morph to wetlands, river floodplains and large tracts of pine forest as you travel. A lot of the route is across the Apalachicola National Forest, one of America's best remaining examples of a native wiregrass and Longleaf pine ecosystem. This is the area where the endangered red-cockaded woodpecker makes its home. This is also where you'll find Bonsai Cypress that are more than 300 years old but only 6 to 15 feet tall.
The coast and the rivers here made this part of Florida an integral part of the early economy in the South. The 1800's saw these waters filled with steamboats and other freighters loaded with timber and cotton bound for overseas markets. Many naval engagements were fought here during the Civil War. These days, you'll find mostly shrimp, crab, sponge, oyster and fishing boats in these waters. But you'll also find easier access to the many coastal barrier islands with their sand dunes and white sand beaches, the marshes and coastal lagoons, the bays and the fresh water springs that populate this countryside/waterscape.
At Edward Ball Wakulla Springs State Park you'll find one of the largest and deepest of Florida's fresh water springs. This whole area is a subtropical paradise filled with beautiful birds, lots of turtles, white-tailed deer, black bear, bobcat, skunk, raccoon, opossum and perhaps even a few alligators. There are several state parks along the route and close by, two national wilderness areas, the Fort Gadsden National Historic Site, a couple of state forests and two National Wildlife Refuges. Short of snow-capped mountain peaks, volcanic craters and free-ranging moose, there's something for just about everyone along the Big Bend Scenic Byway.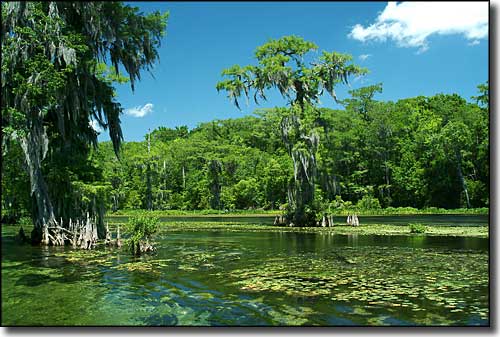 Edward Ball Wakulla Springs State Park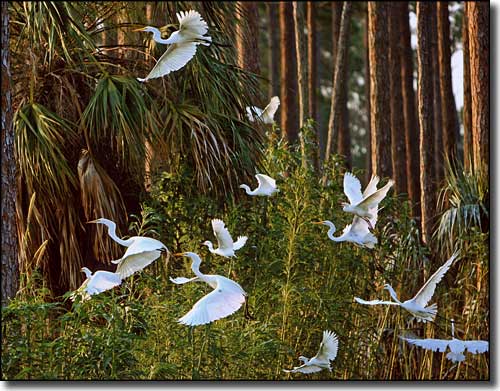 A flight of common egrets at St. Marks National Wildlife Refuge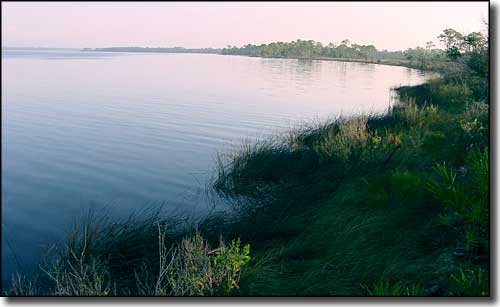 Apalachicola Bay
Photos of dawn on the marsh and Apalachicola Bay courtesy of Diane Delaney
Photo of Wakulla Springs courtesy of the Wakulla County Tourist Development Council
Photo of Common Egrets at St. Marks NWR courtesy of Betsy Kellenberg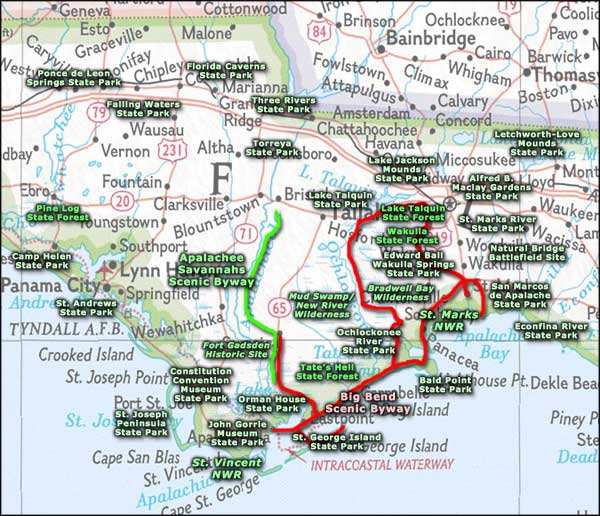 Related Pages
Area map courtesy of National Geographic Topo!