Sipsey Wilderness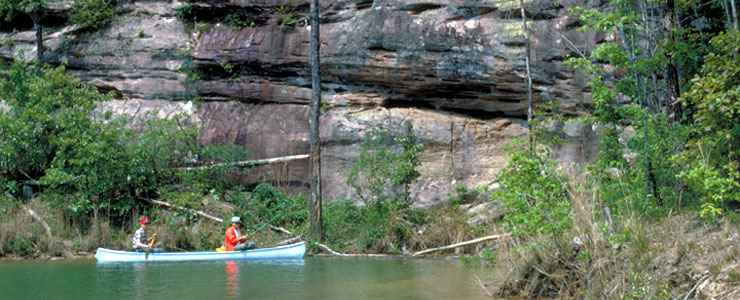 Fishing the Sipsey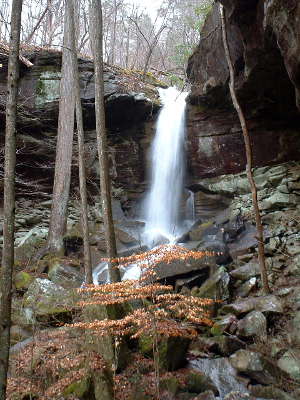 West Bee Falls
The third largest wilderness east of the Mississippi River, the 24,922-acre Sipsey Wilderness is located in the William B. Bankhead National Forest of northwestern Alabama. The wilderness was first designated in 1975 (with 12,000 acres) and expanded in 1988. Sipsey Wilderness is the most frequently visited wilderness in Alabama, probably because of the dozens of waterfalls in the area.
A large part of the wilderness is composed of Brindlee Mountain, a cut-off section of the Appalachian Plateau. The plateau has been heavily eroded into a rough landscape built on layers of sandstone and limestone. It's this geology that makes waterfalls so common in the area.
The wilderness is named for the Sipsey Fork of the West Fork River, 61 miles of which are a designated Wild & Scenic River. That designation only applies to sections of the stream upstream and downstream of the wilderness area, not in the wilderness area. Rising above the river and its tributaries you'll find scenic overlooks and small caves. With the limestone/sandstone geology, sinkholes are pretty common, too.

The elevation in the wilderness ranges from a low of 580' to a high of 1,001'. There are still some pockets of virgin timber in the wilderness but at one time, nearly the whole place was clear-cut. New growth has taken hold and the forest is making a comeback. Most of the hiking trails in the area are along the old logging roads. There are twelve established and maintained trails, all rated easy to moderate. There are several trail heads on the southern boundary of the wilderness at the Sipsey River Recreation Area (which has toilet facilities and a $3 day-use fee but no campsites (fee subject to change)). A couple of these trails cross the wilderness and end at a parking lot on the northern boundary. Camping and campfires are allowed in the wilderness, so are hunting and fishing in season with the appropriate licenses. Horseback riding is allowed only on designated trails. The trails see moderate to heavy use all year round.
Sipsey Wilderness is administered by the US Forest Service as part of William Bankhead National Forest.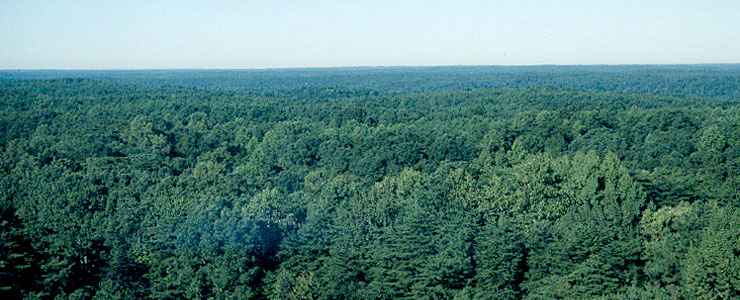 View from the top of Brindlee Mountain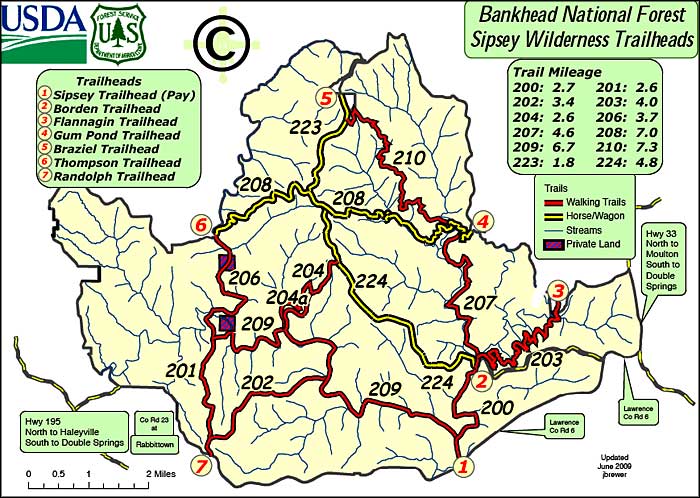 Photo of fishermen on the Sipsey River courtesy of Steve Boutcher, US Forest Service
Photo of West Bee Falls courtesy of Douglas Beard,
CCA-by-SA 3.0 License
View from the top of Brindlee Mountain courtesy of the US Forest Service
Trailheads map courtesy of the US Forest Service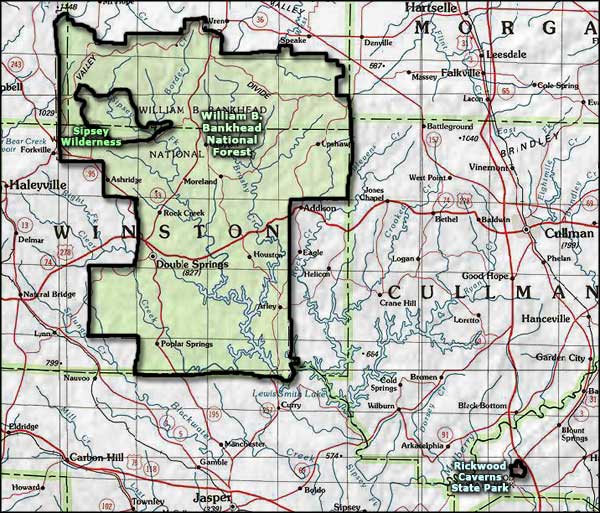 Related Pages
Area map courtesy of National Geographic Topo!