William B. Bankhead National Forest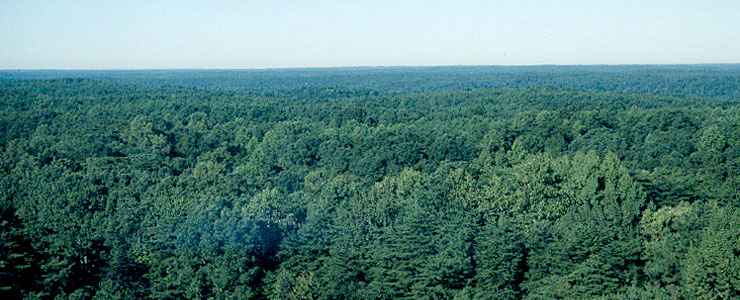 William B. Bankhead National Forest from the top of Brindlee Mountain
William B. Bankhead National Forest is a 181,230-acre property named after longtime Alabama Representative William B. Bankhead. The forest is very popular for hunting, horseback riding, swimming, hiking, fishing, canoeing, kayaking and more. The forest is a treasure trove of waterfalls and contains the Sipsey Wilderness completely within its boundaries. The landscape is a mix of limestone bluffs above valleys with swift streams, including Alabama's only National Wild and Scenic River, the Sipsey Fork.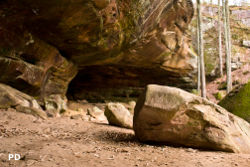 Kinlock Rock Shelter
The forest is thickly treed and is also one of the premier sites in the southeastern United States for finding Native American relics such as prehistoric drawings, rock carvings and petroglyphs. One famous antiquities site is the Kinlock Shelter: a rock shelter/cultural site that was in use by Native American tribes for thousands of years. Patterns carved in the rock mark this as a place for ceremonies in sync with the solar cycles, the primary function being a Native American Winter Solstice sunrise ritual.
Bankhead National Forest offers six developed recreation areas with facilities for camping, fishing, picnicking, hiking and swimming. Hunting is allowed in season on the forest but during hunting season, hunters must camp in designated hunter's camps. They are not required to get a primitive camping permit but primitive-camping non-hunters are required to get a permit during the season from November 15 to January 31 annually. During hunting season you'd also be well served to be wearing hunter's orange everywhere you go in the forest.
William B. Bankhead National Forest offers three developed campgrounds, two (Clear Creek and Corinth) with electrical and water hookups. The campgrounds are open from April through October. The forest offers 153 miles of recreational trails, many of them also available to horseback riders.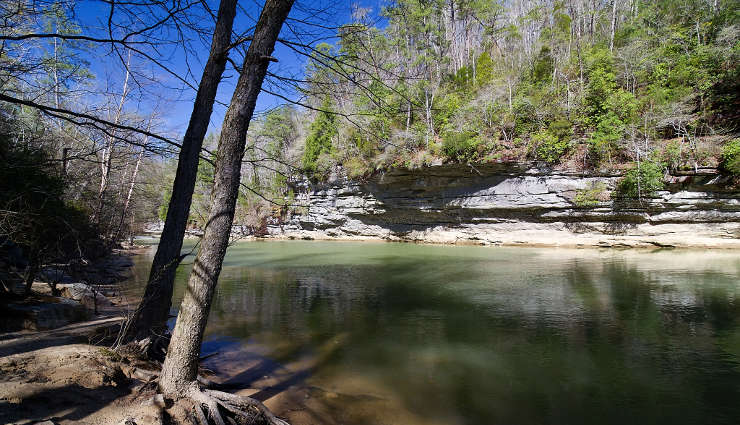 Along Clear Creek in William B. Bankhead National Forest
William B. Bankhead National Forest - Recreation Sites
| Sites | Amenities |
| --- | --- |
| Brushy Lake Recreation Area | |
| Clear Creek Recreation Area | |
| Houston Recreation Area | |
| Natural Bridge Picnic Area | |
| Sipsey River Picnic Area and Trailhead | |
| Owl Creek Horse Camp | |
| Flint Creek Multiple-Use Trail | |
| Hurricane Creek Shooting Range | |
| McDougle Camp | |
| Wolf Pen Hunters Camp | |
| Corinth Recreation Area | |
| Pine Torch Trail | |
William B. Bankhead National Forest
US Forest Service
View from the top of Brindlee Mountain courtesy of the US Forest Service
Photo of Kinlock Rock Shelter is in the public domain
Lower photo courtesy of Rian Castillo,
CCA 2.0 License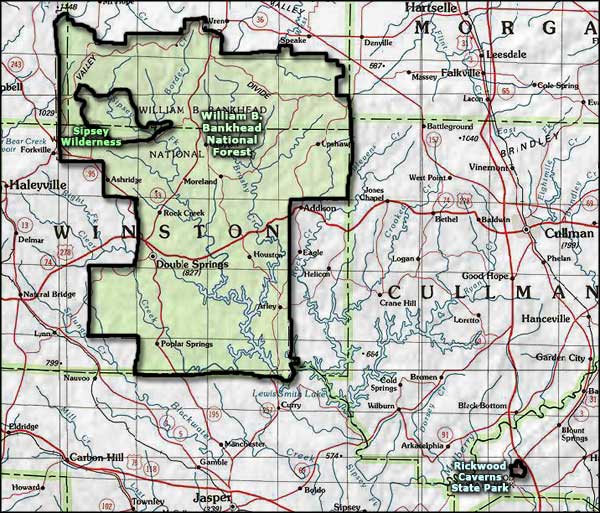 Related Pages
Area map courtesy of National Geographic Topo!