Fishhooks Wilderness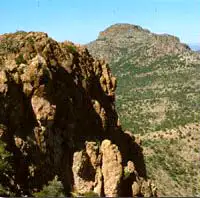 Fishhooks Wilderness is a 10,500-acre property along the western edge of the San Carlos Apache Indian Reservation. This is an area of Arizona that sees very little human visitation.
Fishhooks Wilderness is rugged and well vegetated. It's an area of several canyons, most with perennial streams flowing in them that support riparian corridors of cottonwood and willow among the pinon-juniper woodlands. In the lower areas, that tree cover gives way to grasslands and mesquite/ironwood chaparral. The high point on the property is Gila Peak at 6,629'.
The hiking isn't too bad on Fishhooks Wilderness but you better bring a good map, a compass or GPS device and some good route-finding skills: there are no established trails.
To get there: go west from Safford on US Highway 70 for 15 miles. At that point, turn right on the Eden Road and cross over the Gila River. Go left immediately on Hot Springs Road and follow the north bank of the Gila for 13 miles. Pass the wire gate across the road, go one mile and turn northeast onto an unmarked dirt road. Go through the road junction and continue for ten miles to the headquarters of the Diamond Bar Ranch. One mile beyond the ranch headquarters you'll reach a place where Fishhooks Wilderness borders the road. Or, at the ranch headquarters, go east on another rough dirt road and you'll reach the wilderness boundary after one-half mile. Either way, there are occasional signs along both roads informing you of the proximity of Fishhooks Wilderness. The county road (Hot Springs Road) sees regular maintenance. The ranch roads are usually accessible with a high clearance vehicle. If it's wet out you're on your own.
You are probably in trouble if you cross the boundary of the San Carlos Apache Indian Reservation and you don't have written permission for access already in your pocket.
7.5-Minute Topo Maps: Ash Creek Ranch, San Carlos NE, Gila Peak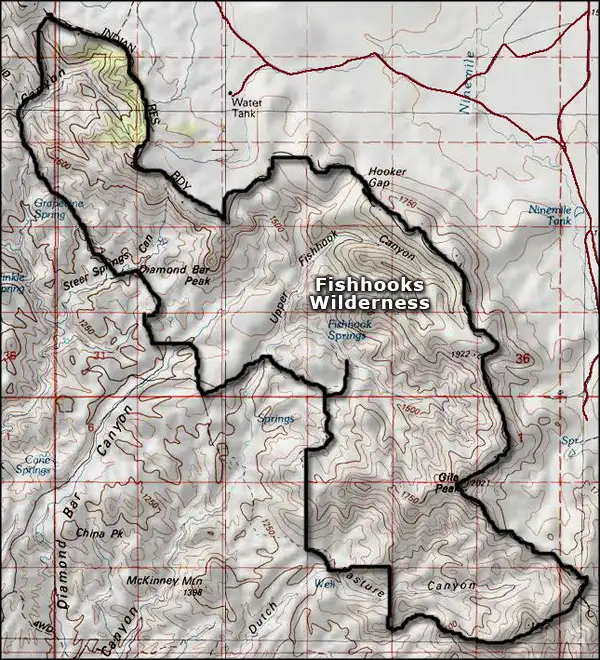 Fishhooks Wilderness
Bureau of Land Management

- Safford Field Office

Photo courtesy of the Bureau of Land Management
Map courtesy of National Geographic Topo!