Cleghorn Lakes Wilderness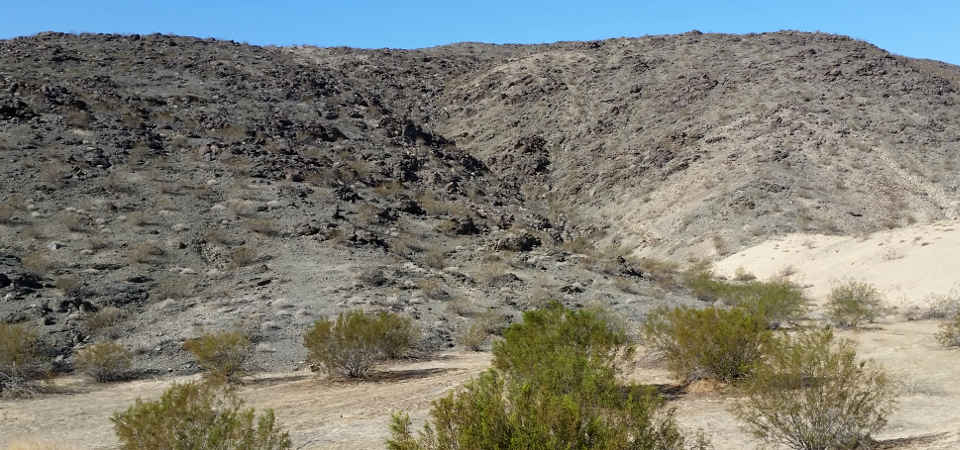 Cleghorn Lakes Wilderness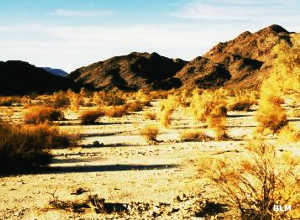 Vegetation in the wilderness
Cleghorn Lakes Wilderness is a 39,167-acre property in the Mojave Desert. The wilderness is named for several small dry lake beds in the center of the wilderness area. The property is bisected northwest-to-southeast by the rugged Bullion Mountains. Most of the lower reaches of the wilderness are either sand dune or extensive bajadas, debris washed down from the higher elevations over the millenia.
The northern boundary of Cleghorn Lakes Wilderness is against the boundary of Twentynine Palms Marine Corps Air Ground Combat Training Base. There is a rough road corridor in that area leading onto the military base.
Most folks access the property via the gravelled Amboy Road that runs north-south between Interstate 40 and the Twentynine Palms Highway. To the east across the Amboy Road is Sheephole Valley Wilderness and the Mojave Trails National Monument.
Elevations on the property range from a low of about 1,400 feet on the floor of the desert to a high around 4,100 feet along a 4-mile ridge in the Bullion Mountains. The vegetation varies from the creosote bush scrub in the lower reaches to typical Mojave Desert scrub in the higher elevations. Some washes are wet enough to support gardens of barrel cactus and smoke trees (almost leafless trees with gray twigs that appear to be smoke when seen from a distance). There is sometimes a spring wildflower display around the dry lakes. Along the eastern boundary of the wilderness patches of Crucifixion Thorn can be found.
The mountains offer bighorn sheep habitat while the endangered desert tortoise can be found in the bajada areas. Other wildlife in the area include coyote, ground squirrels, kangaroo rats, quail, roadrunners, rattlesnakes and several species of lizards.
Camping is allowed with a 14-day stay limit. After that, the campsite needs to be moved at least 25 miles.

Looking toward the Bullion Mountains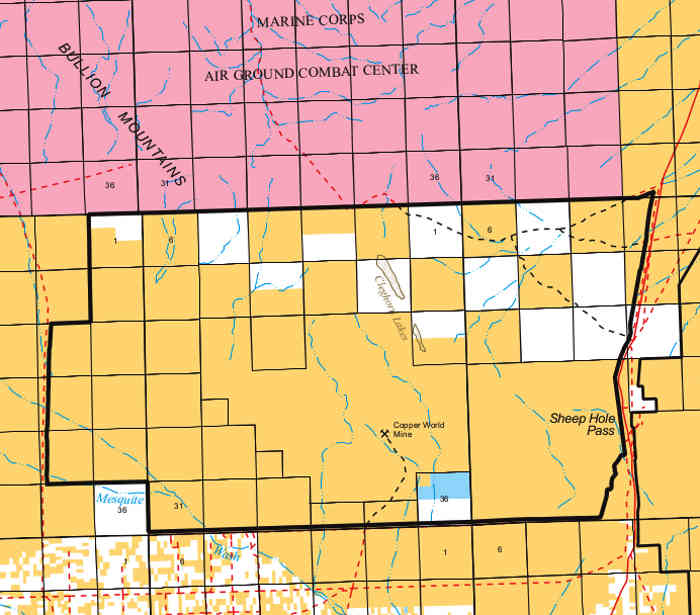 Cleghorn Lakes Wilderness
Bureau of Land Management

- Barstow Field office
Upper photo courtesy of TheArmchairExplorer,
CCA-by-SA 4.0 License
Upper left photo and map are courtesy of the Bureau of Land Management
Lower photo is courtesy of Chris Barns, BLM,
CCA 2.0 License