South San Juan Wilderness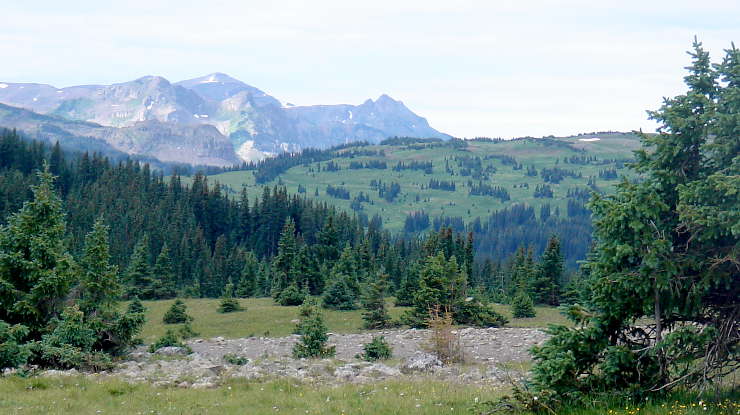 A view in South San Juan Wilderness
Straddling the boundary between Rio Grande and San Juan National Forests, the 158,790-acre South San Juan Wilderness is characterized by a remote, glacier-carved terrain: broad, U-shaped valleys cut even deeper by flowing streams below steep slopes and cliff walls. This imposing countryside was originally volcanic terrain. Today, these jagged pinnacles and ragged ridges between high peaks and cliffs rise stately above 32 lakes that drain into fast-flowing streams that drop quickly out of these mountains on either side of the Continental Divide.
The South San Juan Wilderness offers some of the best backpacking experience in Colorado, with more than 180 miles of established trails, including a 42-mile section of the Continental Divide National Scenic Trail. The fishing: well, the Blanco, San Juan and Conejos Rivers all start their journeys to the oceans here. The rich volcanic soil, the lush forest lands, the plethora of bugs (just kidding, sort of) make the flowing waters an excellent place to catch your daily bag and possession limit of Rainbow, brown and brook trout. 25 miles of the Conejos River have been recommended for classification as Wild and Scenic. And you'll find hot springs bubbling to the surface in some places out there.
The hunting: the last recorded killing of a grizzly bear in Colorado happened in these mountains back in 1979. As this wilderness area is ranked as the wildest in Colorado, there may still be some grizzlies out in the bush (but if there are, they're smarter than any of the humans potentially hunting them). Elk, mule deer, black bear, bighorn sheep, mountain lion, bobcat, they're all well represented here.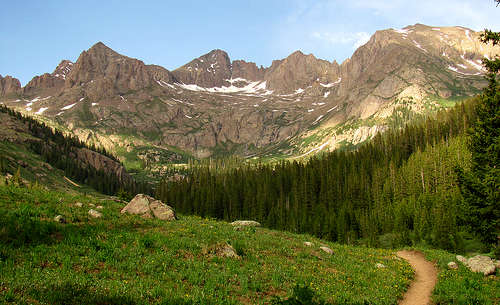 A view in South San Juan Wilderness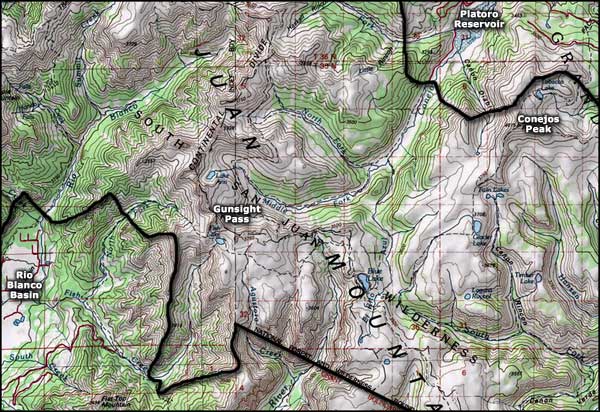 The heart of the South San Juan Wilderness
South San Juan Wilderness
San Juan & Rio Grande National Forests -

US Forest Service
Upper photo courtesy of wilderness150.wordpress.org
Lower photo courtesy of the US Forest Service
Maps courtesy of National Geographic Topo!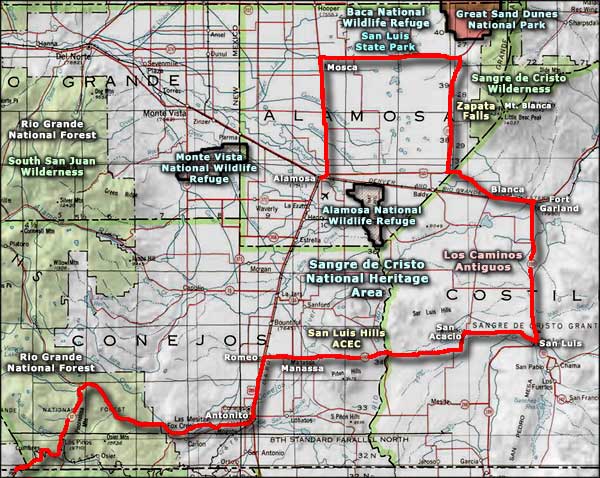 Related Pages
Map courtesy of National Geographic Topo!