Desolation Wilderness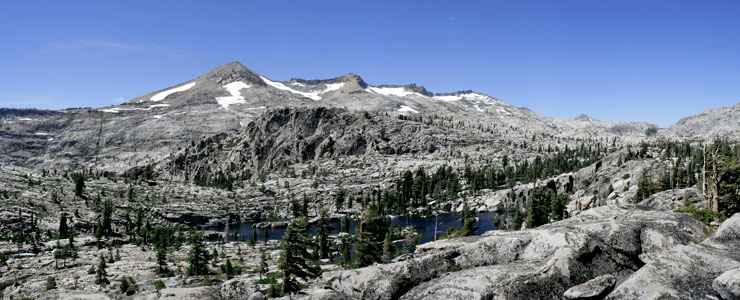 The Crystal Mountains in Desolation Wilderness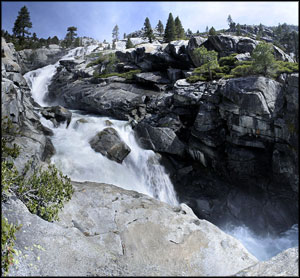 The 63,960 acres of Desolation Wilderness are located on Eldorado National Forest west of Lake Tahoe and north of US Highway 50. The wilderness is roughly 12.5 miles long and 8 miles wide. The property is administered cooperatively by the National Forest Service and the Lake Tahoe Basin Management Area.
Because of the location and ease of access, Desolation Wilderness is one of the most heavily human-impacted wilderness areas in the National Wilderness Preservation System. That means there are quotas limiting the number of hikers and campers in many zones of the wilderness. Campfires are also completely banned on the property. Fees (allowed by the Recreation Enhancement Act) are collected when you make your reservations to visit the wilderness - and permits are required whether you are camping overnight or just day hiking (although day hikers can self-register at any of the various trailheads). That permit does allow you to legally light the gas stove you might be carrying. Maximum group size is limited to 12 people and 12 head of livestock.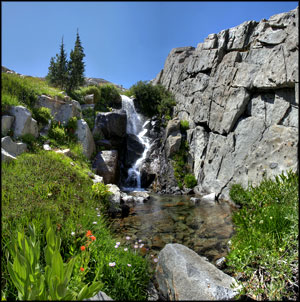 Tree cover is sparse in many areas with most forested zones being in the 7,400-9,000 foot elevations. The reason for this is a large portion of the ground itself is exposed granitic bedrock, scraped clean by the glaciers in ages past. There are numerous streams and about 130 lakes, some as much as 900 acres in size. Around the lakes and streams in those elevations you'll find some deeper moist soils supporting the larger tree cover. The wilderness also sports many wet meadows, each differing in soil composition and depth, elevation and general exposure. Those wet meadows also offer a wide variety of annual and perennial plant life.
The larger animals on the wilderness are mule deer and black bear, with both species quite common. Even more common are coyotes, badgers, porcupines and bobcats. Less common are pine martens, red foxes, fishers and wolverines.
There are 13 named trailheads and many miles of developed trails. The Pacific Crest National Scenic Trail traverses about 17 miles of Desolation Wilderness and crosses Dicks Pass along the way (at 9,380 feet, Dicks Pass is the highest pass between Lake Tahoe and Canada on the PCT).
Desolation Wilderness was declared the Desolation Valley Primitive Area in 1931 and became a full-fledged Wilderness Area in 1969.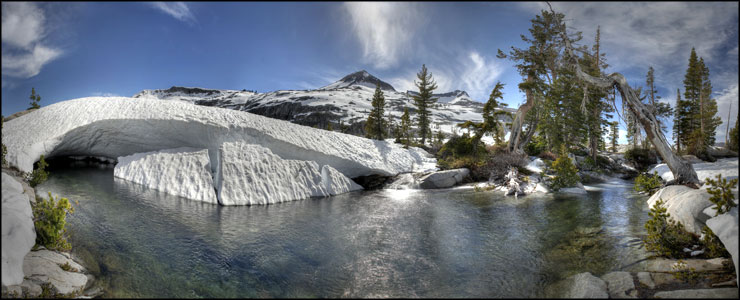 Pyramid Lake outlet, Desolation Wilderness